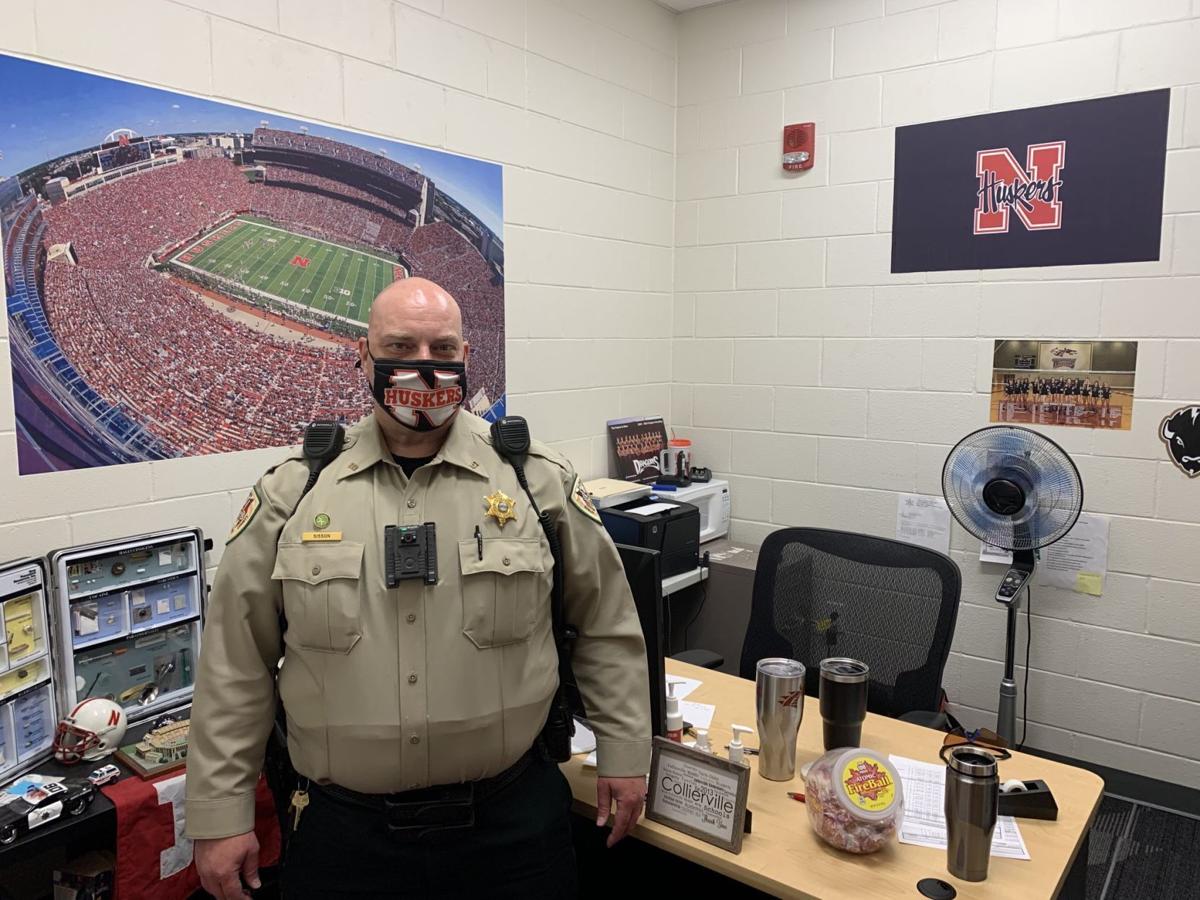 Ron Sisson is one of the biggest fans of Husker sports living in Tennessee, but he hadn't seen the Huskers play in person in about four years until that streak ended in a most improbable way last week.
The streak ended when the Huskers came to him, with the Nebraska women's basketball team playing a game just 40 yards down the hallway from his office at Collierville High School in suburban Memphis, Tennessee. The Huskers played two WNIT games at the school.
Sisson is a deputy sheriff and his full-time assignment is as one of the three school resource officers at the school. It's one of the largest high schools in the state with about 3,000 students. The school has a large campus that includes three gyms. He's worked there for about five years.
Sisson has been a Husker fan for many years, after living in both Holdrege and Lexington while growing up. His dad owned a business that sold ambulances in central Nebraska. Sisson moved to Oklahoma as a high school senior, and then to Arkansas for college, but never dropped the Huskers. Sisson's father-in-law, John Keller, taught at UNL.
How improbable was a Nebraska team showing up at the school Sisson works at?
To begin with, Nebraska rarely plays at a high school facility, but the COVID-19 pandemic changed the tournament format for the WNIT this season. The Husker women last played at a high school in 2018 when Northwestern was renovating Welsh-Ryan Arena and played its home games at Evanston Township High school. When Nebraska played in Thanksgiving tournaments in Honolulu and Miami, the games were at high schools.
Also, the women's basketball team hadn't played in Tennessee in 17 years.
Even with the WNIT format change to four regionals instead of playing at home sites, there was only a 25% chance the Huskers would be sent to Memphis.
Sisson knew about one month ago Collierville would host WNIT games. Then he began to get excited when he read that coach Amy Williams said the Huskers would accept a WNIT bid.
"I probably overshared telling everybody about them coming," Sisson said. "It was quite exciting getting to watch them, especially winning the first one. And I was pulling for them so hard the second game, but Colorado got us by a little bit. It's something that will probably never happen again."
Sisson last saw Nebraska in person when the football team played Tennessee in the Music City Bowl in Nashville in 2016.
Every few years, Sisson tries to get somewhere to see the Huskers, and it's not just football. In 2015 the Big Ten wrestling meet was in Columbus, Ohio, so he made the trip.
"I'm definitely an all-sports fan. I always look at the schedules and see if there is baseball or wrestling or anything coming anywhere close," Sisson said. "Any Nebraska sporting event, if it's on TV, I guarantee I'm going to be watching it. The kids are like, 'What do you know about rifle? Well, Nebraska is doing it. That's all I need to know.'"
Sisson's office at school has lots of Husker memorabilia, including a large photo of Memorial Stadium, a picture of coach Tom Osborne, a football helmet, and a photo of Sisson and his children at a Nebraska football game.
"I even have Husker hand sanitizer that one of the teachers who has family in Lincoln brought back for me," Sisson said.
On occasion, students will look inside his office and see his Husker gear and tell Sisson about somebody they know from Nebraska.
When the basketball team arrived last week, assistant coach Tom Goehle saw Sisson's Husker face mask and told him he liked it. Then Sisson showed the coach his office.
Sisson's wife, Wendi, came to watch the Huskers play Tennessee-Martin last Friday, and the whole family came the next day when Nebraska played Colorado.
"Who knows when Nebraska will be this way again, but I was sure thrilled that they were here," he said.