Junior college transfer Ashley Scoggin has battled back from a major knee injury in high school to earn a spot on an NCAA Division I women's basketball roster.
Nebraska coach Amy Williams announced on Saturday morning that Scoggin has signed with the Huskers and will join Nebraska and be able to play this season as a sophomore. Scoggin had announced that she was committed to Nebraska late Friday.
The 5-foot-7 guard was a redshirt freshman this season for Salt Lake Community College (Utah). Her hometown is Portland, Oregon, where she was an all-state player at Westview High School.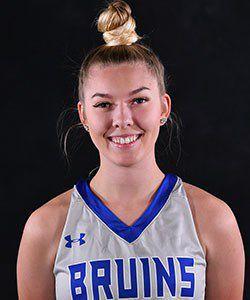 Scoggin was out her senior season of high school after suffering a torn ACL in the summer of 2015. The injury also led to her delaying her collegiate enrollment until the 2017-18 year at Salt Lake CC.
She's known for three-point shooting, making a team-best 53 threes this season on 135 attempts in 2019-20. She ranked second on the team in scoring at 10.0 points per game.
She also averaged 5.2 rebounds, 2.1 assists and 1.3 steals per game for the Bruins, who earned the NJCAA Region 18 title and shared the Scenic West Athletic Conference championship. Her team had a 20-7 record.
Scoggin also made 95% of her free throws on the season and earned first-team All-Region 18 honors.
"We are excited to add Ashley to our Husker family," said Williams in a news release. "She is a play-making guard with experience and maturity and will provide us with another consistent presence from behind the arc."
As a high school junior at Westview in 2014-15, Scoggin averaged 17 points, five rebounds, three assists and three steals.
"I chose Nebraska because of the coaching staff," said Scoggin in a news release. "They are great people and want to win."
The Nebraska coaches have been working to add players to the roster after three players — Leigha Brown, Ashtyn Veerbeek and Kayla Mershon — left the team since the season ended in March.
Scoggin is the fourth transfer player Nebraska has signed in the past month.