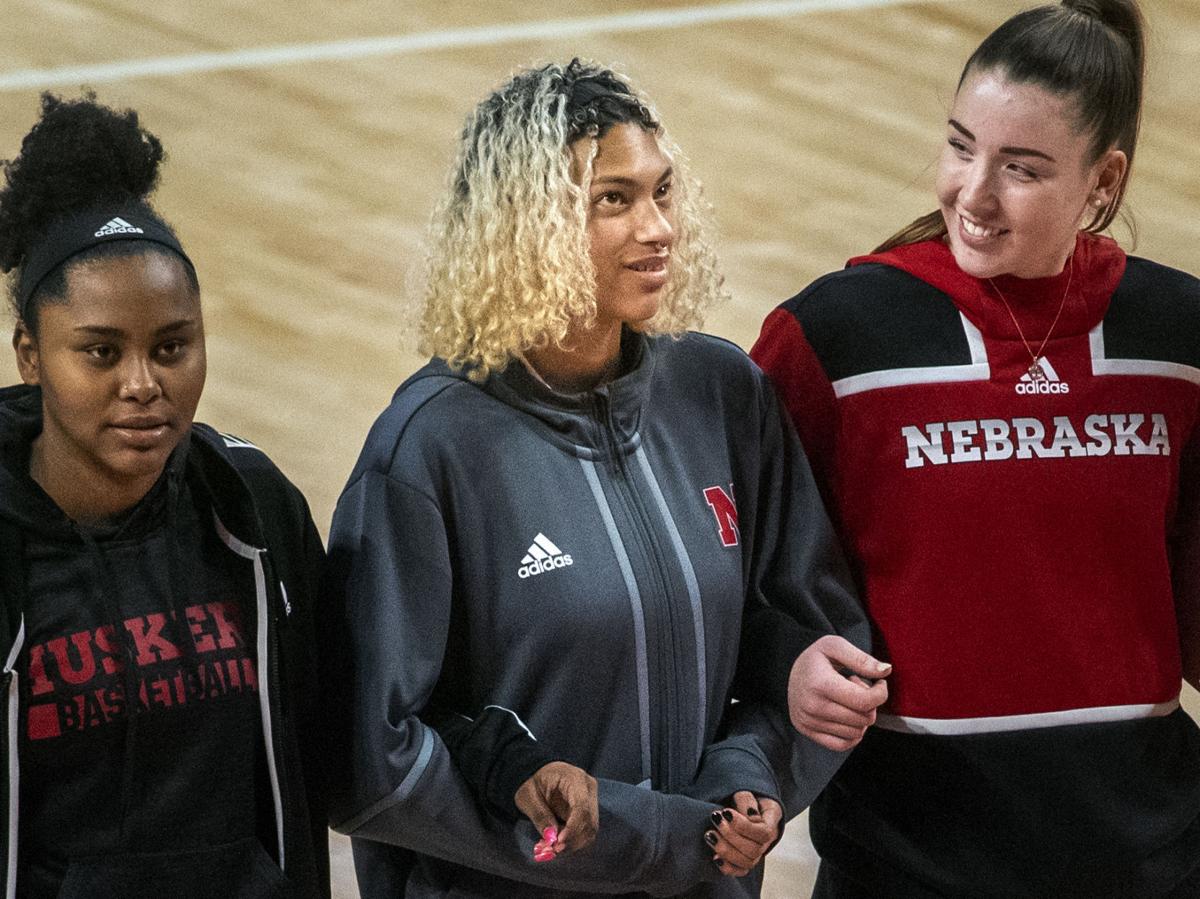 An unprecedented decision by the NCAA that means college basketball players won't be charged one of their four years of eligibility while playing during a pandemic has brought on a very unique situation where in a two-week span Kendall Coley could go from being a high school student in Minneapolis to playing in a college women's game for Nebraska.
Nebraska's top recruit in the senior class arrived in Lincoln four months earlier than expected and could be playing for the Huskers in six days. The top-50 national prospect graduated from high school last week and is in the process of joining the team, coach Amy Williams announced Tuesday.
Coley arrived in Lincoln on Sunday and has been going through COVID-19 protocols and testing. She was on the bench during Nebraska's game against Minnesota on Tuesday but wasn't available to play. However, if Coley clears the normal health tests required for all new athletes, she could practice later this week and perhaps be able to play against Illinois next Monday.
Due to the NCAA action in response to COVID-19's impact, Coley is taking advantage of a free year of eligibility afforded to college basketball athletes this season. That means she can play the rest of this season, and still be a freshman next season.
At least 10 other players in the nation have graduated high school early and joined the teams at Minnesota, UConn, Oregon State, UCLA and Iowa State.
That includes other players from Minnesota, where high school basketball only recently was able to begin playing games amid uncertainty about how many games will actually be played. Coley's high school team started playing last week.
At Boston College, high school senior Ally VanTimmeren enrolled early and scored 17 points against No. 1 Louisville last week in her fourth college game.
Minnesota added early enrollee Katie Borowicz. The midyear graduate of Roseau High School in Minnesota was the No. 98 recruit in the class. She played in the Golden Gophers' last three games, including Tuesday against Nebraska.
The addition of Coley is a welcome development for a Husker team that has competed with only seven or eight available players recently due to injuries.
Coley is a 6-foot-2 forward pegged as the No. 49 recruit in the 2021 recruiting class by ESPN. As a junior, she averaged 15 points, seven rebounds and three assists for St. Louis Park High School.
"Kendall is one of the most exciting players in the 2021 class," said Williams when Coley signed with the Huskers in November. "She is very versatile and can play every position on the court. She is long, athletic and skilled, which is a devastating combination. She is a special talent, and we believe she can make a great impact in the Big Ten Conference."
Kendall Coley and her family decided coming early would be a great opportunity, Coley's father, Tylor, said in an interview with the Journal Star.
"If you're going to take a chance with a (COVID-19) pause, let's take a chance with a pause in college, where you're going to class and getting your credits and you're going to get five or six Big Ten games under your belt, and you're in the weight room with (strength coach) Stuart Hart," Tylor Coley said. "You don't have a weight room and training table like that in high school."
Kendall Coley's sister, Chase, played basketball at Iowa from 2014-18, and helped her sister move to Lincoln.
It was when Borowicz enrolled at Minnesota that Coley got serious about trying to start her college career early also.
"When we found out Katie was going to go to Minnesota, Kendall was in the gym and was shooting around and I mentioned that Katie was going to play and she was like, 'Dude, I have one class left. I can get that done in a week,'" Tylor Coley said. "I said, 'Well, go to school.'"
Within a few days, Kendall Coley received word that she'd be allowed to graduate early if she completed an AP English class.
"She read two books and wrote an essay in 1½ weeks. She's a stud," Tylor Coley said.
Coley graduated last Friday, and the family arrived in Lincoln on Sunday. She's been isolating, but was able to gain access to a private gym that's the home of a local basketball trainer so she could shoot and do conditioning workouts.
Coley's family is staying with the family of Alexa Kastanek, whom Chase Coley played with at Iowa, until they're able to help Kendall move into her dorm room.
Kendall Coley hasn't been able to have much contact with the Nebraska coaches to begin learning about Nebraska's offense and defense but has watched Nebraska's games on TV and online.
"Kendall has been pretty proactive," Tylor Coley said. "We have the BTN app on our phone from when Chase played at Iowa, but when we called them up for that first Nebraska game we found out we had to pay for that game. I went to get my wallet and (Kendall) said, 'No, I got it.' She put her credit card in and paid for BTN-plus herself so she's been watching games and the replays of games. And we've been watching other (Big Ten) teams and doing mini-scouts ourselves."
While it was a difficult decision to make to leave high school early, the family feels good about the opportunity.
Starting college classes early should also allow Coley to both graduate and begin work on a master's degree by the time she's done playing.
"When we found out this year is a given year (without losing eligibility), for me as a dad it's like, 'Hey, (women's basketball) is not like men's players going No. 1 in the draft and making millions,'" Tylor Coley said. "Women graduating from college and have to get jobs. So this is a head start on her education. She's very studious, and she'll probably have her master's by starting early."
While Coley hasn't played as much basketball in the past year due to COVID-19, she did play high school volleyball in the fall.