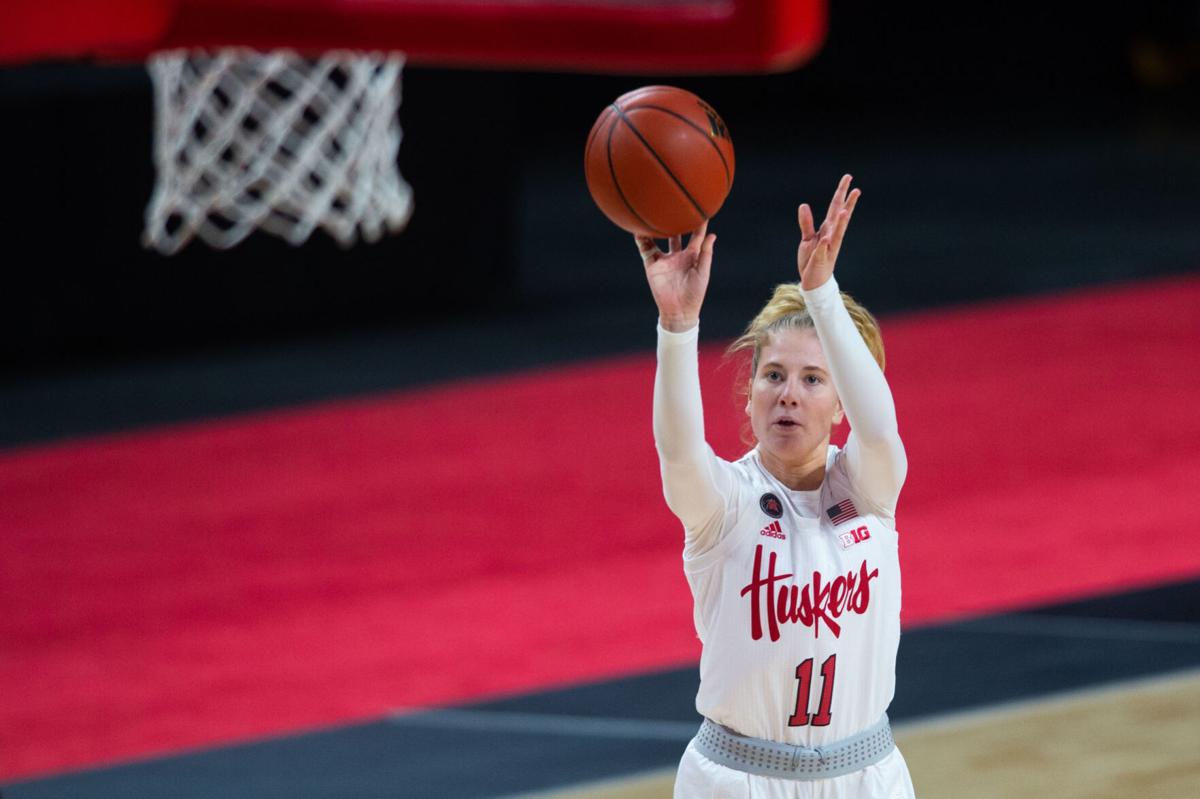 The bench players for the Nebraska women's basketball team during the past few weeks have formed a unique group, even by this season's standards, when players can be out for COVID-19 reasons.
The only players available off the bench for Nebraska have been three true freshmen — Annika Stewart, Ruby Porter and Whitney Brown. Nebraska's small group of bench players is due to injuries to Trinity Brady, MiCole Cayton and Nailah Dillard and an in-season transfer.
The three freshmen each played at least 15 minutes in Nebraska's last game.
And now it's likely that those freshmen may have to play a larger role when Nebraska hosts 15th-ranked Ohio State at 4 p.m. Saturday at Pinnacle Bank Arena.
That's because it's possible that one of Nebraska's best players, Isabelle Bourne, won't be able to play her normal 30-plus minutes against the Buckeyes.
Bourne injured her ankle in the final moments of Nebraska's win against Michigan State on Sunday. As of Friday morning, Bourne hasn't been able to practice this week, meaning she could be playing fewer minutes, if at all.
Each Nebraska player will have to be ready to do more if Bourne can't go. While Bourne is Nebraska's second-leading scorer at 14.0 points per game, her absence would also be big on defense as Nebraska prepares to face one of the highest-powered offenses in the country.
Undefeated Ohio State (7-0, 3-0 Big Ten) ranks fourth in the nation in scoring (89.9 per game) and fifth in field-goal percentage (50.4%).
Nebraska coach Amy Williams said "pretty much everybody else" is going to have to play more if Bourne can't.
"Everybody is going to have to pick up the slack and pick up some minutes if (Bourne) is unable to go (Saturday)," Williams said. "We did not want to kind of put that on one person's shoulders and say, 'Ruby or Whitney or Anni, you're going to have to come in now off the bench and you're going to have to carry the load, or bring (Bourne's) point totals or rebound totals.'
"We just feel like it's going to have to be a situation where everybody is going to have to say, 'Hey, can I give a couple more points and a couple more rebounds and try to make up for that.' Even just in practice to have effective practice until she is full-go again, we're kind of taking that mindset."
Ohio State has not scored fewer than 78 points in any contest this season.
"Ohio State may be the most high-powered offense of any of them, the way they're putting up points and are very balanced scoring," Williams said. "So they present a huge challenge."
The Buckeyes return all five starters from the team that defeated Nebraska 80-74 in overtime last season in Lincoln.
Ohio State likes to play fast, Williams said.
"Oh, yeah, they are definitely their best when they are really playing fast and moving the ball up the floor and transition offense," she said. "One of the big things that's an added element to their transition is they can get out and get to the rim in a hurry. But they also have so many weapons that can hit what we call dagger threes, where it's just one kick-out and, boom, they're ready to knock it down."
Nebraska's defense has been up to challenges recently, including during upset wins against Northwestern and Michigan State. The Huskers have held each of their last four opponents to their lowest point totals of the year.
COVID-19 protocols have affected the Buckeye schedule significantly this season, beginning with a cancellation against Akron (Nov. 25) and postponements of their first three Big Ten games.
Briefly
Nebraska's home game against Minnesota on Tuesday has been changed to a 3 p.m. start time. The game will still be televised on BTN.