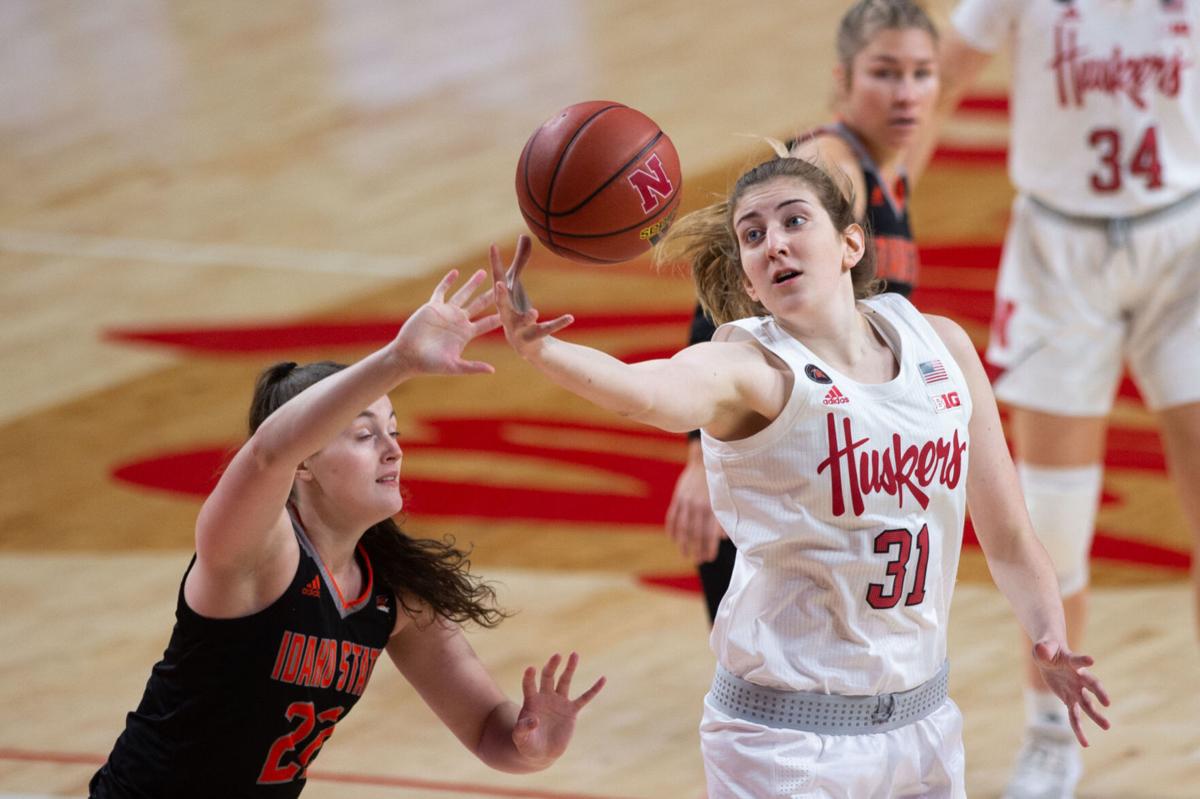 Kate Cain has blocked her last shot for the Nebraska women's basketball team.
The Huskers' all-time leader in blocked shots won't use the extra year of eligibility given to college basketball players this season. The 6-foot-5 center told the Journal Star she's hired an agent and declared for the WNBA Draft, which is on April 15.
Only 36 players are selected in the draft, so Cain might not be picked. If not, she will play in a pro basketball league overseas beginning in August. Former Huskers played this season in Australia, Hungary and Germany.
Cain's mom played pro basketball in Ireland, and she's is excited to try that, too.
"Growing up I would hear stories, and she loved her experience, so I think it's really cool that it's something that I'll get to do," Cain said. "I'm excited to experience another countries' culture and be able to travel."
Cain already graduated and was taking courses for a master's degree in business during the past season. She plans to finish her MBA online while she's overseas.
Cain is the only Husker senior this season who had a decision to make about coming back for an extra year. Players for Maryland, Ohio State, Indiana and Minnesota have announced they'll return for an extra senior season.
Nebraska's 13-13 record this season included one win at both the Big Ten Tournament and WNIT.
When the season ended two weeks ago Cain returned home to New York and made her decision with her family. Now she's back in Lincoln training.
"I feel like I got four years here," Cain said. "It wasn't like this season we barely played. We were fortunate to only miss one Big Ten game. I think it's just my time. I had a good four years and I loved the girls and I'm really excited to see what they're going to be able to do. I'm just excited to move on and take this next step in my life."
Cain has 352 career blocks. It only took her about 2½ seasons to break the program record for career blocks, and she's blown way past the previous record of 238 by Janet Smith (1979-82).
Cain was a four-year starter for the Huskers with 117 straight starts to end her career. Three times in four years Cain made the Big Ten's all-defensive team, including as a senior. This season, Cain ranked 14th nationally in blocks per game (2.7).
While Cain is known for her defense, she's had some solid games on offense in her career, and her scoring average of 10.2 this season was a career-best. During a Feb. 17 win against Northwestern, she made all 15 of her shots (seven from the field and eight free throws). She eclipsed double figures in 13 games this past season and became the 34th player in program history to score 1,000 career points.
Cain was a late addition for the Huskers after originally planning to attend Delaware. But following a coaching change there she signed with Nebraska just a few weeks before coming to Lincoln to begin summer workouts. Later that season she helped Nebraska qualify for the NCAA Tournament during one of the biggest turnaround seasons in the nation that season as Nebraska went from seven wins the previous season to 21.
Now Nebraska's most experienced inside player going into next season will be forward Bella Cravens.
The Huskers' incoming recruiting class includes two centers — Alexis Markowski (6-3, from Lincoln Pius X) and Tatiana Popa (6-5, West Virginia).