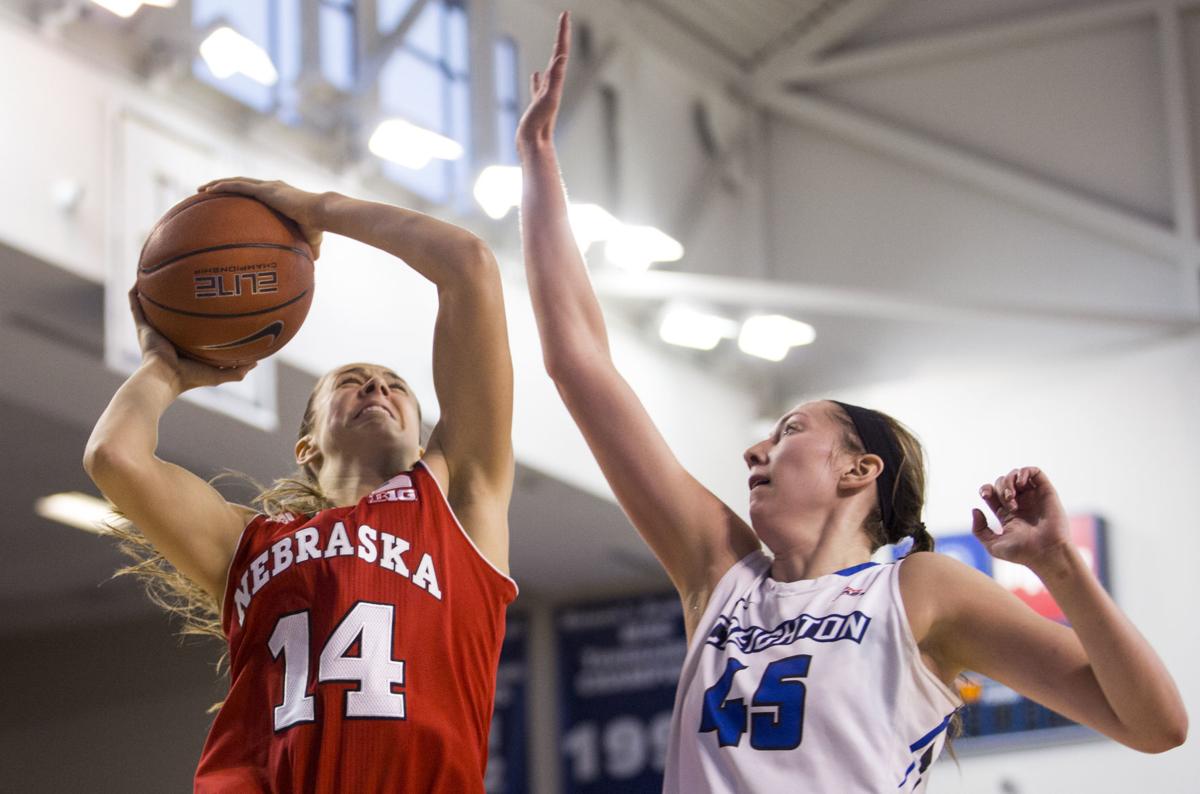 Nebraska women's basketball coach Amy Williams has to lead the Huskers through 29 regular-season games and the Big Ten Tournament.
She can't let a big win — or a disappointing loss — knock the Huskers off the path that they desperately want to follow to qualify for the NCAA Tournament.
Nebraska's Hannah Whitish has a more narrow focus going into the Huskers' game against Creighton on Sunday. She's a senior, with her college career down to about four months. And she's never been on a team that's beaten Creighton in three attempts.
"I'm tired of hearing 'blue state' when it comes to women's basketball, and I'm ready to get that win Sunday," Whitish said.
Sunday's 2 p.m. game is at Pinnacle Bank Arena. The Bluejays' winning streak against Nebraska stands at three. Creighton beat Nebraska 74-65 last year in Omaha, and did so with a team that didn't even make the postseason. The Jays beat Nebraska by 15 points in 2017, and 16 points in 2016.
Nebraska goes into this season's game with a 5-0 record, and Sunday's game may be the best gauge yet as to whether Nebraska is on its way to a better season than last season, when Nebraska finished 14-16. Nebraska's overtime win at Missouri on Nov. 10 was good, but the Tigers' record now is just 1-4.
Creighton has a 3-1 record. The Bluejays have three double-digit wins, including a 61-48 victory against South Dakota State and a 67-54 win against Omaha.
Nebraska and Creighton have scheduled each other every year since 1983, and Williams kept it that way in her four seasons at Nebraska.
"I think there is something special about that in-state rivalry game," Williams said. "And if I'm being 100% honest, that team can really probably better prepare us for Big Ten play, and the competitive things that we might see postseason, than anything else that we could do with our schedule."
Creighton has two players from Nebraska on its roster. Chloe Dworak is a sophomore guard, and is still really good at making three-pointers, like she did during high school at Lincoln Christian. Platteview graduate Payton Brotzki also comes off the bench for the Jays, and is averaging about six points per game.
Taylor Kissinger is the only in-state player for the Huskers this year. But she hasn't played since the first game of the season due to concussion symptoms.
"It makes sense," said Williams of playing Creighton. "It's a smart game. It's something that I think is good for our state and for the young basketball players in our state to get excited about (two of the NCAA Division I) programs in our state. And the truth is they've been an incredible opponent for us, and helped prepare us. That's what the point of the nonconference schedule is, is to get us prepared for what we're going to face in the Big Ten play and postseason."
Williams wants to beat Creighton, but probably won't overemphasize the game with the team.
"Definitely we would like to make it 6-0 and keep on our winning ways and find a way to beat our in-state rival, no question about that," Williams said. "But I think right now our focus is just on what do we need to do to win the day."
Be the first to know
Get local news delivered to your inbox!