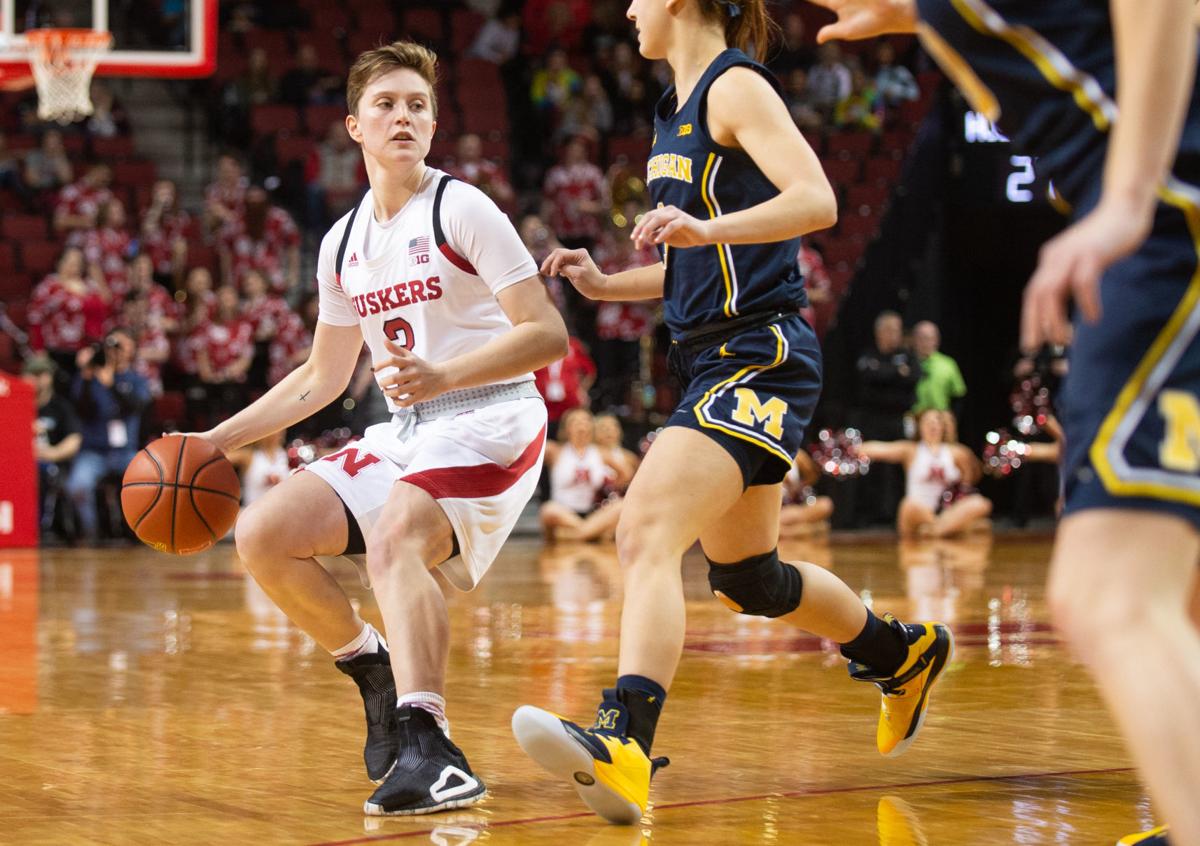 Coach Amy Williams' read on the players for the Nebraska women's basketball team this offseason is that they are like she is, which was crushed that the Huskers didn't play in the postseason last year.
The first choice, of course, would be the NCAA Tournament, and No. 2 the WNIT. But Nebraska didn't qualify for either with a 14-16 record.
Nebraska had a slow start to the season as several freshmen gained experience at the college level. Nebraska had a better end to the season, winning three of its last four regular-season games to finish in a tie for sixth place in the Big Ten standings.
Now Nebraska is picking up its preparation for this season. Nebraska will return its top seven scorers, including senior guard Hannah Whitish, who averaged 10.1 points and 4.2 assists per game last season.
"Without question, the thing we kept hearing in their individual meetings was just that they felt very frustrated and disappointed about not playing in the postseason, and that's something that they don't want to get used to," Williams said. "They're extremely hungry to find a way to get back to that. I think all of them collectively really felt the same way."
After the season, each player had a meeting that included each of the coaches, a sports psychologist, and the strength and conditioning coach, so they all know how they can help the player achieve their goals.
It was a great summer of strength and conditioning that helped Nebraska to a 14-game improvement and spot in the NCAA Tournament during Williams' second season in 2018.
Williams thinks the players are ready to take the next step to help the team have a better season.
"I was really proud of how the girls came to me with what they kind of wanted to be their mindset heading into this summer and this offseason, and it was invest, and finding ways to invest," Williams said. "And they talked a lot to us as a staff about investing not just in their basketball development. We've seen just incredible focus up to this point in their commitment to wanting to make that happen."
After some time off after the spring semester, all of the players are back in Lincoln taking summer school, training and helping with youth basketball camps.
The returning players have also been joined by two of the three freshmen: Trinity Brady from Indianapolis and Makenzie Helms from East Haven, Connecticut.
You have free articles remaining.
The other freshman, forward Isabelle Bourne from Australia, won't join the team in Lincoln until just before the fall semester begins. That's because Bourne is playing for Australia in the upcoming FIBA under-19 World Cup.
Women's hoops team also going abroad: Like a few other Nebraska programs — volleyball, soccer and men's basketball — the women's basketball team will take an overseas trip this summer.
The team will be in Europe for about 10 days beginning on Aug. 1. They'll be in Italy for six days, where they'll play two games, then fly to Spain for four days, where they'll play one game.
Bourne will meet the team in Spain after her summer tournaments, but won't be able to play for Nebraska because she won't have gone through all the required medical testing.
The program's last trip was in 2015 to Australia.
"It's a fantastic year because we're still going to have a relatively young team," Williams said.
Starting this week, the Huskers will get 10 practices that they wouldn't during a normal summer to prepare for the trip.
Hudson plays again: Senior Kristian Hudson has been approved for a medical hardship and will play this season. She was a graduate transfer from Florida International, but had season-ending foot surgery after playing in seven games.
Elite camp: The program hosts several basketball camps in June, including its elite camp on Saturday and Sunday. The camp is open to any player, but is geared for the most serious high school players and will include players to whom the Huskers have offered or may offer scholarships.