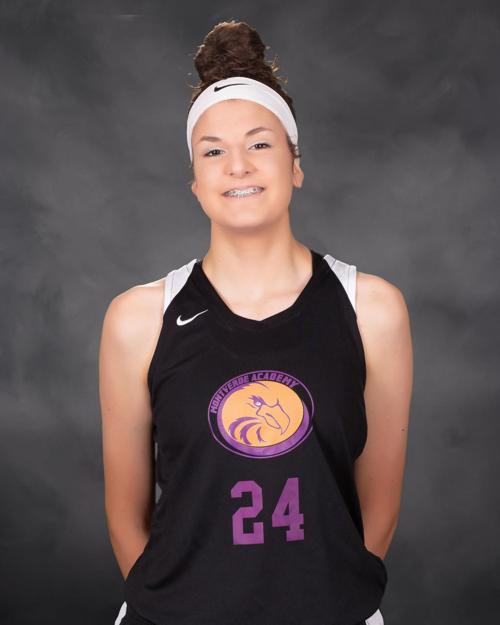 Kate Cain is the best shot-blocker in Nebraska women's basketball history. The eye test shows it. The numbers prove it. 
But it was an off-the-court assist that helped the Huskers recently. 
Cain, a 6-foot-5 senior center, can't patrol the lane at Pinnacle Bank Arena forever — the upcoming season is her last. As such, Huskers brass continuously keep their eyes down the road for the next wave of talent. 
Also standing 6-5 is Tatiana Popa, a high school senior-to-be who had about a dozen offers before selecting Nebraska on Saturday.
Recruiting is one of the countless casualties of the pandemic. A halt on in-person visits forces teams to be more creative with their sales pitch, and many are using virtual visits to showcase the campus, weight facilities and more. 
Cain wrapped a personalized bow on the effort. 
"I got a chance to talk to Kate Cain and she told me a little bit more about what it's like to be a 'big' under coach (Amy) Williams," Popa said. "After talking with her, I just felt like it was the place for me."
Popa's long frame sticks out on her highlight tape, as does her ability to move in and out of the key to knock down midrange jump shots or defend on the perimeter. 
She's always been tall. Popa was already 6-foot by the time seventh grade rolled around, and continued growing from there. Sometimes an early growth spurt can stunt the production of a young athlete, especially on the basketball court, where hand-eye coordination and speed are pivotal pieces of the puzzle. 
Luckily, she has a mentor in her dad, Constantin, who can relate — and then some. Constantin stands 7-3 and turned in a basketball career at Miami that yielded a spot in the university's athletic hall of fame. He was drafted into the NBA, but never played a game.
In short, Constantin knows a thing or two about playing tall. 
Tatiana Popa attended two schools in Florida before moving to West Virginia, where she currently lives and attends school. Plus, her dad is there to provide guidance.
"He played, and he coached women's basketball so he can teach me a little more and really help me improve my game," Popa said. "It was natural for me because my dad played, and he was pretty tall, so that's helped me out a lot.
"He's really pushing me with the weight room, running and all my skills, and he tells me I have to be versatile to play at the next level."
Versatility is a source of pride for the younger Popa, who knows she can't merely camp near the rim and use her height advantage to roll past opponents in the Big Ten like she can in high school and on the AAU circuit. 
With her summer schedule frozen by the coronavirus, Popa is using the "layoff" as a prime opportunity to improve. 
How might she sum up her game? 
"I definitely can play inside and out, shoot the ball," Popa said. "On defense, I can block shots or change shots."
Popa joins Humphrey St. Francis standout Allison Weidner, Minneapolis top-40 prospect Kendall Coley and Illinois top-80 recruit Kendall Moriarty in Nebraska's 2021 class. 
She's looking forward to the tight-knit atmosphere that helped sway her to Lincoln over the likes of Texas Tech, Delaware and others. 
"The family atmosphere around the program, definitely (was a deciding factor)," Popa said.