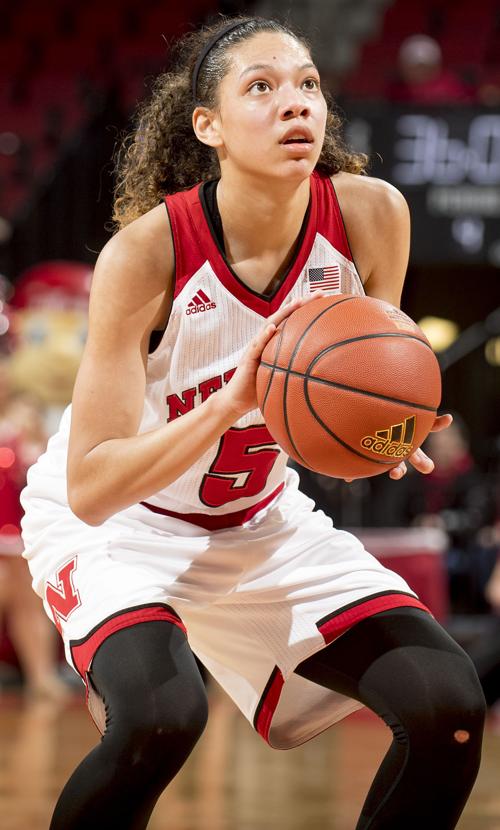 If you're looking for signs of improvement during the Nebraska women's basketball team's current stretch of 12 losses in 14 games it could be this: The Huskers are making more of their free throws during the past few weeks.
It still hasn't done much to improve the Huskers' overall free-throw shooting percentage for the season. Nebraska is shooting 60.7 percent on free throws, with 232 makes on 382 attempts. Nebraska's opponents are making 68.1 percent in games against the Huskers.
Nebraska ranks last in the Big Ten and 333rd nationally in free-throw percentage.
"It's been a struggle," said Nebraska coach Amy Williams, whose Huskers have a chance to win their first road game of the season Thursday against last-place Wisconsin.
"It's been a little frustrating at times. We're starting to watch a little bit — knock on wood — here in conference play a slight improvement over what we saw in the nonconference, but free-throw shooting is something that we would certainly want to be able to continue to improve in that area."
Last season, Nebraska made 69 percent of its free throws, with a lot of that thanks to three players who are gone now: Kyndal Clark (91 percent), Rachel Theriot (89 percent) and Natalie Romeo (84 percent).
Williams said she doesn't think the Huskers' team free-throw percentage is an overall reflection of the skill level of the team.
"I don't think so," Williams said. "I think there are a lot of things that go into that percentage, and the No. 1 thing is just confidence."
On field goal attempts, Nebraska is shooting 38 percent, which ranks 12th in the Big Ten and is down from 45 percent last season.
The Huskers have shown some improvement on free throws. Nebraska has hit 71.2 percent (84-for-118) of its free throws over the past seven games. In the first four Big Ten games, the Huskers hit just 58.5 percent (38-for-65) of their free throw attempts.
In the Huskers' last game, a 79-69 loss against Minnesota, Nebraska made 8 of 10 free throws, including 4-of-6 combined in the fourth quarter and overtime.
Nebraska's freshmen are a combined 41-of-49 (.837) at the line in Big Ten play, while the Huskers as a team are shooting 66.7 percent.
Rylie Cascio Jensen has hit 11 consecutive free throws, including 9-for-9 in Big Ten play and 7-for-7 at Penn State. Nicea Eliely had made 14 consecutive free throws, dating back to a miss against Maryland on Jan. 4, before missing a pair late against Minnesota. She hit four free throws in the final 37 seconds in the win over Rutgers. Hannah Whitish has hit four straight free throws, including the final two to seal the win against Rutgers.
Nebraska sophomore forward Jessica Shepard has attempted the most free throws (135) on the team, which is 85 more than any other Husker. She's making 59 percent of her attempts, which is nearly identical to her free-throw percentage last season.
Cascio Jensen has the best free-throw percentage (82 percent) on the team, and Shepard has the most makes (79).
During practice, Williams said, the Huskers try to shoot free throws in pressure situations.
"We break for free throws at least two times during practice where we're shooting free throws and trying to do them in game situations where they're shooting two at a time," Williams said. "There are certain days where we have players that haven't reached their goals during practice that have free throws to shoot outside of practice. Those are all things that go into building that confidence you need to be able to efficiently do it during games."