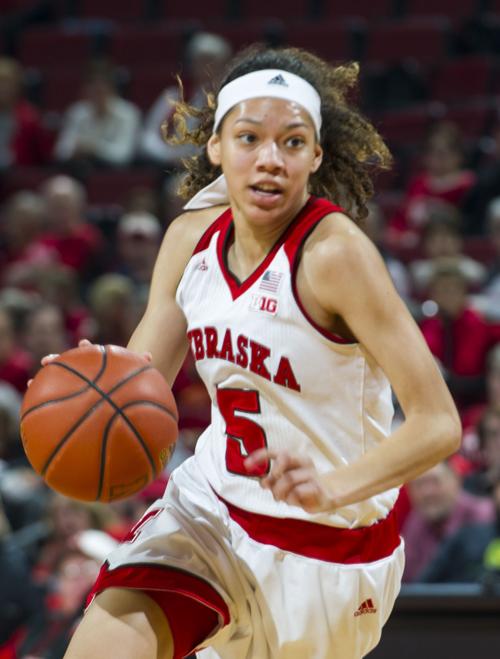 No. 12 Ohio State (11-2, 0-0)
Player | Ht. | Yr. | PPG | RPG
F Stephanie Mavunga | 6-3 | Sr. | 15.5 | 11.6
G Kelsey Mitchell | 5-8 | Sr. | 26.2 | 3.4
G Sierra Calhoun | 6-0 | Jr. | 13.0 | 3.2
G Linnae Harper | 5-8 | Sr. | 15.5 | 9.2
G Asia Doss | 5-7 | Jr. | 9.4 | 2.7
Mitchell. A potential No. 1 pick in the WNBA Draft, the senior All-American may very well be the best player who steps onto the Pinnacle Bank Arena floor this season. She leads the nation in scoring, and is hitting 4.3 three-pointers per game.
Player | Ht. | Yr. | PPG | RPG
F Maddie Simon | 6-2 | Jr. | 10.0 | 6.2
C Kate Cain | 6-5 | Fr. | 11.2 | 7.7
G Hannah Whitish | 5-9 | So. | 13.1 | 4.5
G Nicea Eliely | 6-1 | So. | 8.4 | 5.0
G Jasmine Cincore | 5-10 | Sr. | 6.9 | 3.5
Eliely. There will be pressure on Nebraska's guards to try and contain a group of Buckeye guards who can shoot very well from the outside. Eliely's length and athleticism on the defensive end could be a factor. The sophomore is expected to make her eighth straight start.
1. Nebraska opens Big Ten play against one of the nation's best scoring teams. Ohio State ranks second nationally, averaging 91.4 points per game. Only one team — Duke — has held Ohio State to fewer than 83 points, and that was 60 on Nov. 30. The Buckeyes love to shoot three-pointers, making nearly 10 a game. 
2. Cain's impact defensively has played a strong part in the Huskers' 9-4 start. She has 50 blocks this season, and the Huskers have 73 as a team, which is six more than the Huskers had in 29 games last year. Nebraska ranks 34th nationally in field-goal percentage defense (.353). Last year the Huskers ranked 335th (.445) in that category.
3. The Buckeyes and Huskers had nearly opposite weeks heading into Christmas break. Ohio State hasn't played since Dec. 17, a span of 11 days between games. The Huskers, meanwhile, played three games in six days beginning Dec. 17, and NU coach Amy Williams said fatigue was a factor in a 73-61 loss to Washington State on Friday.