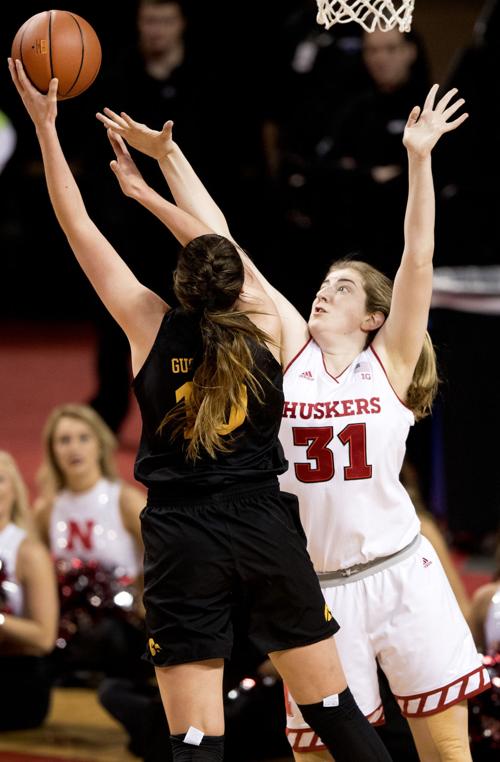 Player ; Ht. ; Yr. ; PPG ; RPG
G Hannah Whitish; 5-9; So.; 14.0; 4.1
G Jasmine Cincore; 5-10; Sr.; 6.8; 3.8
G Nicea Eliely; 6-1; So.; 8.4; 4.4
F Maddie Simon; 6-2; Jr.; 10.9; 5.8
C Kate Cain; 6-5; Fr.; 10.7; 6.8
Cain. With five more blocked shots in the Huskers' win against Iowa on Tuesday, Cain is already fourth on Nebraska's season block list with 68. She's just 10 blocks away from the school record.
Player ; Ht. ; Yr. ; PPG ; RPG
G Tyler Scaife; 5-9; Sr.; 20.5; 2.6
G Nigia Greene; 5-10; Sr.; 5.6; 1.0
G Khadaizha Sanders; 5-7; Jr.; 4.9; 2.1
F Stasha Carey; 6-2; Jr.; 7.3; 7.7
C Victoria Harris; 6-3; Jr.; 4.1; 4.4
Scaife. The biggest reason for Rutgers' major improvement this season — the Scarlet Knights won six games last season — is Scaife's return to the team. She's averaging 20.5 points per game after redshirting last season to undergo heart surgery to repair a congenital defect.
1. Nebraska is coming off a 74-65 win against No. 20 Iowa on Tuesday that gave the Huskers their first win against a ranked team in about two years. It also gave the Huskers a second win this season against a top-50 team in the RPI, the other one coming against Minnesota. Nebraska is No. 73 in the RPI.
2. Some good defense helped the Huskers beat Iowa, including holding Iowa without a three-pointer in the game on seven attempts. The last time Nebraska held an opponent without a three-pointer was Feb. 5, 2015. Opponents had made at least one three-pointer in 88 consecutive games against Nebraska. The Huskers have made at least one three-pointer in 299 straight regular-season games dating back to a loss at UTEP in 2008.
3. If the Huskers' game against Iowa had been any closer at the finish, free throw shooting may have cost Nebraska. In the final minute of the game Nebraska was just 4-of-10 on free throws, and the Huskers missed 18 free throws in the game. Nebraska is shooting just 59 percent on free throws this season, which ranks among the worst in NCAA Division I. Coach Amy Williams thinks the Huskers have players who can make a lot of free throws, they just need to get their confidence back. "I think right now it's kind of just one of those things where I think our team is just thinking about it a little too much, and stepping up to that line it's kind of mental," Williams said.