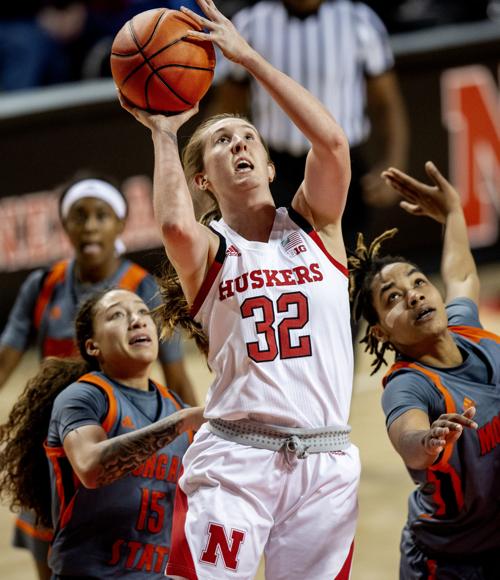 Southern Illinois-Edwardsville (1-2)
| Player | Height | Year | Points per game | Rebounds per game |
| --- | --- | --- | --- | --- |
| G) Endyia Rogers | 5-7 | Freshman | 12.4 | 4.6 |
| G) Desiree Caldwell | 5-8 | Sophomore | 9.8 | 3.0 |
| G) Aliyah Jeune | 6-1 | Senior | 10.8 | 4.5 |
| F) Alissa Pili | 6-0 | Freshman | 10.0 | 6.2 |
| C) Angel Jackson | 6-5 | Freshman | 6.2 | 6.0 |
| | | | | |
| Player | Height | Year | Points per game | Rebounds per game |
| --- | --- | --- | --- | --- |
| G) Hannah Whitish | 5-9 | Senior | 7.8 | 3.4 |
| G) Sam Haiby | 5-9 | Sophomore | 11.3 | 2.9 |
| G) Nicea Eliely | 6-1 | Senior | 8.9 | 4.6 |
| F) Ashtyn Veerbeek | 6-2 | Sophomore | 8.7 | 5.8 |
| C) Kate Cain | 6-5 | Junior | 10.5 | 7.2 |
Time: 2 p.m. TV: none. Radio: 107.3
Scouting: Southern Illinois-Edwardsville is led by former Nebraska player Bria Stallworth. The 5-foot-6 point guard didn't play for the Huskers last season, but graduated from Nebraska in May. She's averaging a team-best 11.3 points while sharing the team lead with 2.3 assists per game. She's made four three-pointers.
Trending: During Thursday's 78-55 home win against Morgan State, Nebraska sophomore guard Leigha Brown led the Huskers with 16 points and a career-high-tying five assists off the bench. Brown is averaging a team-best 16.7 points and is the only Husker to produce double-figure scoring in all three games.
Forecasting: Nebraska should get another win, and would probably get bonus points from coach Amy Williams if it quits letting opponents get a lot of offensive rebounds. Nebraska's first three opponents have pulled down 25, 20 and 10 offensive rebounds.