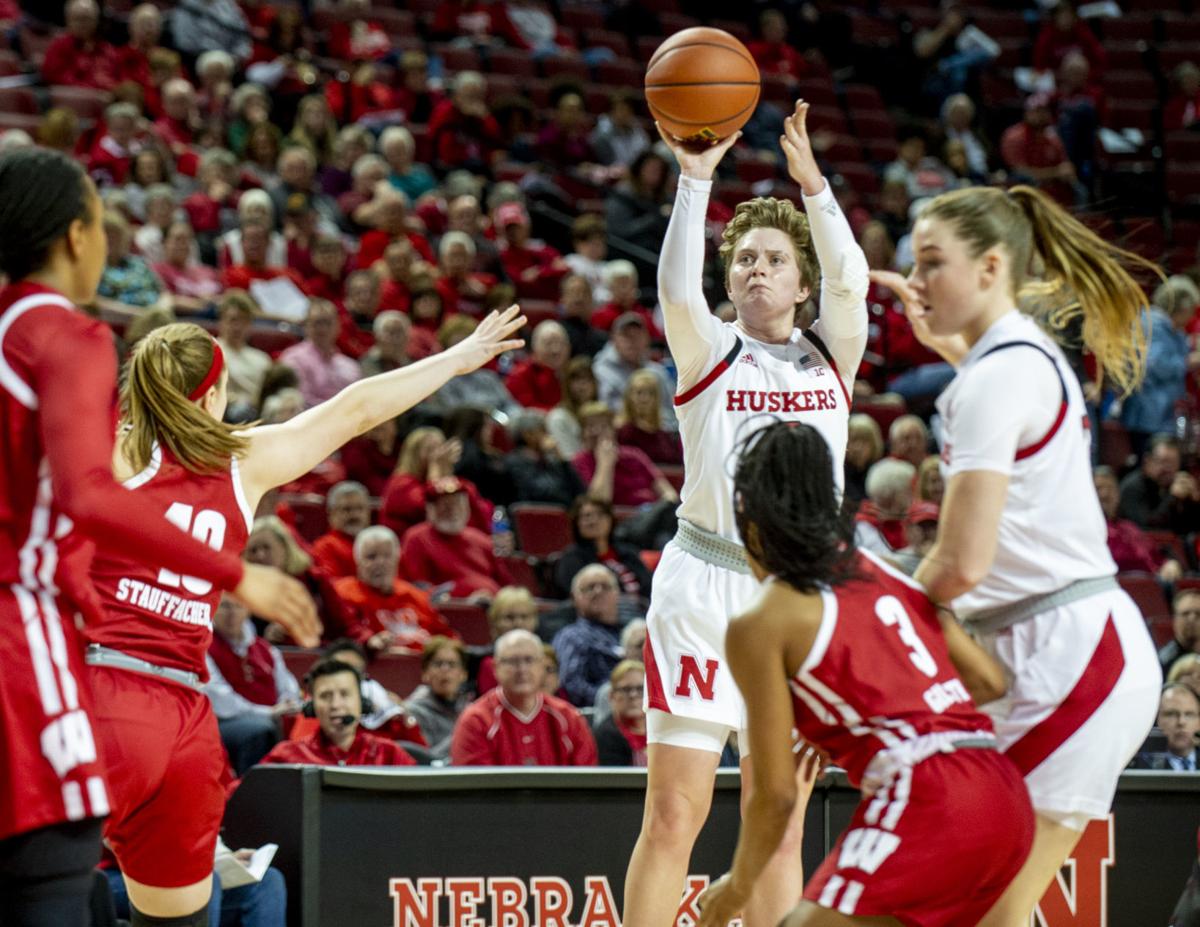 For the second time during the four seasons that Amy Williams has been the Nebraska women's basketball coach, the team is having a big turnaround season.
With a 15-5 record, Nebraska has already exceeded its win total from last year's 14-16 season. And Nebraska still has nine regular-season Big Ten games remaining and at least one more at the Big Ten Tournament.
Williams' first season at Nebraska in 2016-17 was a rough one, with a 7-22 record. Before her first season, one of Nebraska's best players, Natalie Romeo, left, and two of the incoming freshmen didn't come.
But the next season Nebraska had a huge turnaround, winning 14 more games than the previous season and earning an at-large selection for the NCAA Tournament.
Last season Nebraska had a young team and never really recovered from a bad nonconference season.
This season Nebraska had a 10-1 record during the nonconference season, and the success carried into the Big Ten, with Nebraska having a 3-1 record to start the league campaign. The Big Ten season is now halfway done, and Nebraska has a 5-4 record and is tied for fifth place going into Thursday's game at Minnesota.
There is a lot of work to do, and six weeks until the 64 teams for the NCAA Tournament will be chosen, but Nebraska is currently projected to make the tournament, according to ESPN.
But because Nebraska's nonconference schedule wasn't very strong, the Huskers are likely to always be close to the NCAA bubble unless they can get a few more wins against ranked teams.
Nebraska senior Hannah Whitish has been a part of two seasons when the Huskers made a big improvement from the previous one. How last season ended was a big motivation for the players, Whitish said.
You have free articles remaining.
"Going through a year like last year sucks, but I think everybody feeling like we did after last season was huge because we know that nobody wants to feel like that again after this season," Whitish said.
It's mostly the same group as last season playing for the Huskers now. The only player not back from last season was graduated senior Maddie Simon. The Huskers added three freshmen. Isabelle Bourne has been the best addition, and is averaging 6.3 points and 5.0 rebounds per game during Big Ten play.
For Whitish, the two biggest reasons the Huskers are better are experience and strong player leadership.
Several of Nebraska's best players are sophomores who played a lot as freshmen. Leigha Brown leads the Huskers in scoring at 13.7 points per game. Sam Haiby is next at 11.3.
When Nebraska rallied from a 10-point, fourth-quarter deficit to win its last game against Wisconsin, it was sophomores who made some of the biggest plays of the game. Ashtyn Veerbeek made a go-ahead three-pointer with 59 seconds remaining in the game. Haiby had two big steals and an assist in the closing minutes.
"Just getting another year under everybody's belt has been huge," Whitish said.
And from the time the team started ramping up its training for this season in June, the seniors have done a good job of setting the tone for the team, Whitish said.
For Whitish, the biggest difference she's noticed in herself from earlier in her career to now is that she's embraced trying to be one of the team's leaders.
"My sophomore year we had amazing leadership, and just seeing what good leadership does for your team, like making the NCAA Tournament, was huge," Whitish said. "A big part of that was the leadership that we had. And just kind of falling into that role and knowing that if I do my job as a leader, then we potentially could make the NCAA Tournament again."