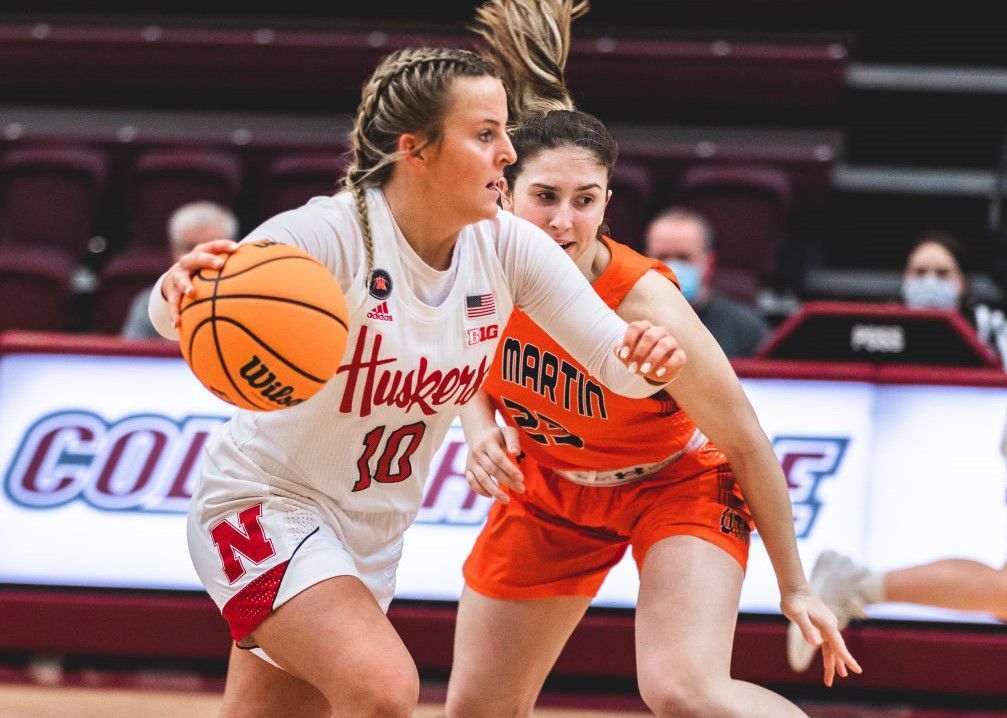 For the second week in a row, the Nebraska women's basketball team had a strong start to its tournament week.
On Friday, the Huskers used a 13-0 blitz to dominate the second half in a 72-46 win against Tennessee-Martin in the first round of the WNIT in Collierville, Tennessee.
The Huskers outscored UT Martin 45-22 after halftime. 
Last week at the Big Ten Tournament, Nebraska beat Minnesota — avenging two previous losses against the Gophers — and then had a good showing in a loss against No. 7 Maryland.
Nebraska (13-12) advances to the second round and will play Colorado (11-10) at 5 p.m. Saturday.
This year, instead of the WNIT starting at home sites, 32 teams were split into four regional sites. The format gives a tournament feel, with some teams staying at the same hotel and seeing each other at the large high school where the games are being played.
A team must win five straight games to win the WNIT.
"We're very excited to keep moving on in the tournament, and hopefully get to the end," Husker freshman guard Whitney Brown said.
This season, all teams in the tournament were guaranteed two games, with the first-round losers dropping to a consolation bracket. But with wins on Saturday and Monday, Nebraska would advance to the semifinals and extend its stay in Memphis, which also hosts the second week of the tournament.
"Any postseason tournament is just fun," Nebraska coach Amy Williams said. "There is just a fun atmosphere. It's different, but it's kind of exciting. It's kind of exciting to have an opponent that you don't know a lot about them, and they don't know a lot about you.
"It's challenging to turn around and be thinking that in 24 hours we're going to have to be prepared to defend Colorado's action or Louisiana's action and not knowing who that opponent is."
Isabelle Bourne and Ashley Scoggin led Nebraska with 13 points apiece.
Chelsey Perry led UT Martin with 20 points. But the Huskers slowed her down after a strong start to the game, when Perry scored 10 of the Skyhawks' first 12 points and UT Martin had a six-point lead. Bella Cravens and Bourne played good defense against Perry in the second half, Williams said.
Nebraska led by only two points at halftime, but then took control with a 13-0 run to start the third quarter. Brown and Scoggin each made threes during that stretch.
"In the first half they came out in that really funky defense that was kind of half man and half zone, and it took us awhile to get adjusted to how we wanted to attack that," Williams said. "In the second half, we made some good adjustments. We talked about how we wanted to continue to attack. And then in the third quarter, it certainly didn't hurt that we made some perimeter shots that helped make them pay (for clogging the lane on defense)."
Brown added 12 points for Nebraska, shooting 4-for-7 on threes. It was her first college start, a decision based on both Williams wanting another shooter against a zone defense and a reward for Brown's strong play late in the season.
MiCole Cayton added 10 points, which is the most in her 13 games with the Huskers. Cravens had 14 rebounds, as the Huskers dominated the boards 45-25.
Nebraska's leading scorer, Sam Haiby, was held to two points. She only attempted two shots as UT Martin focused its defense on her. So Haiby let the other Huskers go to work, and had three assists. The Huskers had 13 assists in the game and shot 47% from the field.
"We kind of realized the more passes we got in that the better our shots were going to be, and we could go from a good shot to a great shot just by one more extra pass," Brown said.
UT Martin (20-6) had a small roster for the game, after five players entered the NCAA transfer portal recently and didn't play, including a starter who averaged 12 points per game.