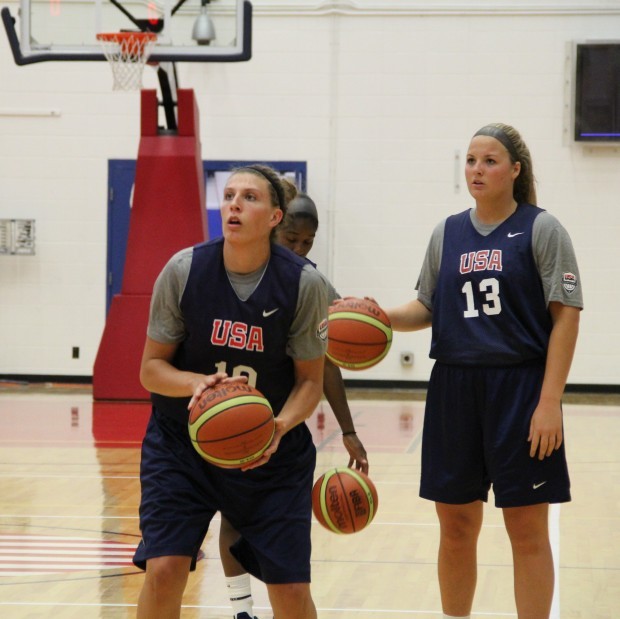 For the first couple of days of the U.S. World University Games team tryouts, Nebraska's Jordan Hooper was just a face in the crowd.
The Alliance graduate was competing with 32 of the best women's college basketball players in the country and was struggling.
But faster than she could say "Idut Bol'shiye Krasnyye!" ("Go Big Red!" in Russian), Hooper turned her performance around on the third day. She earned a spot on the 12-player roster that's headed to Kazan, Russia, next month. Now she's in Colorado Springs, Colo., at the Olympic Training Center preparing with her teammates for the trip.
"The tryouts were super nerve-racking," Hooper said. "The first day, I didn't hardly eat anything, I was so nervous. Honestly, I didn't go in playing very well. I didn't shoot very well, I didn't do anything well. But by the end of the three days, I was playing with a lot more confidence. The last day, I played my game instead of what everyone was looking for. I played as hard as I could, rebounded and shot the ball well."
Oklahoma's Sherri Coale, who will coach the team, noticed.
"She kind of just blended in with everybody else at the beginning," Coale said. "That happens a lot of the time due to nerves. Kids just aren't comfortable with the situation. But Jordan did assert herself more and more, and she had a really good last day. She was very aggressive and has been ever since.
"We knew she could really shoot it and she was versatile. At Oklahoma, we refer to her kind of player as a 'long, tall shooter.' She's just been fantastic for us."
Coale noted that the 6-foot-2 Hooper will need to focus on aiding the team's rebounding effort but also pointed out some not-so-obvious areas where the Husker forward excels.
"I'm really impressed with how acutely she listens," Coale said. "She pays attention. She's very skilled, but she takes the information from the coaching staff and makes little changes. When a good player does that, it will often give them a chance to be extraordinary.
"She's also a very contentious player. She sets great screens. When you do that, sometimes you're the player that gets open. She can score a lot of baskets that way. And she's really adapting to reading the defense, knowing when to slip and when to make a second cut."
Nebraska fans' last glimpse of Hooper was in the NCAA Tournament, when the Huskers' leading scorer and All-American went down with a sprained ankle late in the Sweet 16 against Duke. Hooper said her ankle is 100 percent and she's looking forward to the trip to Russia.
"When I learned I'd made the team, honestly, my mind went blank," Hooper said. "I heard my name called and didn't hear anyone else's name. Then it was a whirlwind of pictures and interviews."
As a sophomore, Hooper joined her Nebraska teammates on a summer trip to Norway, Sweden and Denmark. That experience lasted nine days; the preparation and trip to Russia for the World University Games will last 22 days, with the competition beginning July 8.
"The trip with my (Husker) teammates was probably the most fun experience I've ever been through," Hooper said. "I've never been away from Nebraska for 22 days, but I'm ready and excited. As soon as I learned I made the team, I 'Googled' Russian food. I'll try to go in with an open mind, but it looks kind of funny. I hope they have a McDonald's there."
While Hooper is away, others on the Husker team will have to step up and be leaders through the summer workouts. Coach Connie Yori also will have to make adjustments to account for the loss of point guard Lindsey Moore to the WNBA. Hooper said she's confident the team will come together in the fall and that she can improve her game on the trip to Russia.
"I feel like I've come a long way since my freshman year, even since last year," Hooper said. "I still have a ton I want to work on. But I've learned I can stick with some of the best players in the country as long as I find my game and not be so nervous."