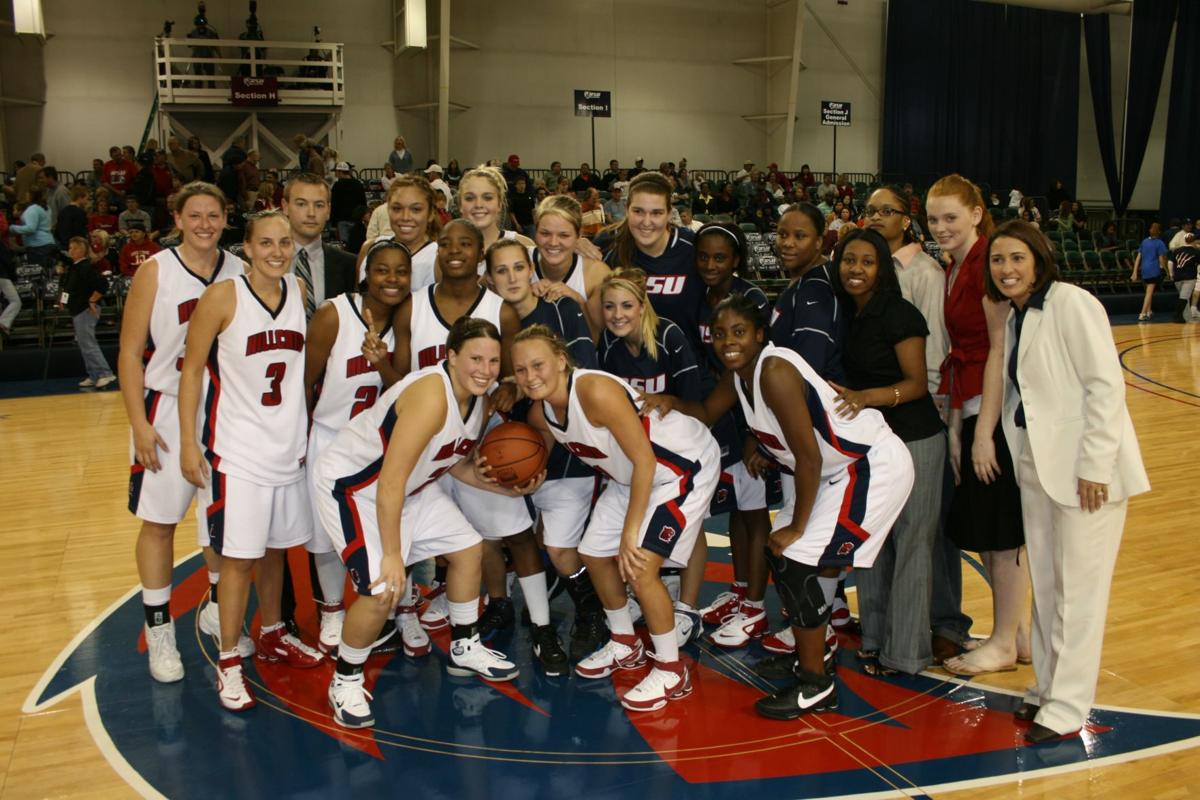 One of the most successful years that Amy Williams has had as a college basketball head coach was her first, and also came at the same time she was teaching a college math class.
Such is the life of being a coach at some of the lower levels of college ball, where coaches sometimes have to do more than coach, such as teach or manage the campus recreation center.
Williams' small-college coaching story was even more unusual because the school had never had a women's basketball team.
Williams was the first head coach at Rogers State in Claremore, Oklahoma, coaching there for five seasons from 2007-12. Williams has been reminded of that unique time in her life this week, as Nebraska will play Rogers State in an exhibition game Saturday. The game at Pinnacle Bank Arena begins at 4 p.m.
After playing at Nebraska, Williams — formerly Amy Gusso — was a college assistant for about 10 years with stops at Nebraska-Kearney, Texas San Antonio, Oklahoma State and Tulsa. There were times when she got looked at for head coaching jobs, but one thing missing was she'd never been one.
So she took a most unusual head coaching position at a school that didn't have any players. Sometimes when a new program starts, the coaches have one year to recruit and put the pieces in place to start a team. When Williams was hired, she had about seven months before the first game.
"They didn't have a women's basketball anywhere on the campus when I got hired," Williams said.
"My first team of recruits, every one of them that I brought on a recruiting visit, we walked into a room with cement walls and said, 'This will be our locker room.' It was very unique. But the good thing was that we got to build it the way we thought it should be built. Everything from picking the uniforms to every piece of equipment to how we wanted the locker room to be structured."
For that first year Williams built a team with a mix of freshmen and transfers from NCAA Division I schools and nearby junior colleges.
In the first season, the Hillcats had a 13-18 record.
"I tell my husband often that I think it may have been our very best coaching job ever, my staff," Williams said. "We ended up having 18 players on our roster that first year, and to win 13 games with that group was overachieving. I was really proud of that."
The program grew steadily and in the fourth season made the NAIA Tournament.
The Rogers State job led her to getting hired as the head coach at South Dakota in her home state, and four years later at Nebraska.
There were a few years when Williams' husband, Lloyd, was also the head coach of the men's basketball team at Rogers State.
Their youngest daughter, Bentli, was born when they were coaching there, just six days after the last game.
In college Williams was a math and biology major. So at Rogers State, even during the season, her extra duties included teaching a math class.
Williams looks back fondly on her time in Claremore.
"What a great decision for me to take that as my first head coaching job because it provided me an incredible opportunity to do what I love to do and learn and make some mistakes and grow as a coach," Williams said. "To see a program go from nothing, a brand new startup program, to our last year being in the Elite Eight of the national tournament was very rewarding. My oldest daughter ran around that place kind of like she owned it. It was just a really good community."
Rogers State is now an NCAA Division II program, and plays in the Mid-America Intercollegiate Athletics Association, the same conference as Nebraska-Kearney. Former Husker Jasmine Cincore is an assistant coach for Rogers State.
Be the first to know
Get local news delivered to your inbox!