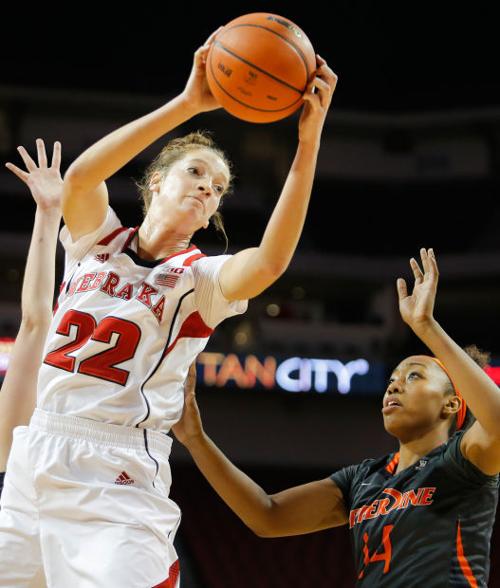 Connie Yori would like to develop more depth early in the season, but there's also the matter of winning games.
"It's kind of important," the Nebraska women's basketball coach said.
The Huskers have done that, winning all four games by at least 20 points. Only one other team in school history, the 2009-10 Huskers, has won each of its first four games by at least 20 points.
Nebraska moved up one spot to No. 15 in the latest AP poll. The Huskers play their second road game of the season Friday, against UCLA in Los Angeles.
UCLA is winless in three games, but has faced a demanding schedule with a young but talented team. The Bruins lost in overtime to James Madison to start the year, then lost to No. 11 North Carolina and No. 6 Texas.
Last season, Nebraska beat UCLA 77-49 in the first regular-season game played at Pinnacle Bank Arena.
Nebraska has rolled with its starters, but also got contributions off the bench from freshman guard Natalie Romeo and inside players Anya Kalenta and Allie Havers.
Romeo coming off the bench to give Tear'a Laudermill a break allowed NU to play some tough pressure defense in a win against Utah last Sunday.
"Record-wise, we're where we need to be, but just like anything, there is lots of things to get better at," Yori said. "We need to continue to try and improve our depth. I like some of the things Allie is doing for us, and I think Anya has shown she can give us some good minutes. I think she'll get a great comfort level as things get going."
Kalenta, a junior-college transfer, is averaging 7.3 points and 3.8 rebounds in about 14 minutes per game. Havers is averaging 5.5 points and 5.3 rebounds in 23 minutes.
"Allie has improved so much from last year to this year, and has gotten a lot stronger and is looking more for her shot. I'm proud of Allie" senior forward Emily Cady said of the sophomore.
Freshman guard Chandler Smith is working back from a preseason injury, and could provide some more guard depth when she's able to play.
"We're developing some post depth, which is good," Yori said. "Now we've got to develop a little more guard depth. But we have a lot of young guards who are improving in practice."
Nebraska has outrebounded opponents by an average of 10 per game. That's one of the things junior guard Rachel Theriot likes about the Huskers' start.
"I think our effort is really there, and just the little things coach emphasizes, like rebounding and certain game plans, we've really locked in and focused on that," Theriot said. "It's worked our way, and we've just got to buy into it."