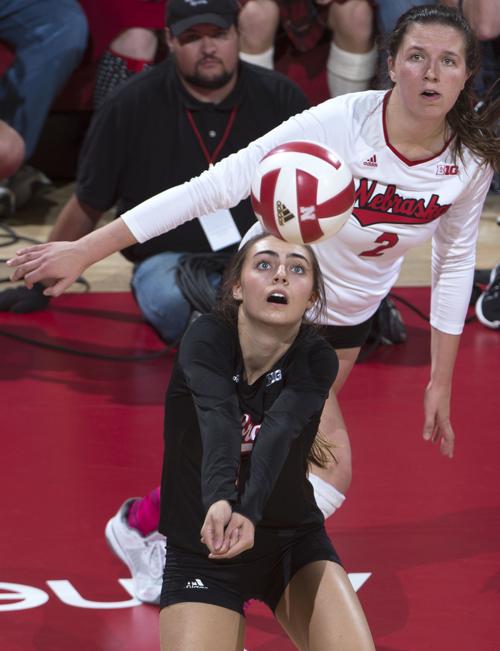 Preparation for the college volleyball season took another step forward this week for Nebraska with the addition of some new players and the start of summer conditioning workouts.
After some time off last month, the players are back in Lincoln taking classes, working at Nebraska volleyball camps and getting in workouts.
While the team had one month of training in the spring, the transition from one season to the next wasn't as apparent because seniors Kelly Hunter and Annika Albrecht continued to train with the team in the absence of a returning setter on the roster after Hunter Atherton transferred.
But now it's all about the 2018 season. The returning Huskers have been joined by the four freshmen: setter Nicklin Hames, middle blocker Callie Schwarzenbach, outside hitter Capri Davis and defensive specialist Megan Miller.
That group was ranked as the No. 5 recruiting class in the country by PrepVolleyball.com. Penn State had the No. 1 class, followed by Florida, Washington and Oregon. Creighton was ranked No. 10.
All of the new Huskers were ranked in the top 60 players of the class, with Hames at No. 4, Schwarzenbach at No. 10, Davis at No. 21 and Miller at No. 55.
Also joining the group is transfer Lexi Sun, who was a first-team All-Big 12 outside hitter at Texas last season and is eligible to play right away.
As of now, Hames is the only setter on the roster. But coach John Cook hasn't backed off from earlier comments that he would add a setter to the roster before the season. An announcement of any new players likely wouldn't come until they've cleared all the necessary hurdles to join the program.
The returning players began conditioning workouts Monday, with the freshmen joining on Tuesday after getting cleared to begin.
With so many new players on the team, and potentially needing them to play big roles when the season begins in August, Cook says there is a lot of important work to be done.
"Right now kind of our theme is come together," Cook said. "Almost half of our team is new, so they got to come together pretty quick."
In a change from previous seasons, Cook has already named outside hitter Mikaela Foecke and libero Kenzie Maloney team captains for the season. They're the only seniors on the roster.
Most seasons Cook picks, or has the team choose captains, in August. Last year, he waited until one week before the first match.
"I didn't mess around," Cook said. "At the beginning of spring I said, 'You're captains.'"
Two players who were part of the program last semester won't be with the team this season. Jasmine Schmidt got an extended tryout last spring but isn't staying with the program.
You have free articles remaining.
And junior college transfer outside hitter Kash Williams also has left. Cook said it wasn't a good fit for Williams at Nebraska. He said it had already been determined that Williams wouldn't be with the team this season when Sun was added to the roster.
Huskers probably won't get White House visit: It doesn't sound like the volleyball team will be making a trip to Washington, D.C., to celebrate winning the 2017 national championship.
Following the Huskers' other championship seasons, the team has traveled to Washington. After winning the 2015 national championship, the Huskers traveled to Washington in the spring, but didn't get to meet with President Barack Obama. After the 2006 season, the team did meet President George W. Bush.
This time Cook and the team captains decided they probably won't travel to Washington unless they are invited to meet President Donald Trump. But Trump hasn't met with as many sports teams as some presidents, and so far an invitation hasn't come.
Cook did travel to Washington in January to attend the State of the Union address as the guest of Sen. Deb Fischer. She called and invited him shortly after Nebraska won the championship.
I'm excited to welcome Coach Cook as my guest to tonight's #SOTU . He and the @Huskervball National Champions have taught us all about leadership, excellence, and how to win 'the Nebraska way'. Thank you @jcook2 for joining me for this special & historic occasion. pic.twitter.com/GaoicGw6RG

— Senator Deb Fischer (@SenatorFischer) January 30, 2018
After attending a dinner at the U.S. Capitol, Cook thought he would be watching the State of the Union on TV from elsewhere in the building, but instead he was led into the upper gallery, not far from where first lady Melania Trump was seated.
Cook was nervous about attending, but soon found out he had things in common — Pearl Jam and vacation spots were two — with the senators and their guests.
"But the cool thing was everybody started talking to me once they knew I was a volleyball coach. There was always a conversation," Cook said.
There was some negative feedback to Cook attending — one fan called and said they'd be giving up their volleyball tickets — but Cook has no regrets.
"But other people said, 'Hey, this is great,'" Cook said. "I'm just like, 'How many volleyball coaches get to go to the State of the Union?'"
Creighton and Texas are among the college volleyball teams taking international team trips this summer. Teams are allowed to go on an international trip every four years. Nebraska could have gone on a trip this year, but will wait until next summer to allow a large group of newcomers to be able to go. The destination isn't finalized, but the Huskers will probably travel to China and Japan.