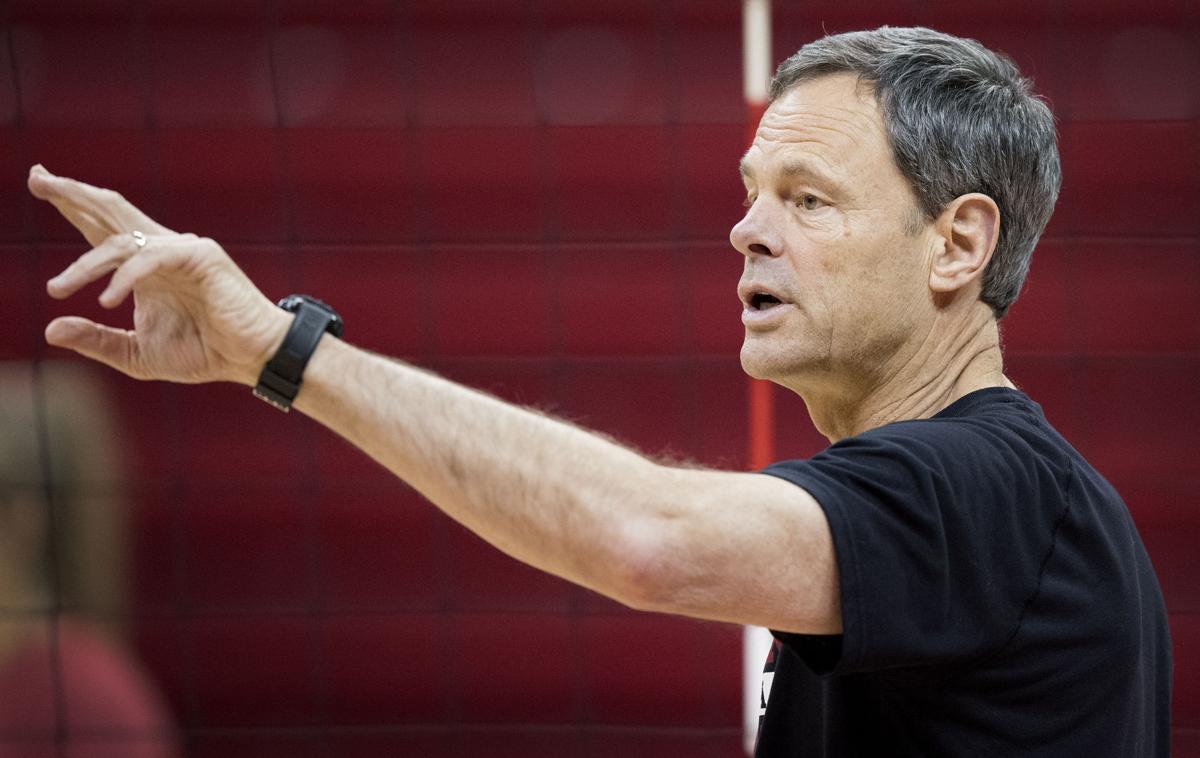 After the Nebraska volleyball team mostly rolled right along during the 2016 season, with only two losses over the first 33 matches, including an oh-so-close call against Penn State in the NCAA Sweet 16, the Huskers' season came to an abrupt end with a three-set loss against Texas in the semifinals of the NCAA Tournament. The Huskers' hopes for the program's first back-to-back national championships came up two wins short.
It was still a great season: a 31-3 record, the Big Ten championship and a No. 4 ranking in the final poll.
Nebraska coach John Cook said he didn't need much time to get over how the season ended, which hasn't been the case every offseason.
"I think that team maxed out really well, and I think Texas played great and we didn't play so well, and that sometimes happens," Cook said recently as preparations ramped up for the 2017 season with the start of spring practice. "And that's the weight of trying to repeat and beat a team essentially three times in one year. Texas played great, and then you saw them in the final against Stanford it was a different team because now all of a sudden they're expected to win it. We did everything we could to prepare for that, and sometimes it doesn't go that way."
Still, Cook is quite proud of the fact that he can now look up at the Devaney Sports Center and see a banner for winning the Big Ten title.
"I felt like winning the Big Ten might have been tougher than winning a national championship," Cook said. "(NCAA champion) Stanford got hot for three matches. We had to win that Big Ten over 10 weeks. We had a great year, and it was one bad match."
The Huskers have already started on the next chapter in the program's history. It will be different. The Huskers lost four seniors, including four-year starters Kadie Rolfzen, Amber Rolfzen and Justine Wong-Orantes. Outside hitter Andie Malloy is also gone.
And the program has three new staff members in assistant coaches Tyler Hildebrand and Kayla Banwarth, and Kristin Hildebrand, who will serve in a noncoaching player development role. Later, they'll add a new volunteer assistant coach.
This feels like a big spring, Cook said. The core of the team hasn't changed much over the past two years. Last season there were only two freshmen, Lauren Stivrins and Hunter Atherton.
Now there will be new players in big roles, including probably at least one or two of the five freshmen that will arrive this summer.
You have free articles remaining.
"Now this team kind of has to reinvent itself, and rebrand itself," Cook said. "Like what kind of team do they want to be, and how are they going to play? We got to figure out how to play at a high level."
Just two days after the Huskers' beach volleyball season ended, Nebraska began workouts for the four-week spring season. The only official spring match will be April 22 against Colorado State. The Huskers will also have a closed scrimmage with Creighton.
One of the priorities for the spring is to get the staff on the same page regarding terminology and their roles.
Cook also wants to challenge some of the players, including senior setter Kelly Hunter, who will be entering her third year as a starter.
"I'm going to have Tyler train the setters this spring," Cook said. "He's one of the best that's ever played, so he's got some insights and ideas so I want to try and learn from that. And Kayla is going to work with our liberos and passers. I'm going to let those guys have a lot of responsibility."
The most competition will come at the outside and right-side hitter spots, where Olivia Boender and Annika Albrecht will get plenty of chances to prove themselves before the freshmen arrive and try to win jobs. Incoming freshman Jazz Sweet, a 6-foot-3 lefty, will have a good chance to be the right-side hitter this season. None of the freshmen enrolled early.
Stivrins will get a chance to show she's ready to step into the starting lineup at middle blocker, where senior Briana Holman returns.
Junior Kenzie Maloney is in line to take over at libero, but Cook wants Sydney Townsend and Brooke Smith to push Maloney.
Some years Cook has used the spring season to experiment with players at new positions.
But one move he doesn't intend to try is playing Holman at one of the hitter spots, where the Huskers may have to rely on a freshman.
"She's a middle," said Cook of Holman.
"She's a darn good middle. I think Bri's best opportunity to help this team the most, and play at the highest level, is in the middle."