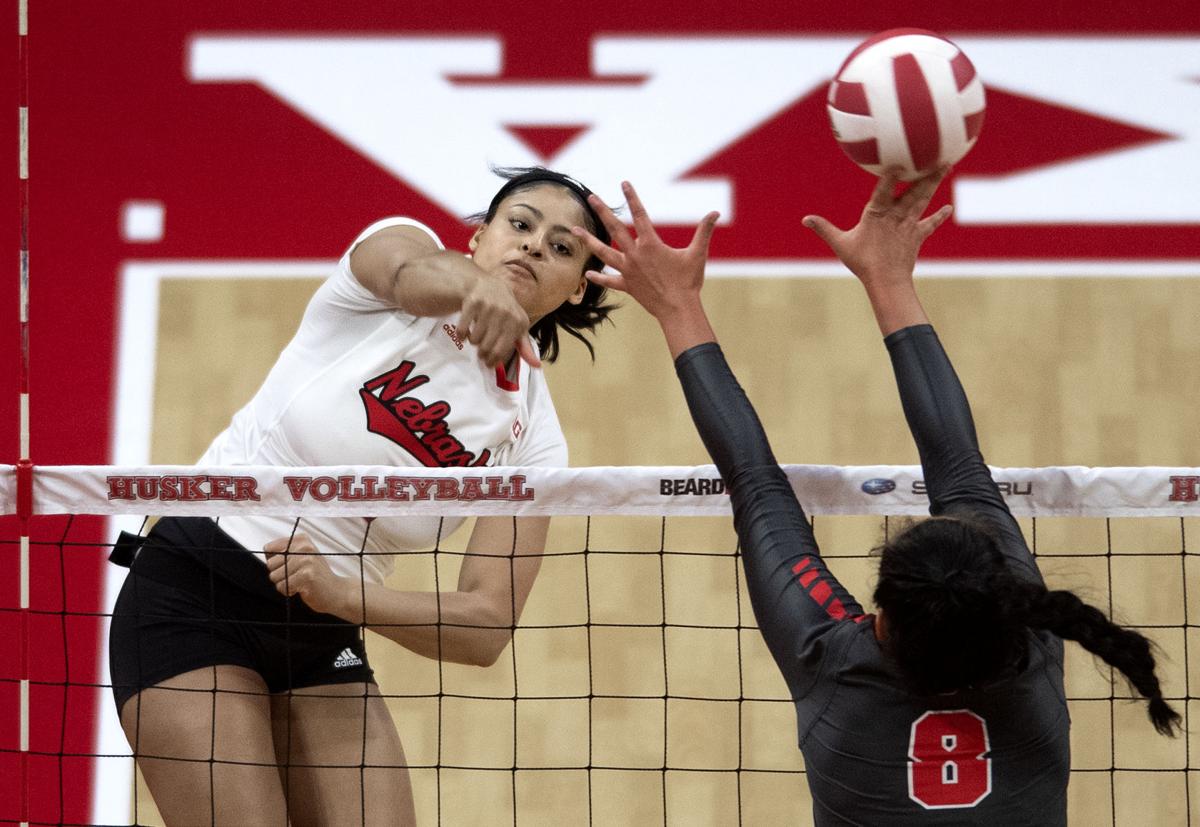 Winning the Big Ten title in volleyball this season may not have the same cachet as most years, but it's still a major accomplishment in a league with five top-10 teams.
Wisconsin won the title with a 15-0 record during the pandemic-shortened season. The Badgers were awarded the trophy after clinching the title last week, and the program almost immediately began selling championship T-shirts.
Top-ranked Wisconsin is a great team, but unlike during a normal season, the Badgers didn't play some of the top teams due to COVID-19 issues for both the Badgers and its opponents. The Badgers' series against Nebraska and Penn State were canceled, as was one match against Minnesota.
Due to teams not playing an equal amount of matches this season, the Big Ten standings were based on winning percentage. Minnesota (15-2, 88%) finished second, just slightly ahead of third-place Nebraska (14-2, 87%). Ohio State was fourth and Purdue fifth.
Nebraska hasn't finished lower than third in the Big Ten for six straight seasons, and has won three Big Ten titles, most recently in 2017.
Overall, just 115 of 154 Big Ten matches were played, while four others were originally postponed that were later ruled to be Northwestern forfeits because the postponements were not COVID-19 related. The Big Ten wouldn't provide more details about that.
Four teams played 20 of their scheduled 22 matches. Michigan only got in 13.
Nebraska had six matches canceled due to COVID-19 issues for its opponents.
This season, the Big Ten schedule was different with teams playing the same team twice during the same week, usually on back-to-back days. That cut down on travel expenses and potential COVID exposure.
Nebraska had two series where it had a win and a loss, against Minnesota and Ohio State. Nebraska's best win of the season, a sweep against No. 5 Minnesota, came after the Gophers beat Nebraska in four sets two days earlier.
What did Nebraska coach John Cook think of playing the same opponent back-to-back?
"In some ways I like it," Cook said. "I like it that you have to be really good both nights, and there is definitely psychological things that happen whether you win the first or lose the first night. You saw all of the split weekends. Just (last week Northwestern against Maryland both matches) went five sets, and they split. I like it from that regard."
Cook also liked that the weeks when you're on the road you don't have to travel late Friday after a match, and then play a new team the next day.
"What I don't like about it is, and what some coaches are worried about, is if we do that full time in the Big Ten it could potentially send a message for the Big Ten and for schools that maybe to not make the biggest commitment to volleyball," Cook said. "It's kind of a less expensive way to run the conference."
Cook also thinks a format change could diminish some of the great matches each season, like when Nebraska plays Penn State early in the season, and then again later in the season when both teams have changed.
This season teams were scheduled to only play 11 of the other 13 league teams, but that probably won't happen again. In a normal 20-match league season, you play each team at least once and several teams twice.
Cook expects playing more back-to-back series during the fall 2021 season will be discussed by the Big Ten after this season.
"I'll be curious where it goes," he said. "It's what hockey does, and baseball and softball as well. For volleyball, though, I just don't know if it's the right answer."
Cook does enjoy coaching in those back-to-back matches. Against Minnesota, the Huskers made a few changes to its rotation and played a lot better in the second match.
"Love that part of it. That's fun to coach," Cook said. "It is like a chess match. What adjustments can we make, what are they going to make? That's actually a fun part of it."
Huskers stay put in poll: The final regular-season coaches' poll was released on Monday with the Huskers staying at No. 4.
Each of the top seven teams in the poll remained the same: Wisconsin, Kentucky, Minnesota, Nebraska, Texas, Florida and Washington.
Along with No. 8 Ohio State and No. 9 Purdue, five of the top-nine teams are from the Big Ten.
Briefly
* The all-Big Team teams will be announced on Thursday.
* Two teams qualified for the NCAA Tournament for the first time: North Carolina A&T (the champion of the Mid-Eastern Athletic Conference) and Utah Valley (champion of the Western Athletic Conference).