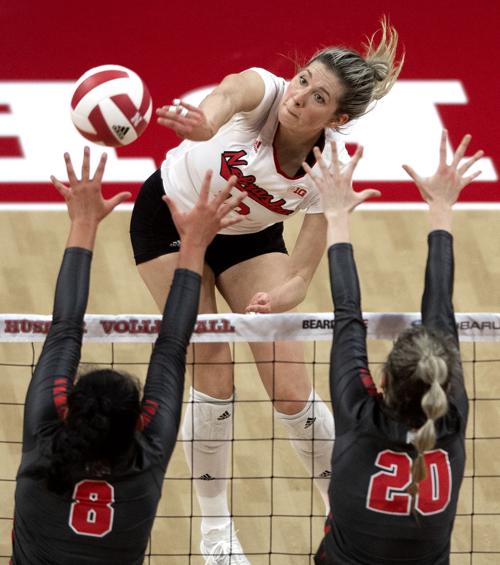 John Cook was just answering a question about the suddenly precarious situation at the hitter positions for the Nebraska volleyball team when his response inadvertently turned into a flex for the four-time national champion coach.
Three offseason transfers, and a recent season-ending injury, means the Huskers are down to just three healthy players at the pin hitter positions of outside hitter and right-side hitter, where you use three players.
"We've been in this situation before," Cook said. "We won national championships with just three hitters. Sometimes you get to this point and your depth is thin."
And there is just another example of how Cook and Husker volleyball are on another level than most programs. Only 13 coaches have won a national title in volleyball during the NCAA era (since 1981), but Cook has twice won national championships when the Huskers were thin (in 2000) or razor-thin (2006) on depth at the pins.
The Huskers are in that situation again, and when the NCAA Tournament comes to Omaha next month the fifth-ranked Huskers (12-2) will attempt to win another championship in the same manner.
The difference is that this is a pandemic season, when COVID-19 contact tracing or a positive test result can keep a player from playing, and not just a sprained ankle or knee injury.
Or Nebraska may have three good pin hitters with senior outside hitter Lexi Sun, sophomore outside hitter Madi Kubik and right-side hitter Jazz Sweet, and be just fine for the final four weeks of the season.
But when right-side hitter Riley Zuhn suffered a season-ending injury last week with a broken bone in her foot, the Huskers entered the caution zone.
If something happens now to a Nebraska pin hitter, the Huskers would have to reshuffle the lineup and their replacement would be a player not at their natural position, such as a middle blocker or defensive specialist.
In that scenario, the Huskers could turn to libero Kenzie Knuckles, defensive specialist Kaylei Akana or middle blocker Kalynn Meyer.
So what would Cook do if another pin hitter wasn't available?
"I don't know," he said. "Kenzie Knuckles can hit, Kaylei can hit. Kalynn Meyer could possible play on the right."
Knuckles and Akana each played outside hitter in high school, but in college they could be a liability in blocking.
The Huskers' depth at the pins took a hit in the offseason when Capri Davis transferred to Texas, Anezka Szabo transferred to Kanas and walk-on Abby Johnson transferred to Bradley.
During Nebraska's 2006 championship season, a season-ending injury to Christina Houghtelling meant the Huskers were down to Sarah Pavan, Jordan Larson, Dani Mancuso and reserve Brooke Bartek.
The 2000 championship team, with hitters Laura Pilakowski, Kim Behrends, Angie Oxley and Anna Schrad, was also low on depth.
"There were other years where you have injuries or people are out for a while," Cook said. "We knew we were a little thin (this season). Capri leaving really hurt us, the timing of that and everything. It's hard to make that up when somebody leaves. That made us thin. But we'll survive."
Nebraska won't make any changes with how it trains, and the players may actually have to take more reps.
"The good thing is they know they're never going to get subbed out," Cook said.
The players know they have to be even more cautious now, Sweet said.
"We all know the responsibility we have just to stay healthy and do what we need to do with rehab and everything with that," Sweet said. "Just take care of ourselves and make sure we're doing what we need to do for the team."
Sweet is back in the starting role she held the previous three seasons, before Zuhn beat her for the job to begin this season. Cook hopes she can have a big finish and write a great chapter for her career.
"All season she's talked about wanting to help the team however she could, whether it's in practice or a match, starter or nonstarter," Cook said. "That's the first start is wanting to help this team, and now she has a great opportunity to really help this team."
Briefly
Nebraska is in Ann Arbor, Michigan, for a rare Thursday-Friday series this week. Thursday's 7 p.m. match against the Wolverines (4-5) will be televised on BTN. Michigan's nine matches are the second-fewest played for a Big Ten team.