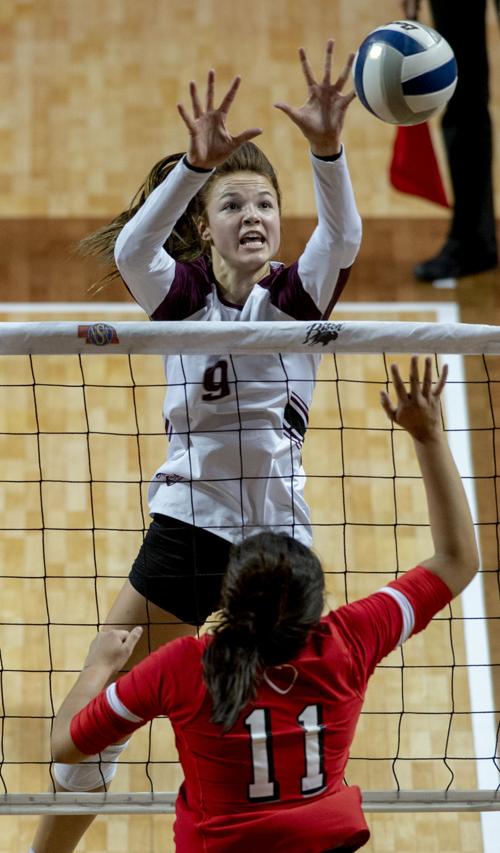 Whitney Lauenstein, a junior in high school at Waverly, is a really good volleyball player, and it's not just the coaches in Nebraska who knew it.
Oklahoma, Missouri and BYU were among the college volleyball programs that recruited the 6-foot-1 outside hitter.
Nebraska coach John Cook thought Lauenstein was good, too. So much so that he offered her one of the 12 hard-to-earn scholarships the Huskers can allocate for each season.
And once that happened, Lauenstein was ready. At the end of her recruiting trip to Nebraska last weekend she accepted the offer, and Lauenstein announced her decision Thursday.
"My first phone call with John Cook was Sept. 23 and I kind of said that I wasn't really looking for a walk-on spot," Lauenstein said. "I had a couple of scholarships other places, and wanted a full-ride, and he said that he wasn't looking at me for a walk-on. So that's kind of when I knew that I was interested."
Nebraska waited to make its scholarship offer until they could do so in person during an official visit. Lauenstein made a scheduled visit to Oklahoma, but knew Nebraska would be tough to top if the offer came.
"It was kind of a no-brainer," Lauenstein said. "Like, 'Duh,' when you get offered a full-ride to your home state it was kind of like, 'You can't pass that up.' Just being from here, and knowing the environment for all sports, but especially volleyball."
Lauenstein had more than 400 kills and 50 ace serves this season while helping Waverly reach the Class B state tournament semifinals.
You have free articles remaining.
Cook attended one of Waverly's matches during the state tournament. He also attended a regular-season match because Waverly setter Annika Evans is also going to play for the Huskers, starting next season.
The great season Lauenstein had led to a lot of speculation if she would get an offer from the Huskers.
"I didn't know if that was going to happen," Lauenstein said. "I kind of kept an open mind, but being from Nebraska I know that (Cook) likes Nebraska girls, so I just kept an open mind, and didn't know if he would or wouldn't."
During Lauenstein's visit to Nebraska, Cook also told her that he was impressed that she works a part-time job, because it shows she's responsible. She works at the Honeycreek restaurant in Waverly.
Lauenstein will be part of the 2021 recruiting class, and all indications are that it will be one of the best recruiting classes in program history, and one of the best in the nation that year.
Three of the players — outside hitter Lindsay Krause (Omaha), setter Kennedi Orr (Minnesota) and libero Alexis Rodriguez (Illinois) — recently played for the U.S. youth national team. The other two players are each 6-4 — hard-hitting outside hitter Ally Batenhorst from Texas and all-around athlete Rylee Gray from Elkhorn South.
Lauenstein feels really good that she'll now be in that class.
"I've been around those girls — Lindsay and Rylee — and they're great players and I'm pumped to play on the same side of the net, and not have to go against them," Lauenstein said.