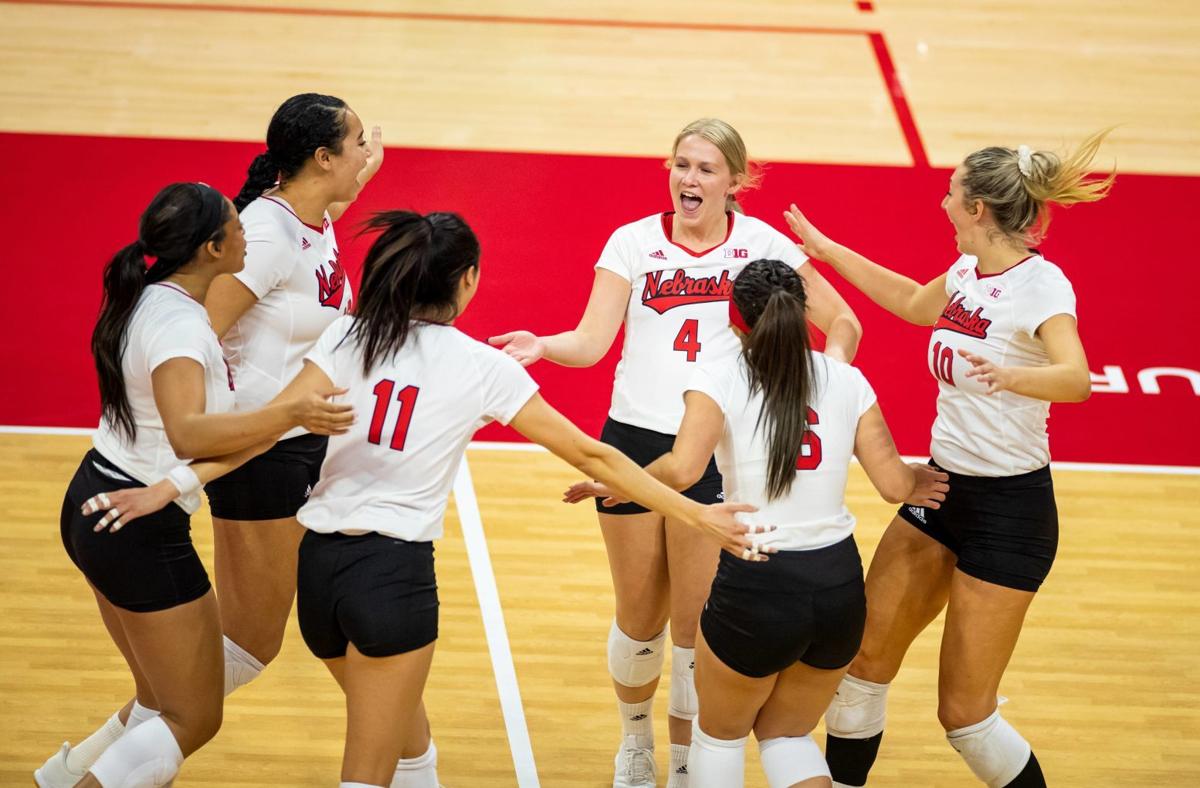 The first appearance for Anni Evans in a college volleyball match will be easy to remember.
In the third set, Evans came in for starting setter Nicklin Hames and headed straight to the serving line. Evans beat the Maryland libero with a serve that dropped quickly at the end, giving Nebraska a 23-16 lead in the set. Nebraska won the set to take a 2-1 lead in the match.
The players on the court and bench were thrilled for Evans, and she had a big grin as she headed back to the serving line again.
"To see her go in and get that ace, I think that just made everyone's day so much better because she's that type of person and that type of player," said Nebraska co-captain Lauren Stivrins. "She's exactly what it means to be a Nebraska volleyball player. That was amazing."
Evans appeared briefly in both matches last weekend after not playing in Nebraska's first two matches of the season.
In high school, Evans committed to Colorado State with plans to begin her career as a walk-on with a chance to earn a scholarship later.
But after Evans attended a Nebraska volleyball camp prior to her senior season, she was offered a chance to join the Huskers. She accepted the offer the same day it came.
"Anni is such a team player," Stivrins said. "She puts the biggest smile on my face when I talk about her because that girl gets after it every single day. She's a stud and there is not one person in our gym that is not an Anni fan."
Evans has improved her serving since joining the Huskers last summer, coach John Cook said.
"We got to continue to look for more opportunities to let her get in there," Cook said. "When she first got here I would kid her that she had a Waverly JV high school serve, and she's worked really hard on it. She gives us fits in practice, so I was not surprised."
Kubik looking to turn up the heat serving: Sophomore Madi Kubik had three ace serves during Nebraska's sweep of Maryland last Saturday, and in the third set, she helped put the match away by serving an 8-0 run that included two aces.
Kubik is trying to be more aggressive with her serving this season.
"It's going back there and being confident and trusting our training and going after them," said Kubik of serving. "Coach says mano a mano, so it's personal. Like go after them; ace them."
Cook wants Kubik and the other Huskers to attack with their serves. Through four matches Kubik has four aces and four serving errors, which is a good ratio of aces to errors.
"Madi, last year she was an awful server, so all year I've been on her about becoming a better server," Cook said. "She served really well this weekend."
Huskers stay No. 4 in poll: Nebraska remains ranked No. 4 in the American Volleyball Coaches Association poll released Monday.
Each of the top four teams won last week or did not play and remain the same in the poll: Wisconsin (6-0), Texas (14-0), Kentucky (10-0) and Nebraska (4-0).
Two-time defending national champion Stanford lost its first two matches of the season against unranked Arizona and dropped from seventh to 15th in the poll. The Cardinal have a lot of new players after graduating seven seniors, including four All-Americans, from last season.
This weekend Nebraska travels for two matches against Rutgers (1-5, with a win against Indiana).
Worth quoting: John Cook said, "I get in the zone and I don't really pay attention to what's going on outside my bubble." 
The coach said he didn't notice that music was being played after every point during last Saturday's match to add some energy to the arena because fans aren't allowed to attend.