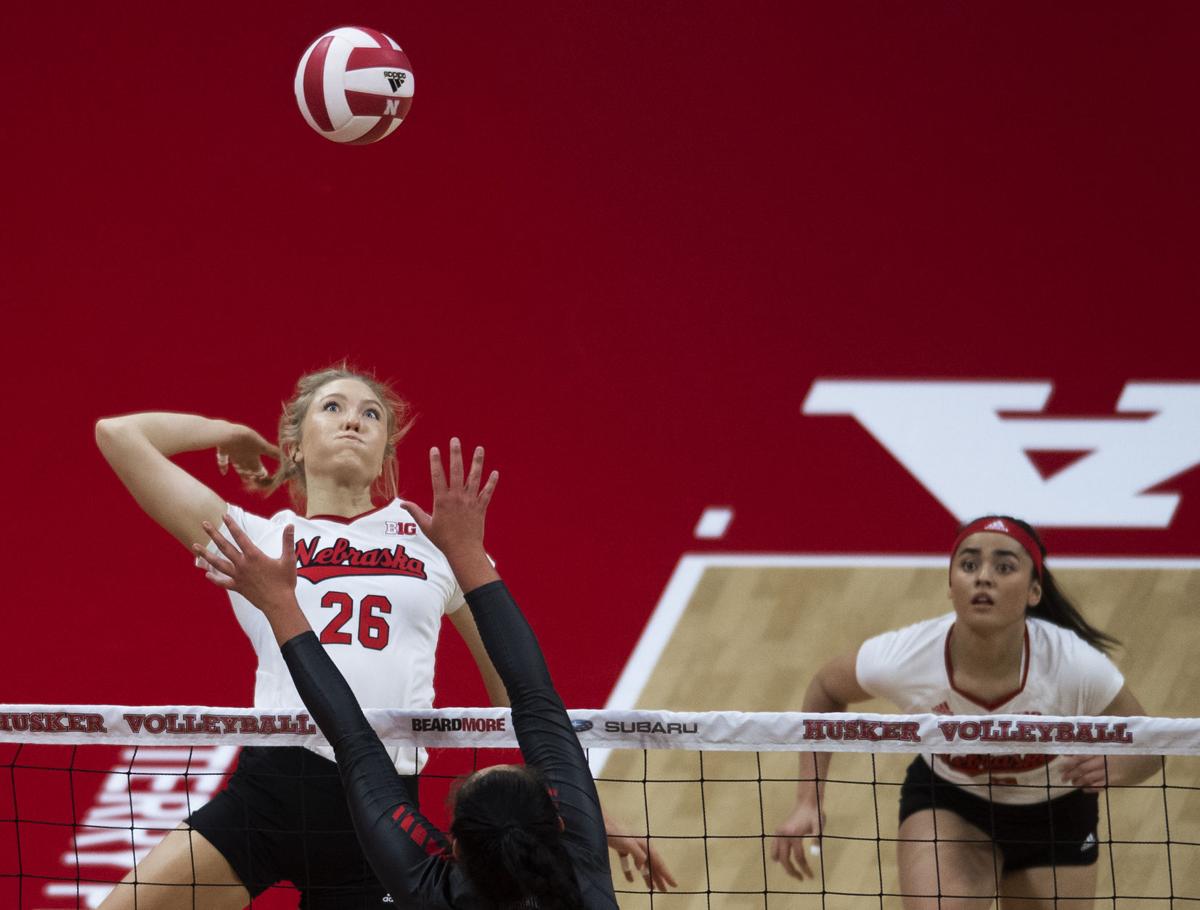 Lauren Stivrins has joined some elite company in the storied history of the Nebraska volleyball program by earning All-America honors for a third time.
The senior middle blocker made the All-America first team for the 2020-21 season when the awards were announced Wednesday by the American Volleyball Coaches Association.
Other Huskers earning All-America honors were setter Nicklin Hames (second team) and outside hitter Lexi Sun (third team). Hames earned All-America honors for the first time.
Stivrins is just the 13th player in program history to be named an All-American at least three times. She also earned first-team honors as a sophomore, and was second team as a junior.
This season Stivrins' .471 season hitting percentage was the best in the Big Ten and ranked fourth in the nation. During the third match of the season against Maryland, she absolutely dominated with 18 kills on 20 attempts.
Stivrins' season hitting percentage as a senior (.471) and sophomore (.421) rank Nos. 2 and 3, respectively, in program history. She's one of just three players on the current roster who played on Nebraska's last national championship team in 2017.
Hames will be the 47th player on Nebraska's All-American wall at the top of the arena at the Devaney Sports Center. The junior also earned first-team all-Big Ten honors after leading the league in assists per set (10.93). Hames set the Huskers to a .270 hitting percentage, the second-best mark in the Big Ten.
Sun also earned third-team All-America honors last season. This season her 3.64 kills per set were a career best, despite not playing nonconference matches that can sometimes inflate stats.
Nebraska finished the season with a 16-3 record after a loss against Texas in the NCAA Elite Eight on Monday.
Stivrins and Sun are each able to return for another senior season due to the NCAA's freeze on eligibility for this season. Neither has said publicly what they'll do.
Nebraska sophomore outside hitter Madi Kubik made the honorable mention All-America list.
Creighton outside hitter Jaela Zimmerman, a graduate of Malcolm, also earned honorable-mention honors.
Nebraska's three All-Americans raised its number of all-time All-America awards to 95, which moved the Huskers past Stanford into the most all time. Stanford did not have any All-Americans this season, after finishing the season with a 2-8 record. Nebraska has had at least two All-Americans six years in a row.
The Nebraska volleyball program now leads the nation in All-Americans (47), All-American awards (95) and is No. 2 in first-team certificates (48).
The 42 All-Americans were chosen by a committee of 10 college coaches. Wisconsin middle blocker Dana Rettke has been a first-team All-American all four years. She's just the sixth player to have that distinction, and the first since Penn State's Megan Hodge in 2009.
During Thursday's matches at the Final Four in Omaha there will be 15 All-Americans playing, with five for Kentucky, four for Wisconsin and three apiece for Texas and Washington.
AVCA first-team All-America
Outside hitter: Grace Cleveland, Purdue; Dani Drews, Utah; Logan Eggleston, Texas; Yossiana Pressley, Baylor; Avery Skinner, Kentucky; Alli Stumler, Kentucky.
Right-side hitter: Samantha Drechsel, Washington; Stephanie Samedy, Minnesota.
Middle blocker: Brionne Butler, Texas; Dana Rettke, Wisconsin; Lauren Stivrins, Nebraska.
Setter: Sydney Hilley, Wisconsin; Madison Lilley, Kentucky; Ella May Powell, Washington.
Outside hitter: T'ara Ceasar, Florida; Kylie Deberg, Missouri; Claire Hoffman, Washington; Kenzie Koerber, Utah; Kayla Lund, Pittsburgh; Mac May, UCLA; Brooke Nuneville, Oregon.
Right-side hitter: Emily Londot, Ohio State; Chinaza Ndee, Pittsburgh.
Middle blocker: Lauren Matthews, Western Kentucky; Anna Stevenson, Louisville; Azhani Tealer, Kentucky.
Setter: Nicklin Hames, Nebraska.
Libero: Lauren Barnes, Wisconsin.
Outside hitter: Mariana Brambilla, Georgia Tech; Nicole Lennon, Rice; Caitlyn Newton, Purdue; Jamie Peterson, Dayton; Lexi Sun, Nebraska; Roxie Wiblin, San Diego.
Right-side hitter: Devyn Robinson, Wisconsin.
Middle blocker: Kennedy Eschenberg, BYU; Lauren Forte, Florida; Kaitlyn Hord, Penn State; Taryn Knuth, Florida State.
Setter: Tori Dilfer, Louisville; Jhenna Gabriel, Texas.
Libero: Gabby Curry, Kentucky.