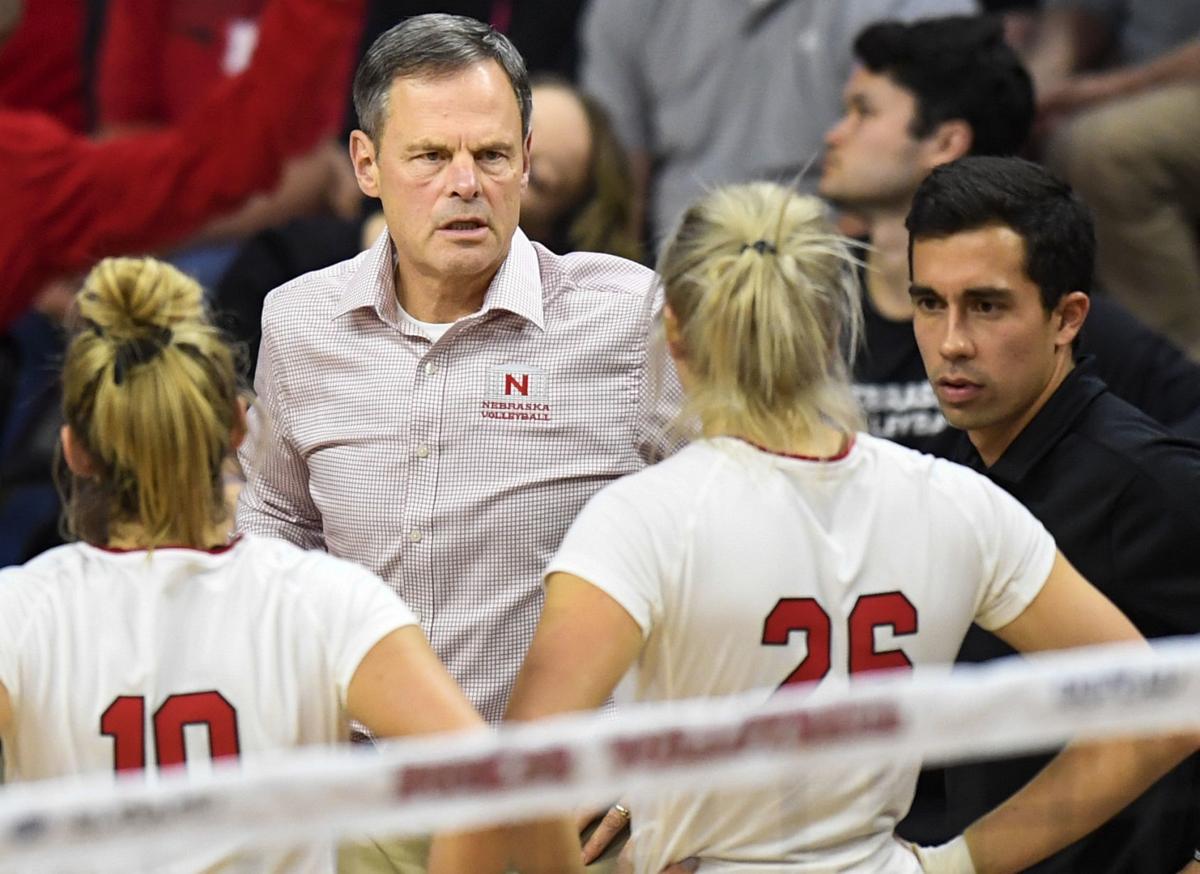 John Cook is the Nebraska volleyball coach, but he knows how to get the attention of people in a state where college football is a major draw. 
Behind its renowned sellout streak, Husker football is a source of entertainment and pride, and also has a considerable affect on the economic health of Lincoln and the university.
So earlier this month Cook used the power of social media, on his personal Twitter account, to send out a message to encourage people to follow the recommended guidelines to help slow the spread of the COVID-19 virus.
His advice was to follow the government protocols to improve the odds that college football could be played this fall.
Cook's post went viral, being shared more than 600 times. Nebraska Gov. Pete Ricketts even mentioned Cook's message in a news conference.
What prompted Cook to write the tweet?
"My thought was everybody is complaining about quarantine and self-isolation and all of that stuff," Cook said. "Well, it doesn't do any good to complain about it, but if we really want a shot to have football in the fall, we better start following all of this to try and get this thing under control so we can have football."
Cook is a big Nebraska football fan, but at the same time he was thinking about the future of college volleyball.
"More what I was thinking was if we want to have volleyball, we better follow it, but I figured if I said football it would get more attention," Cook said.
This is a big year for college volleyball in the state. Nebraska returns all of its starters, and is focused on the opportunity to play in another home-state NCAA Final Four, with the 2020 national championship scheduled to be played in Omaha.
Cook is trying to keep the Huskers motivated for the season, but at the same time he's making contingency plans for how the season may be different because of the pandemic.
Many of the players went home for spring break, but now 11 of the 12 returning players are back in Lincoln, even though they can't use the Athletic Department facilities to train. Backup setter Nicole Drewnick is home in Texas, where she has access to training facilities because her parents run a club volleyball program.
The players will be ready to get back in the gym or weight room when NCAA and university rules allow it. But nobody really knows what will happen with college sports, so Cook hasn't given the players a date they should be ready to get back in the gym.
"We just tell them (the players) as soon as we know something, we'll let you know," Cook said. "Otherwise you just focus on today. That's about all you can do. There is so much stuff going around about when all of this is going to go. You just don't know.
"Summer school is already going online, so we don't know if we're going to be allowed on campus. We don't know if there is going to be (in person) school in the fall. We don't know if we're playing in the fall, we don't know if it's going to be a late start, we don't know if it's going to be moved to the spring. You don't know. And then our situation is different than Rutgers or UCLA or wherever. Everybody has their own situation right now. So I don't think anybody really knows."
The best-case scenario, Cook said, is that sometime this summer the players can be back training. But there are already models being discussed if the season can't begin as scheduled in late August.
"Plan B maybe nobody is back until August, and we start practice then," Cook said. "And then maybe we think we need six weeks to get ready for a season, so that might knock out the nonconference. The next plan, what if we're allowed back Sept. 1, then maybe we only play the conference season."
This was the year that Nebraska was scheduled to begin a four-year agreement to play a set of marquee nonconference matches. This season Nebraska is scheduled to play Stanford in California, and host Louisville.
Cook is already making contingency plans if the volleyball program has to make budget cuts, and that could mean no road trips that require airplanes during the nonconference season. Cook is doubtful Nebraska and Stanford will play this season as scheduled.
"I would say right now no way," he said. "I mean there is a slight chance if there is a miracle turnaround in the country."
Nebraska would also probably cancel its trip to play in a tournament at TCU. So Nebraska would try to find a nonconference tournament it could play in the region that it could bus to.
"There is going to be a mad rush to reschedule everything," Cook said.
Nebraska is also scheduled to play Creighton at CHI Health Center Omaha.
Cook thinks the Big Ten season would still be 20 matches, but the schedule would be designed to reduce the number of expensive charter flights.
For many years Cook has advocated that women's volleyball should be moved to the spring, to avoid having to go head-to-head with football. So Cook thinks playing volleyball in the spring would be a great option for at least one season.
"What I would really love is we play in the spring," Cook said. "If we're going to have all these restrictions and uncertainties, let's just get (the players) back here for school in the fall and then play in the spring. Then maybe we have a vaccine and ways of testing people and we can get fans in and go. I know it would make a cramped spring, but people would love it."
In that scenario matches could begin in January, and the Final Four be held in May.
While playing in the spring would work for the Nebraska volleyball team, many of the 335 NCAA Division I volleyball programs play matches in the same arena as the men's and women's basketball teams, which would cause another scheduling challenge.
And even though volleyball isn't a contact sport like football, and would be bringing smaller crowds to campus, Cook doesn't see the volleyball season starting unless the football season has also.
Concerned about COVID-19?
Sign up now to get the most recent coronavirus headlines and other important local and national news sent to your email inbox daily.