When it comes to getting a piece of the Nebraska volleyball team, sometimes you take what you can get.
So for about 200 fans, a season ticket gets them in the door but doesn't come with the luxury of a seat.
Instead, those fans make the hike to the top of the Devaney Sports Center to the standing-room only section. There, the fans can lean on a small ledge and have a bird's-eye view of the action down on the court.
These season tickets take an extra level of dedication. Some of those fans arrive about one hour before the match to claim their favorite spot. A five-set match could mean being on your feet for about four hours.
That's just one of the many unique things about the Husker volleyball program and its supporters. On Friday, the program will celebrate another milestone with the 300th consecutive regular-season sellout when the Huskers take on Iowa at 6 p.m.
The streak began in 2001 during John Cook's second season as head coach. And the streak shows no sign of ending, even after the move from the 4,000-seat NU Coliseum to the much larger Devaney in 2013.
"Now we're selling out an 8,000-seat arena," Cook said.
A few years ago, when one of the NCAA Tournament matches didn't sell out, the streak was updated to reflect only regular season matches.
Twenty years ago Cook wanted to have a sellout streak like the Nebraska football program has. He was also motivated after a person at a speech he gave told Cook that the volleyball program wouldn't be able to go on an international trip that summer without the help of the Husker football program and all of the money it makes.
But now with the added ticket revenue after the move to Devaney, the volleyball program also generates a profit.
"Our fans have delivered," Cook said. "Great credit to them."
Roger and Patty Evans of Lincoln are some of those fans whose season tickets read: SRO (standing room only).
They've had the tickets for five years. Before that, they'd attend matches when season ticket holders they knew weren't able to go.
"But you only get to see one or two games a year that way," Roger Evans said. "This way you get in the building."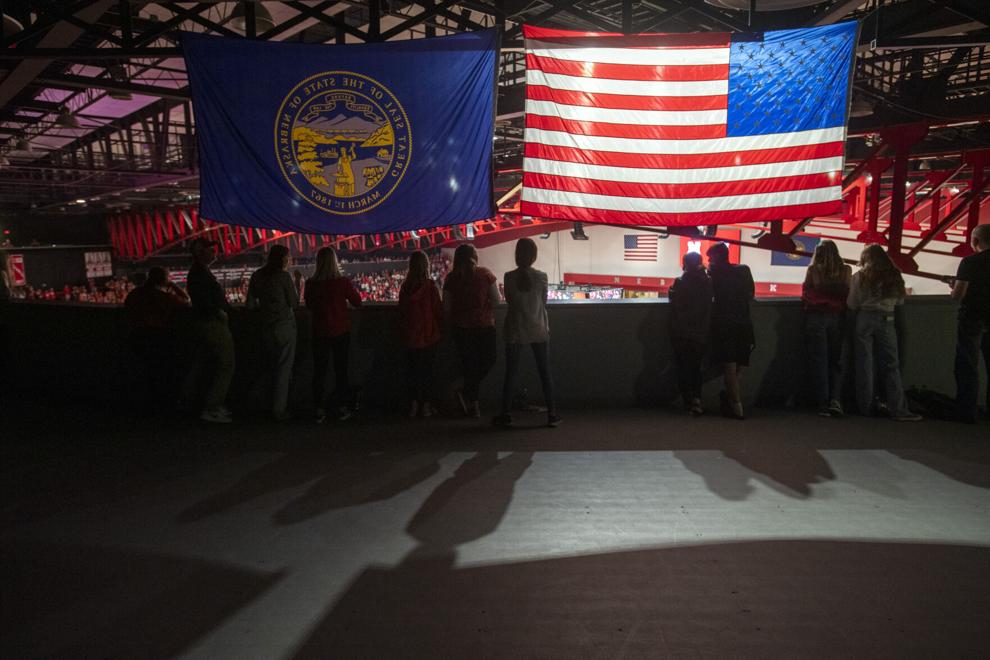 Sometimes after the match has started they're able to move down to open seats, like when the section for the opponents doesn't fill up.
But they'll stand if they must.
"They're just unbelievable athletes," Roger Evans said.
One of the matches they remember the most came a few years ago when Annika Albrecht was playing for the Huskers. They stood in the standing-room section by one of Albrecht's brothers and had a nice conversation with him.
At some matches, the parents of the Nebraska players may be up there for part of the match. It's a good place to shake out the nerves, and not as confined as the bleachers behind the bench where the player's families sit.
Kelly Richardson of Lincoln knows there are fans who have been hooked on Husker volleyball longer than he has, but he's been attending matches for more than 25 years.
He got a season ticket in the fourth row in the 1990s, back when you could still do that. But it's only one ticket, and good luck getting another seat that close to the action now. So when he has family members who want to come to a match he heads up to the standing-room section so he can watch with them.
Richardson likes that you're not packed in close. Also, the view is good.
"You get to see all of the angles up here," Richardson said.
Richardson witnessed the interest in the program grow each time the Huskers won the national championship — 1995, 2000, 2006, 2015 and 2017.
"It's just been a phenomenon, and everybody wants to go now," he said.
There was a time when you might be able to buy a standing-room only ticket the day of a match, but now nearly all of the 200 SRO tickets are sold as season tickets.
The section is also the overflow section for UNL students and student-athletes, which is why for some matches, fans are standing nearly shoulder-to shoulder in the three areas for standing fans.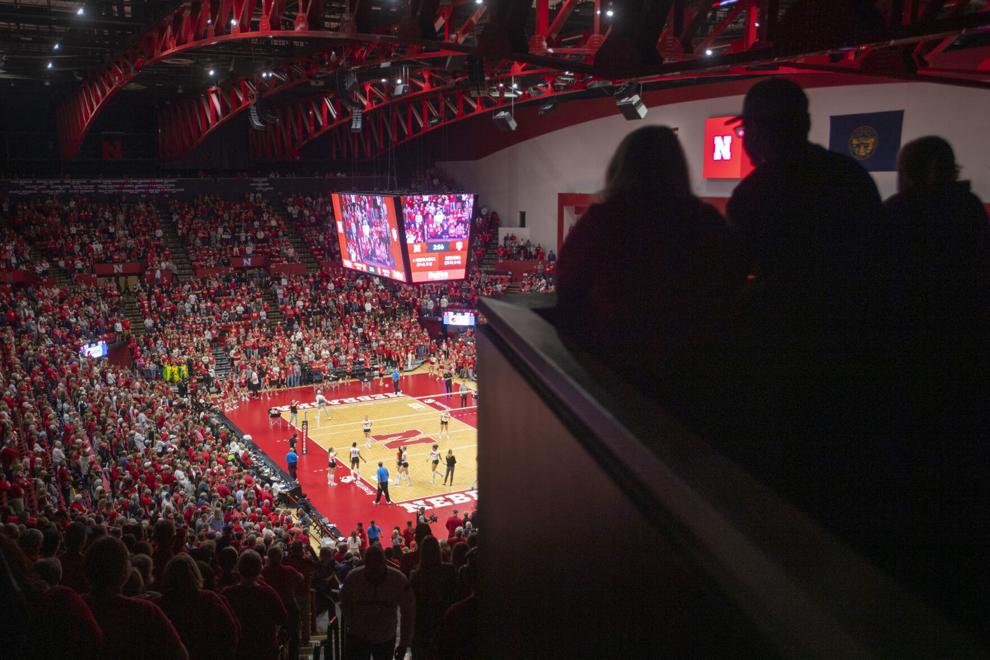 During the match against Stanford in September, the section was perhaps as full as it's ever been, with about 700 fans standing for the 2½ hour match. They were part of a crowd of 8,385.
The athletic department sells about 1,000 student season-tickets, but only 250 can sit in the floor bleachers. So the rest go up top.
And it can get a little rowdy up there. During a recent match after Whitney Lauenstein served back-to-back aces the crowd was cheering and clapping so much that the wall shook.
The Nebraska coaches have a camera at the top of the arena with an angle they like to use sometimes for film review.
"Watching our video it's moving so much I get seasick watching," Cook said.
Cook usually scans the arena before a match begins.
"We had a recruit here, and I said, 'Hey when you look up there you're going to see wall-to-wall people up there in a standing-room only section,'" he said. "It's pretty amazing."
Now Cook says the athletic department may consider making some upgrades to part of the standing-room only section to include more amenities.
"I'm glad when we designed that we put that in up there, because I thought it was kind of a dumb idea to have standing-room only," Cook said. "But it's worked out great. So credit to the designer and John Ingram and Maggi Thorne who helped design that and came up with that concept. But I think there is room to upgrade that now, and maybe make that kind of wild and fun up there."
When you play for the Huskers you get to experience something a limited number of people ever will by being on the court during a match. From that spot, there are fans on four sides, with some only about 15 feet away and others all the way at the top of the arena.
Nebraska sophomore Lindsay Krause remembers how loud Devaney was earlier this season just before the fifth set began during Nebraska's match against No. 7 Ohio State. The Huskers had rallied to force a fifth set and then won the match.
"I feel like sometimes (the fans) can almost suffocate the other team," Krause said. "It's like paralyzing to be in there when you're not used to something like that, and when they're all cheering against you. It's so special to have."
At some schools, the volleyball coach spends time trying to sell tickets. And some programs have the players cruise around campus on golf carts to try and get students to come to the matches.
Cook doesn't have to worry about how many fans will be there the night of a big match, or when a top recruit is visiting.
"It's a hard ticket to get," Cook said. "The courtside seats are a big deal because if you pay for that, and you're sitting there, every time somebody goes back to serve you're on TV. Going to a volleyball match is a cool thing, and our people do a great job of making it fun."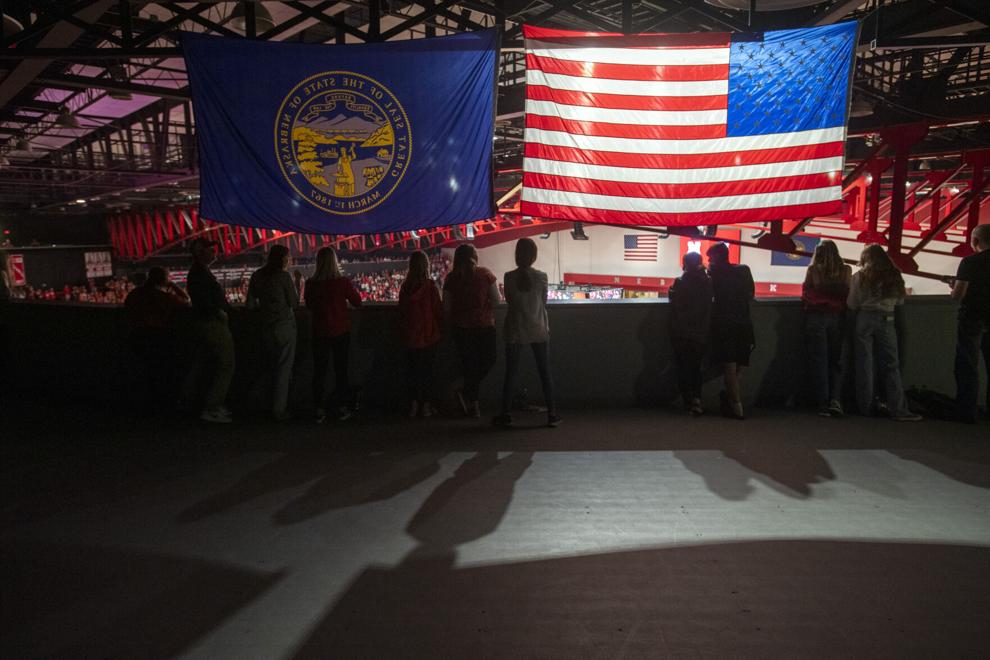 Many of the people Cook visits during his travels around the state share with him a story about their connection to the program.
"Sometime I wish I could share all of the emails that people send me. Just random emails," Cook said. "For some of these people, it's the world to them. Win or lose, they're very emotionally connected."