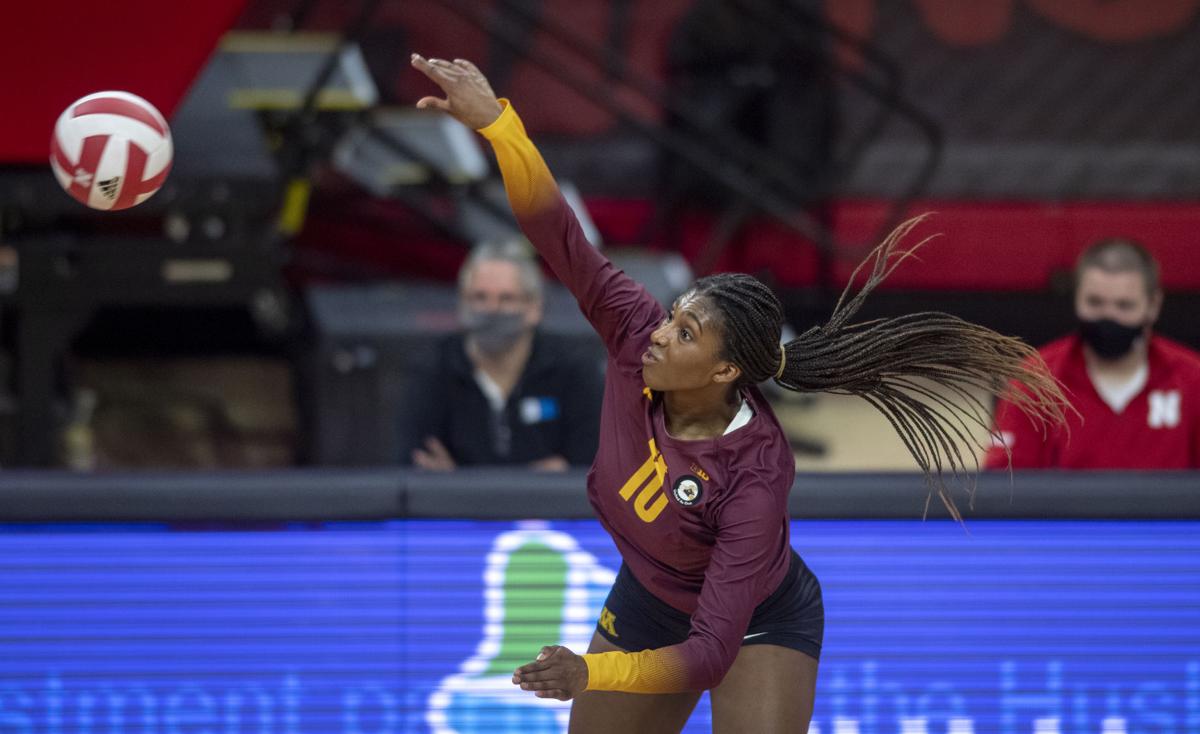 Nebraska volleyball coach John Cook didn't need to see Stephanie Samedy in person to know she's a great player.
The Minnesota senior right-side hitter has earned first-team All-American honors twice, and she was already off to a great start this season.
Samedy did it again Friday, putting down a match-high 27 kills to lead the No. 5 Gophers to 25-15, 20-25, 26-24, 25-23 win against No. 4 Nebraska at the Devaney Sports Center.
Samedy had only five hitting errors over 58 attempts for a .379 hitting percentage.
The Gophers stay at the top of the Big Ten standings at 9-0 and already have five wins against ranked teams, while Nebraska's first loss drops the Huskers to 6-1. After an off day, the same teams will play again on Sunday at 11 a.m.
The Gophers out-blocked Nebraska 20-8. Minnesota had a .203 hitting percentage and held Nebraska to .150.
Lauren Stivrins had 16 kills on .367 hitting to lead the Huskers. Madi Kubik added 15 kills and hit .300, but none of Nebraska's other four hitters hit better than .100.
Samedy jumps high and snaps the ball down from angles that few other players in the country can. She's also dangerous on back-row attacks.
Even before this match, Cook said Samedy had the best start to the season of any player in the Big Ten.
"(Samedy) did everything we thought she was going to do," Cook said. "She's playing the highest level I've seen her. She's playing better than anybody in the country. If you take out the first game, we did a pretty good job on her. But at the end of the game, she's going to get balls, and she made plays and we didn't. Our players didn't make plays at the end of games when we needed to, and Samedy did. That's the difference in the match."
Along with Samedy, it was the serving of a libero that helped the Gophers win.
When CC McGraw was serving, Nebraska rarely could run its offense. She had a couple of serving runs early in the match. The back-breaker came when McGraw served a 4-0 run to end the third set after NU led 24-22. McGraw helped the Gophers flip the set, and take back momentum in the match with a 2-1 lead.
McGraw finished with three ace serves.
"(McGraw) was giving us a lot of fits," said Nebraska setter Nicklin Hames. "She has a really great serve and it caused a lot of problems on our side of the net."
Minnesota took a quick 6-1 lead to start the match. Minnesota basically served the Huskers out of the first set and reduced Nebraska's offense to a lot of out-of-system attacks that were easy to defend.
That allowed the Gophers to have four blocks in the first set, when Nebraska had none.
McGraw served runs of 5-0 and 7-0 in the first set, with two aces.
"We were in rotation one and (Jazz Sweet) was in and that was a big run there because we were bump-setting Jazz high balls on the left against Samedy is a tough matchup," Cook said. "We weren't ready to pass. She's a good server, but she shouldn't dominate us like that. So we're going to have to not let her make so many runs."
In the third set, Nebraska again struggled with McGraw's serves, and the Gophers led 7-1.
Nebraska rallied and took a 24-22 lead. But the Huskers couldn't convert their first set point, and that was bad news because McGraw was serving. The Gophers won the final four points of the set to win 26-24 and to take a 2-1 match lead.
"We missed a dig, we missed a serve. We had our chances to win that game and we didn't finish," Cook said.
"I called a timeout trying to slow (McGraw) down a little bit, but we should have won the game before that. We had our chances and didn't take advantage. You can't do that against a really good team with a great player. You got to constantly attack and pressure them so they can't get Samedy the ball in rhythm."
In the set Nebraska won, it trailed by 8-2, before winning 13 of the next 19 rallies to take a lead. In that set, Stivrins had six kills on 10 attempts. Kubik had five kills on 12 swings without a hitting error.
In the fourth set, Nebraska rallied with a 4-0 run to tie the match at 18. But Samedy got another sharp kill to end the run and take a 19-18 lead, and made another back-row kill later in the set. Nebraska had a hitting error on match point.
"We did some good things," Cook said. "But we got to play better, longer, more consistent."