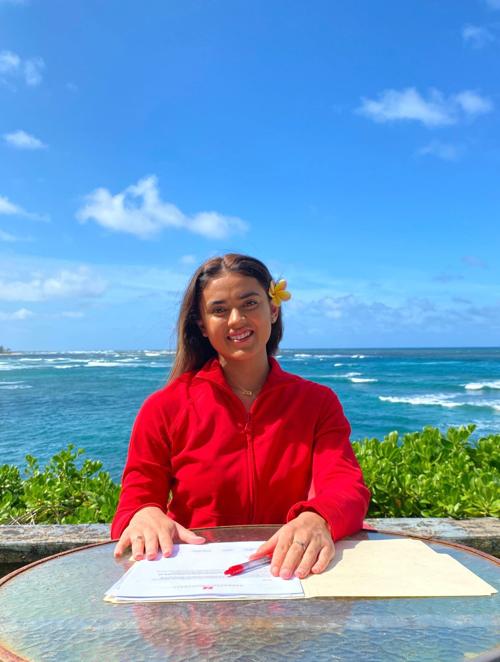 The Nebraska volleyball program is a long way from Hau'ula, Hawaii, but there were several connections that coach John Cook says helped Nebraska's newest player feel comfortable with choosing to play for the Huskers.
And Keonilei Akana picked Nebraska without having ever been to Lincoln.
Akana committed to Nebraska about one month ago, and made it official when she signed her national letter of intent on April 15. She's a high school senior, and could join the team in June, or whenever she's able to travel to the mainland and the team can resume workouts.
The biggest connection between Nebraska and Akana was Nebraska assistant coach Jaylen Reyes. He grew up in Honolulu, where his dad was a college volleyball coach.
And Akana's mother, Joselyn, knows Keala Tuioti, the wife of Nebraska assistant football coach Tony Tuioti, from college. Joselyn played volleyball at Hawaii from 1993 to '96.
"So we had that connection, and then there is another girl (Bella Cravens) coming from Hawaii to play women's basketball," Cook said. "We've got this pretty strong connection for her that I think made her feel really comfortable. And the other thing is we go to Hawaii every year for (the beach volleyball season), and I think that was a big thing for her."
When she committed, Akana said her conversations with Reyes were important.
"I know Jaylen is from here, so he knows what it's like in Hawaii," Akana said. "He was just saying that the community in Nebraska is just like home, which is something I'm looking forward to when I get there."
Akana was an outside hitter in high school for Kamehameha Schools, but will play defensive specialist at Nebraska. She was named the Honolulu Star-Advertiser player of the year.
Nebraska had been looking to add a defensive specialist to the roster since January when Megan Miller made plans to transfer. Miller has since signed with Northwestern.
So Akana will have a good chance to play right away for the Huskers. Last fall Akana had signed to play at Southern California, but she got her scholarship release after USC head coach Brent Crouch left for Auburn in January.
Reyes found out that Akana was looking for a new school, and all of the Nebraska coaches went to watch her play at a club tournament in Kansas City, Missouri, in one of the few weeks of recruiting this winter before the recruiting shutdown due to the worldwide health crisis.
And Cook liked what he saw.
"She's a Hawaiian, and they know how to ball," Cook said. "They have really good touch and they've played a lot of volleyball. They're volleyball players. Plus she hits, which I think is great. She had a lot of kills in high school."
With in-person recruiting not an option, the recruiting process went online.
"Zoom calls do a lot of things," Cook said. "So we did a virtual tour, we did Zoom with her family, we talked to her on the phone. And Jaylen is so well connected in Hawaii so that was an easy transition for her, and made her feel very comfortable."
Akana was already familiar with the Nebraska program. Her sister, Braelyn, plays for Hawaii, and the Rainbow Wahine played Nebraska in the third round of the NCAA Tournament last season.