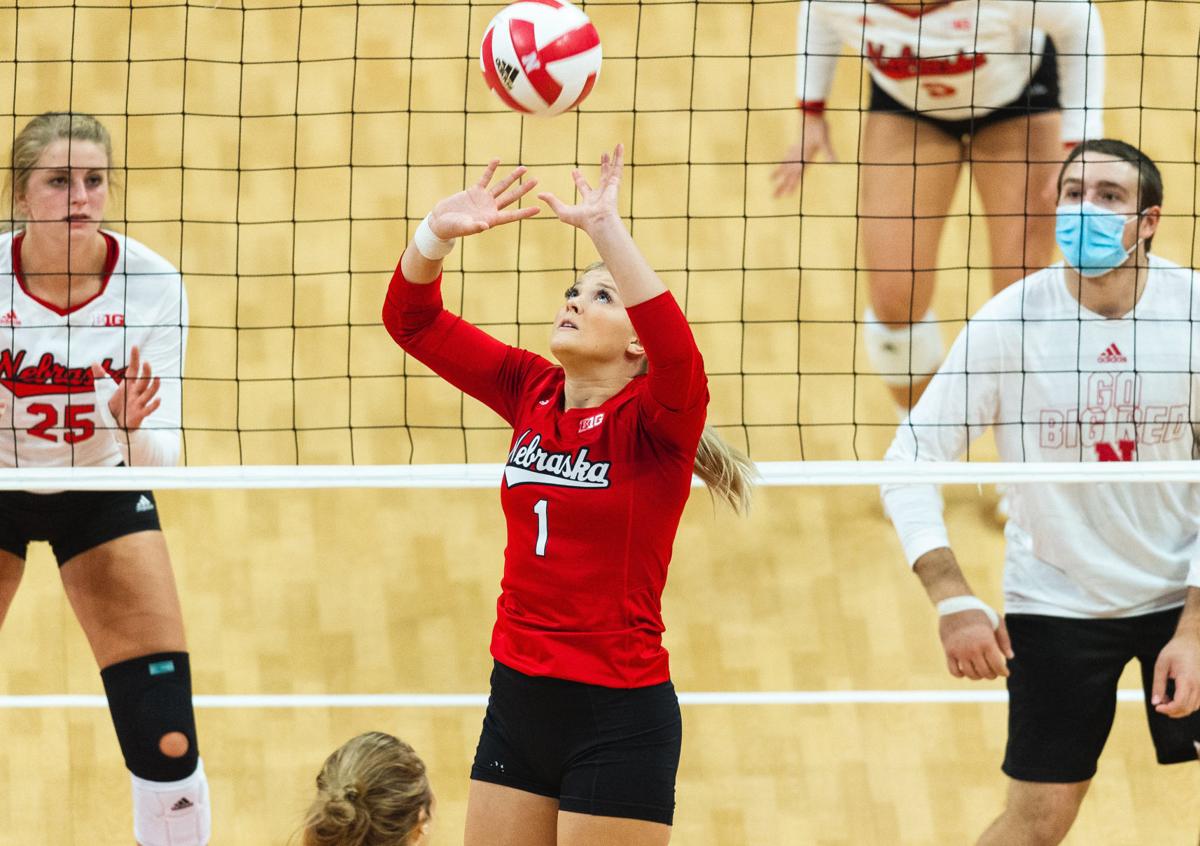 They did all they could to make the Nebraska volleyball team's scrimmage Thursday feel like a real match.
The players wore their normal uniforms. The assistant coaches put on long pants and a polo shirt, instead of their normal work attire. They brought in college referees and line judges. The court was set up just like a match.
And then the team came out of the locker room and was reminded of what college sports are like in most places during a pandemic.
"I think we're used to running out to a super-loud crowd, and running out to almost silence is a lot different when you're in Devaney," said Nebraska sophomore outside hitter Madi Kubik.
Fans or media weren't allowed at the scrimmage. Nebraska's players are used to having 3,000-plus fans even for a scrimmage, whether during the spring in western Nebraska or in Lincoln just before the start of the season.
But after a five-week stretch of practicing about five days per week, it was good for the Huskers to scrimmage.
The match was broadcast online and had more than 10,000 views. Some fans put the broadcast on their TVs, posting photos on social media. Nebraska volleyball was back (kind of) for one night.
Nebraska's season has been postponed until late January.
The team will take some time off now to focus on the end of the semester. They'll report back to Lincoln after Thanksgiving, quarantine for a few days, and then resume practices on Dec. 1.
Nebraska coach John Cook said the team has had to cancel workouts a few times due to positive COVID-19 tests or contact tracing.
And All-American outside hitter Lexi Sun missed the scrimmage. She was in contact tracing, and because the season hasn't started, they don't have access to rapid testing so she couldn't get her result before the scrimmage. Cook said Sun feels fine.
"She's been training great, and I'm sure she's crushed not being able to play tonight because she had to sit at home for the last two days," Cook said.
The Red Team, which had most of last year's starters, won the scrimmage 25-19, 25-14, 25-22.
Kubik had a match-high 13 kills for the winning team. Freshman middle blocker Kalynn Meyer also got to play on the Red side and had six kills with a .600 hitting percentage. Riley Zuhn had seven kills, and Lauren Stivrins six.
For the White team, Kayla Caffey, a middle blocker who transferred from Missouri, had eight kills. She showed her athleticism by being able to hang up in the air and pound down some kills.
While Nebraska returns all of its starters, the scrimmage showed how the Huskers will have significantly improved depth from last season, and possibly some new options, specifically at middle blocker, defensive specialist and serving specialist.
Last year Nebraska really only had two middle blockers. Now it has four who could be good: Stivrins, Callie Schwarzenbach, Caffey and Meyer.
Meyer, from Superior, has exceeded Cook's expectations.
"She's very athletic, and she's got a very fast arm," he said.
Caffey, a former top-80 high school recruit, has been good, too.
"She's an awesome addition to our team," Kubik said. "She has a really fast arm swing, which is great. She's up quick, and the ball is down pretty quickly as well. She's a good blocker, too. She's nice to block next to. I think she brings another great talent to our team."
Libero Kenzie Knuckles doesn't look like she'll lose her spot. Freshman Keonilei Akanas played defensive specialist for the Red Team and had some good serves. Hayley Densberger is playing as well as she ever has during her career, Cook said.
Yes, there is still a lot to like about Husker volleyball in 2020-21.
"I think what I like most about this team is how we push each other every single day in practice," Kubik said. "We're getting better, and I think that's because everyone is raising the level, and I think that's really cool. Especially with us kind of adding a lot of people."