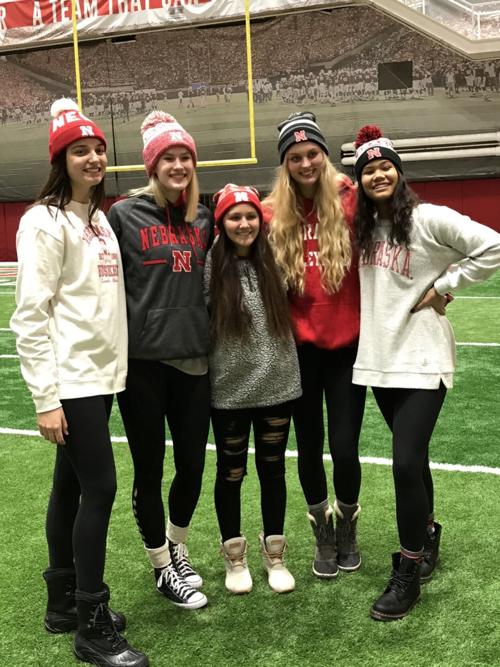 The coronavirus pandemic had a significant effect on college volleyball recruiting, but the Nebraska program still appears to be in a good place with eight players already committed to the Huskers in the next two recruiting classes.
Most college recruiting came to a halt when club volleyball tournaments were canceled this spring. Also, most of the club tournaments during the summer that college coaches use to scout for players have been canceled, and the Nebraska volleyball camps also were canceled.
Those summer camps are a big piece of Nebraska's recruiting. That allows the Husker coaches to evaluate and interact with several of the best players from across the country, and the high school players get a look at what it would be like to be an athlete at Nebraska.
But just a few days into this week, when recruiting of this fall's class of high school juniors really ramped up, Nebraska had commitments from two players. The first is Bekka Allick, a middle blocker from Lincoln North Star. She committed about two years ago, before her freshman year of high school and before the rules changed to slow down the recruiting process in the sport.
Then on Tuesday, Nebraska got a commitment from Hayden Kubik, a 6-foot-2 outside hitter from West Des Moines, Iowa. So just two days after the Nebraska coaches could really recruit the 2022 class, the Huskers already had two commits.
And that recruiting class may not get much bigger than that. That's because Nebraska already has six scholarship commits for the 2021 class. College volleyball teams are limited to 12 scholarships per season.
That 2021 class, with players entering their senior year of high school, includes outside hitters Lindsay Krause, Ally Batenhorst and Whitney Lauenstein; middle blocker Rylee Gray; setter Kennedi Orr; and libero Lexi Rodriguez.
The individual recruiting rankings for that class won't be announced until September, but that group is expected to be one of the highest-ranked classes in the history of the Nebraska program.
Nebraska coach John Cook recently answered questions about how recruiting has been affected by COVID-19.
Question: Will the Nebraska volleyball program have any camps this summer?
JC: No. We're not allowed to do camps. Now (assistant coaches Jaylen Reyes and Kelly Hunter) and our grad managers are going to do some camps at club facilities, which they're allowed to do as long as it's eighth grade and younger. We're not allowed to work with any ninth grade and above students. So they're going to do some camps around clubs in Lincoln and Omaha, which will be great. We had over 500 seventh and eighth graders on a waiting list until we were told that we couldn't do camps.
Q: Will you do any recruiting this summer?
JC: All we can do is making phone calls starting June 15, and wait and see if they're going to allow official visits. There may be some (club) tournaments without fans, but we're not allowed to go.
Q: How much has recruiting been impacted due to the NCAA shutdown due to COVID-19?
JC: Fortunately for us, the 2022 class is really small for us. So we feel like we're in a pretty good situation.
Q: With at least five months of not much being allowed in recruiting, which part of your recruiting operation is impacted the most?
JC: For us, mainly, it's recruiting the 2023 and 2024 (classes). Evaluating those age groups, so we've missed all of that. But with the new recruiting rules you have a lot of time to make that up until they're juniors. So hopefully this all gets resolved and then we can go ahead and next year evaluate those kids. A lot of them were coming to camp, and they don't get to come to camp now. So it just means there is kind of a pause in recruiting. Except for the 2022 class, which we can actually start talking to, which will be nice.