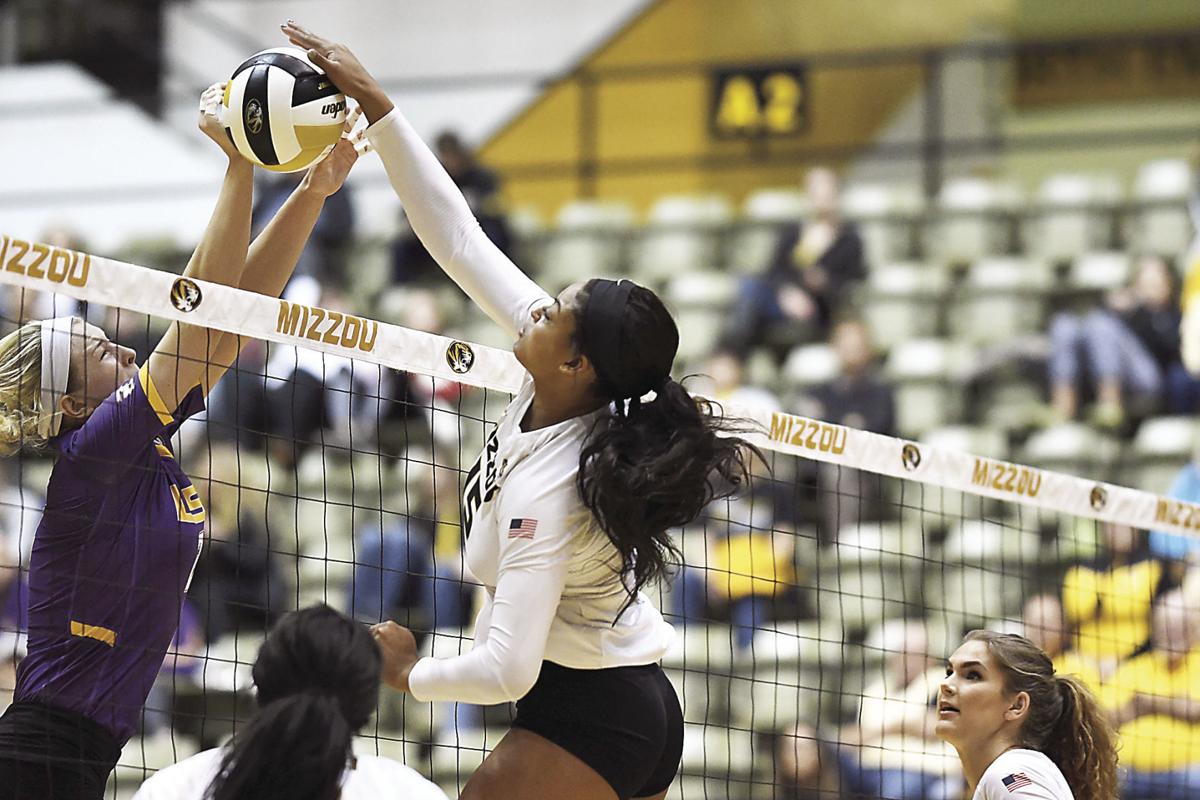 When Kayla Caffey put her name in the NCAA transfer portal for college volleyball after last season, Nebraska coach John Cook already knew about her.
Caffey played for Missouri during the 2019 season before joining the Huskers as a transfer in May. Cook had studied Caffey when Nebraska prepared to play the Tigers during the second round of the NCAA Tournament last fall. Caffey was a starter most of the season but didn't play in the match against Nebraska due to a coach's decision. But Nebraska had to be ready if she did play.
"We watched her a lot on video because we didn't know if she was going to play or not, so we prepared for her," Cook said. "She hit over .400 in the (Southeastern Conference.) That's really good. Offensively she can do some really nice things."
The 6-foot middle blocker joined the Huskers for workouts in June as a graduate transfer and will have two years of eligibility beginning in the 2020 season. She'll likely compete with returning starter Callie Schwarzenbach for a spot in the regular rotation.
What did Cook think when he saw Caffey's name in the portal?
"We wanted more depth at the middle blocker position, so we were looking for a potential transfer that could help us," he said. "And we love that Kayla is getting her master's (degree) and has experience and she's a little bit older, so I think she'll fit in with our team really well. She knows how to play. And we don't have all summer to develop these guys. We get basically three weeks and we're playing. So it's nice to get some experience in there with a transfer."
Cook discussed a few more topics in an interview with the Journal Star:
If there are changes made to the volleyball season this year due to COVID-19 and you're only allowed to play one week of nonconference matches instead of the scheduled four, what would you do?
JC: I'd try to play Creighton in Omaha. (We'd get a larger crowd), and playing a good team close to home. That would be the priority. And playing up in Omaha. That's where the Final Four is going to be, so just setting the tone for that.
The players are back on campus for voluntary strength and conditioning workouts. What does strength coach Brian Kmitta have planned to get the players ready for the season?
JC: Just our normal summer. They work out four days a week with him. They started the famous Nebraska circuit. That's tough. The circuit they do two days a week and they have a series of things they go through, but it's all on a timer. You have to push yourself pretty hard, and you go until failure. It's something we always start off a training session with for three or four weeks. It was developed back in the old football days. The metabolic circuit.
What is the plan for associate head coach Tyler Hildebrand joining the team?
JC: He's coming out in the end of July. He's still doing stuff with (the U.S. beach volleyball teams in California), even though they're not training. They're doing a lot of Zoom calls and different things.
Hildebrand was the defensive coordinator when Nebraska won the national championship in 2017, and then assistant coach Jaylen Reyes was the defensive coordinator the past two seasons. Who will be the defensive coordinator now that they're both on staff?
JC: Tyler. Jaylen's roles are going to shift a little bit (including being the recruiting coordinator). Whoever trains our middle blockers kind of has to run our block and defense, and Tyler is going to train our middles. Everything kind of goes through them, so you want whoever is training them to coordinate the defense.
The past four months during a pandemic probably has some people thinking about when they'll retire, and maybe delaying retirement because they didn't like having more free time and enjoy having something to do each day. You haven't said when you plan to retire, but has the pandemic changed how many more years you'll coach?
JC: No. I haven't thought about it that way. I know they put the Taraflex court back in Devaney and I saw a picture of that and it just fired me up to want to be in there.
Be the first to know
Get local news delivered to your inbox!