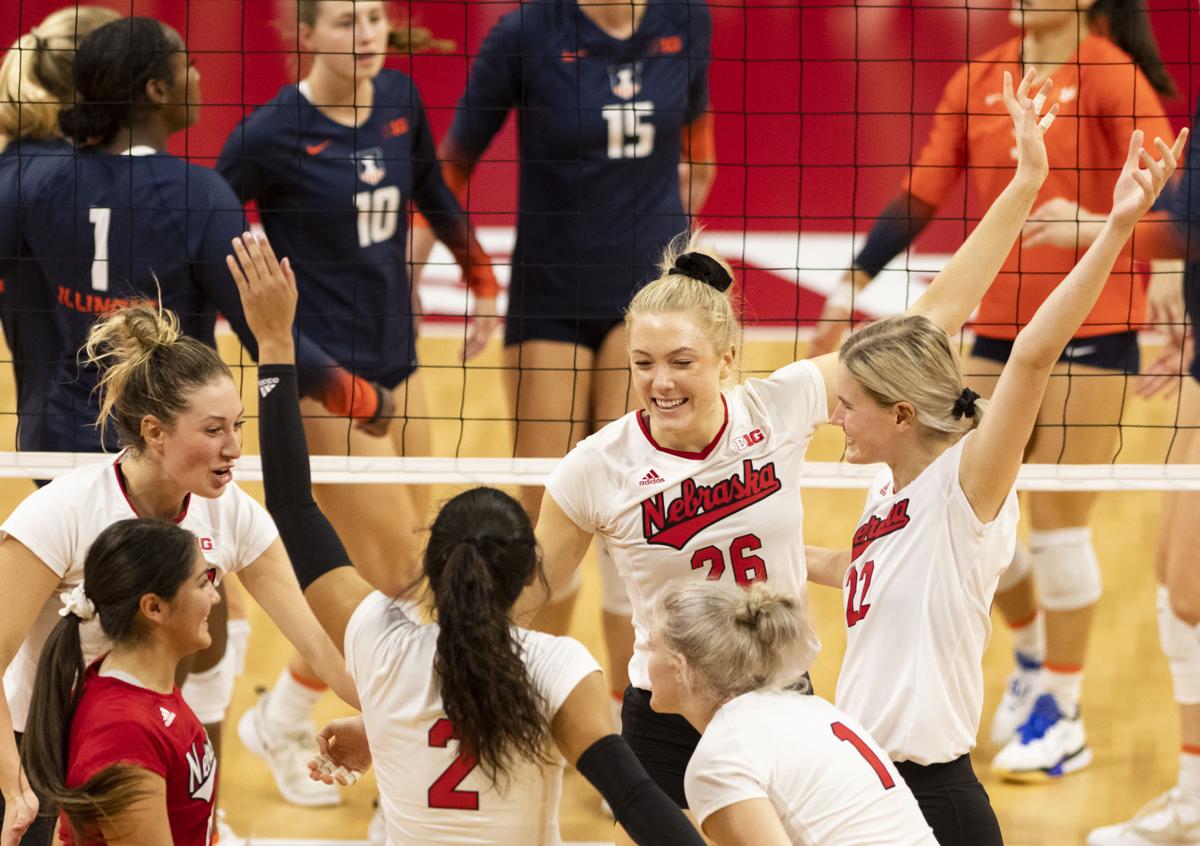 John Cook has made 17 trips through the Big Ten Conference — seven as the head coach at Wisconsin and 10 at Nebraska — so he knows not to get too excited about leading the league standings through just four of the 10 weeks.
The league is too good to feel confident with a small lead. There are 12 matches to go in the league season, and it comes in a league with six teams ranked in the top 15. And Nebraska has yet to face the brunt of the league schedule, including two matches against third-ranked Wisconsin.
Nebraska is in first place in the Big Ten standings at 8-0, one match ahead of Wisconsin and two ahead of a group at 6-2.
You'd rather be in first than 10th, but Cook isn't getting overly excited about where the Huskers are sitting.
"It's one match at a time, it's the Big Ten grind," said Cook, who has a record of 170-34 in the Big Ten while at Nebraska, with three Big Ten titles. "These guys know how tough this conference is, so you're just trying to win the next match. You don't worry about anything else."
The ninth-ranked Huskers start Week 5 of the Big Ten season by playing at Iowa on Wednesday at 7 p.m. The Hawkeyes are one of two teams that have yet to win a Big Ten match.
What Cook is excited about is the mentality the Huskers have brought to practice and matches the past four weeks.
"Right now I think the most consistent thing has been our effort and our mindset in every match, since we've started the Big Ten," Cook said. "That's the one thing that they've brought every match."
Nebraska has made some major gains on offense since the nonconference season. That's a product of Nicklin Hames' setting, the return of Lauren Stivrins, more experience for freshman hitters Lindsay Krause and Ally Batenhorst and the consistency of Madi Kubik's hitting.
During the Big Ten season, Nebraska ranks first in the league in hitting percentage (.297) and third in kills per set (14.92).
Nebraska's defense was pretty strong from the start of the season, and has stayed that way. The Huskers rank second in the league in defense, holding opponents to an average hitting percentage of just .141. Nebraska's tough serving has consistently forced opponents into a low-percentage offense.
Now the Huskers are just trying to add a few new plays that may be good for a few kills each match.
"We're like an Indy car, you just got to fine tune it all of the time," Cook said. "We're just trying to fine tune and find a point here or a point there, another ace, another block. That's what we're working on, trying to maintain our level of play and keep getting better."
With a mix of experienced players and young talent, Nebraska should be a good blocking team. And they need to be better blocking than they were last season, Cook said.
"We learned playing Texas last year (a loss in the NCAA Elite Eight) that if you can't block, it's hard to slow those hitters down," Cook said.
And while Nebraska ranks just eighth in blocking (2.25 per set), Cook said Nebraska's blockers are getting touches on ball, which allows the Huskers' back-row defenders to get digs, and then transition to offense.
"We feel really good about our blocking in how we stat blocking," Cook said. "You can't go by stuffs. The biggest thing is what teams are hitting against us. We feel pretty good that that's a strength of ours."
Practice gains: Kubik has led the Huskers in kills in eight straight matches, and leads the Big Ten in kills per set (4.62).
Kubik has worked hard in practice, Cook said, and that's leading to a lot of confidence entering the matches.
"I think the biggest thing is when you start to see players playing really well they focus on having great reps in every drill in practice," Cook said. "And right now Madi is really working on every rep."
Ready to go: Middle blocker Kayla Caffey missed the past three matches with an illness, but practiced Tuesday.
Cook said it was easy for middle blocker Callie Schwarzenbach to return to the starting lineup.
"They're all rotating in there, so they all feel confident if they go in," Cook said. "They all get trained the same. … We're training a team and a culture."