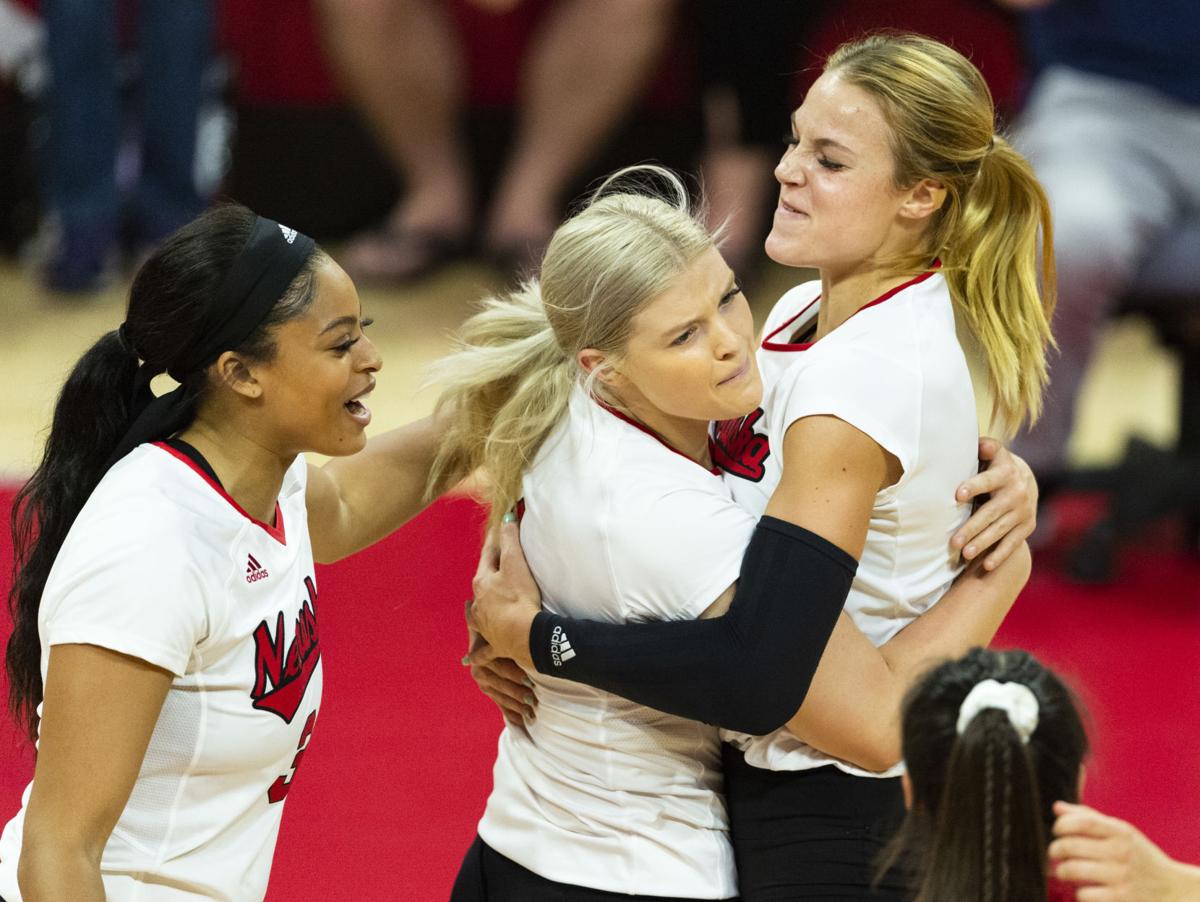 A recent three-match losing streak for the Nebraska volleyball team probably seemed worse to some people than it was.
Each of the losses came against a ranked team — Utah, Stanford and Louisville — and those teams are more experienced than Nebraska, which plays four freshmen. Nebraska (7-3) is still ranked 12th.
But the Nebraska players decided they couldn't keep doing what they have been during both practice and matches and expect a different result.
In response, the players talked about holding each other accountable.
"I'd say the last three matches, after that we kind of had a 'come to Jesus (moment)' and were like, 'OK,'" junior outside hitter Madi Kubik said. "We can't just be like, 'Hey, it's a fluke, we're Nebraska volleyball.' I think sometimes we get this thought of who we are and what our legacy is. But we haven't done anything yet. … I think it's just instilling a fire in us, and instilling accountability. We're trying to hold each other really accountable."
In a player-led initiative, they came up with a set of rules to hold each other accountable during practice.
"We're encouraging everyone to hold each other accountable, regardless of what age you are," Kubik said. "OK, you're a freshman, you're going to tell Lauren Stivrins, 'Hey, you just hit two balls in the net, that's (calisthenics).'"
Nebraska ended the losing streak with a four-set win against Northwestern on Wednesday, and will try to make it two straight when it hosts Iowa on Saturday. The 2 p.m. match will be televised by Nebraska Public Media.
Starting lineup expected to become clear: Coach John Cook has chosen a starting lineup — the hitters are Ally Batenhorst, Lindsay Krause and Kubik — and indicated his plan is to let that group stick together for a while.
Kubik thinks that could be beneficial.
"I think it's really helpful, just because we've played around with a lot of lineups in preseason," Kubik said. "I think role clarity is really good for our group just because we have a lot of young people. I think it's going to help our groove in that rotation and finding a place where we can be really comfortable and know how to play next to each other. So I think it's good."
Junior national team has strong start: The United States junior national team, which includes four Nebraska recruits, has a 4-0 record at the FIVB World Championship, which is being played over two weeks in Durango, Mexico. The United States beat Thailand, Romania, Puerto Rico and Nigeria (by forfeit).
The U.S. won its pool and will play again on Sunday. The Husker commits on the 12-player roster are setter Bergen Reilly (Sioux Falls, South Dakota), right-side hitter Caroline Jurevicius (Gates Miles, Ohio), outside hitter Harper Murray (Ann Arbor, Michigan) and middle blocker Bekka Allick (Waverly). Allick is serving as the team captain.
Briefly
* Nebraska's first two Big Ten opponents, Northwestern and Iowa, are the only Big Ten teams that don't have a winning record.
* Nebraska has still never lost four straight matches during Cook's 22 years as coach.
* Nebraska had a streak of 60 straight weeks in the top 10 of the AVCA poll before dropping to 12th this week.