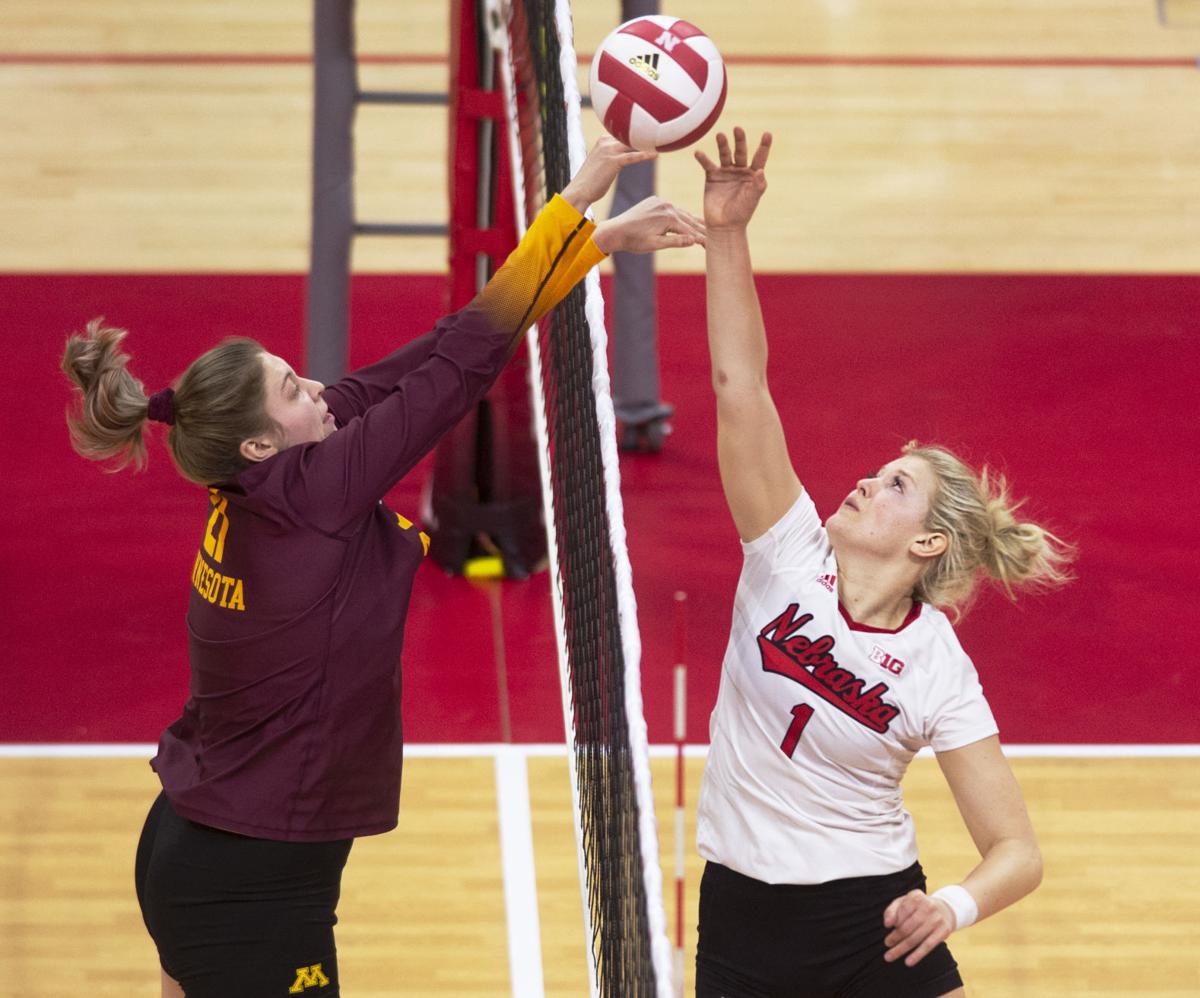 The Nebraska volleyball team can't win the Big Ten title when it plays two matches against top-ranked Wisconsin this weekend, but a couple of losses could make it really hard to eventually win the title.
When the Big Ten champion is crowned after six more weeks of matches, this weekend's Nebraska-Wisconsin series will likely be one you can look back at in determining how the winner got the job done.
Wisconsin (10-0) is tied for first place in the league. No. 4 Nebraska already has one league loss, and in each of the past eight seasons, the Big Ten champ has had only one or two losses.
Not since 2011, in Nebraska's first season in the Big Ten, has a team won the Big Ten with more than two losses. Nebraska won the league that year at 17-3.
Nebraska coach John Cook isn't sure how this unique season, when teams went straight into Big Ten play and rosters could be impacted for COVID-19 reasons, will change the race for the Big Ten title. Also, teams are scheduled to play 22 league matches instead of 20.
Most of the matches are played on back-to-back nights, and that could make winning both matches of a season series more difficult. Nebraska lost to Minnesota last Friday, and then beat the Gophers on Sunday.
"Playing back-to-back I think it's harder to beat a team two nights in a row, so I think that could factor into it," Cook said. "It will be interesting to see how it plays out."
Nebraska's last match against the No. 1 team in the country was against Stanford in the 2018 national championship match, which Stanford won in five sets.
In 2019, Nebraska played in a No. 1 vs. No. 2 matchup when it was No. 1, with the Huskers losing to Stanford in that match.
Hames ready to go: Setter Nicklin Hames will be fine to play against the Badgers, after getting hit in the head with a hard shot from Stephanie Samedy late in Sunday's match.
"I've seen way harder hits than that in practice this year. She's tough. She was good (Monday)," Cook said.
If the match had gone to a fourth set, Hames would have started that set, Cook said.
Serve-receive was difference in win: How much better was Nebraska in the area of serve-receive from a Friday night loss to No. 5 Minnesota to sweeping the Gophers on Sunday?
Cook, the former high school football coach, of course, has a football analogy for that.
"It would be like a football team rushing for 100 yards Friday night, and we rushed for 300 on Sunday morning," he said. "That would be the difference."
Nebraska's players who handle most of the passing are libero Kenzie Knuckles, defensive specialist Keonilei Akana and outside hitters Madi Kubik and Lexi Sun.
Cook says none of Nebraska's passers can be singled out for helping the Huskers improve in that area.
"It's a group thing because if somebody starts struggling and gets tentative it affects everybody," Cook said. "With the passing group, you have to have everybody working together and knowing who has what ball and having great communication. And when any part of it breaks down it breaks down everything.
"They did a great bounce-back Sunday. And that's how we've been passing in practice. We've been doing really well. So it was good to see that, and they know they can do it in a match against a good team and good servers. It was the same servers as Friday night, so it's just a mindset."
Some fans expected for NCAA Tournament: The NCAA will allow up to 25% capacity for its upcoming championships, including when the entire volleyball tournament is played in Omaha in April. Exact capacity percentages will vary by site, depending on state and local health mandates due to the pandemic.