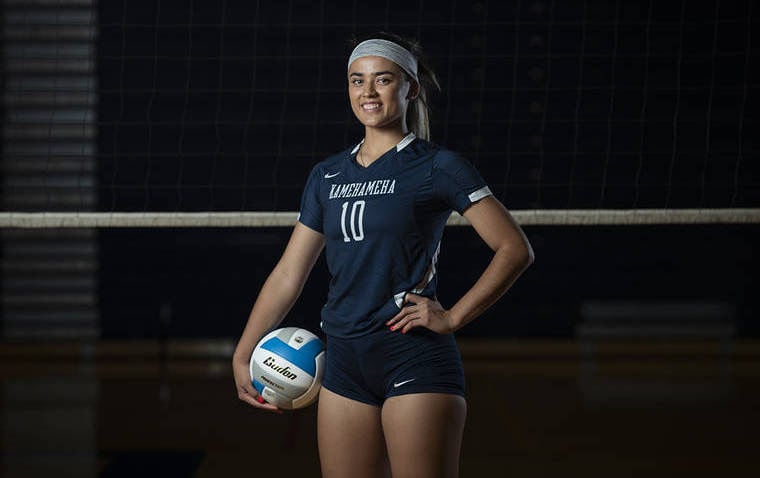 The first time Keonilei Akana comes to Lincoln she'll do so as a member of the Nebraska volleyball team because of her quick search for a new college program and the current restrictions on college recruiting visits due to the coronavirus pandemic.
Those factors led to her committing to Nebraska sight unseen, but she's thrilled to be joining the Huskers. Akana is a high school senior in Hawaii and hopes she'll be able to join the team in Lincoln in just a few months.
Akana is from Hauula, Hawaii, on the north shore of Oahu. She's 5-foot-9 and will play defensive specialist for the Huskers. Last fall she was named the high school player of the year by the Honolulu Star-Advertiser.
Akana is a late addition to the Huskers. She made her commitment to Nebraska coach John Cook this week, but doesn't yet know when she'll be able to sign her national letter of intent amid NCAA restrictions during the pandemic.
Last fall Akana had signed to play at Southern California, but she got her scholarship release after USC head coach Brent Crouch left for Auburn, and Akana started the recruiting process again.
It was good timing for both Akana and Nebraska, which was looking to add a defensive specialist after Megan Miller made plans to transfer after last season.
And it was also good timing because the Nebraska coaching staff watched Akana play during one of the only weeks for club tournaments before the recruiting shutdown began.
Akana was playing in a tournament in Kansas City, Missouri. And that was one of the first times she's played libero after being an outside hitter in high school. It's also one of just two tournaments her club plays on the mainland each year.
Akana was excited about what she heard from the Nebraska coaches, who have big plans for this season with most of the team returning from last season and the NCAA Final Four being held in Omaha.
"The (Nebraska coaches) were just looking for someone that could help push them in the fall so that they could do what they're trying to achieve at the end, which is the national championship," Akana said.
The first time Akana visits Nebraska will be when she comes to begin school and practice. That's expected to be in June, but that may get bumped back.
But her many conversations with Cook and assistant coach Jaylen Reyes made her feel comfortable. Reyes also grew up in Hawaii.
"I know Jaylen is from here, so he knows what it's like in Hawaii," Akana said. "He was just saying that the community in Nebraska is just like home, which is something I'm looking forward to when I get there. I'm excited."
Akana also has a goal to play pro volleyball, and was impressed by how many former Huskers have gone on to play professionally.
In her second round of recruiting, Akana was also considering TCU, Hawaii, Pepperdine and Washington.
Be the first to know
Get local news delivered to your inbox!