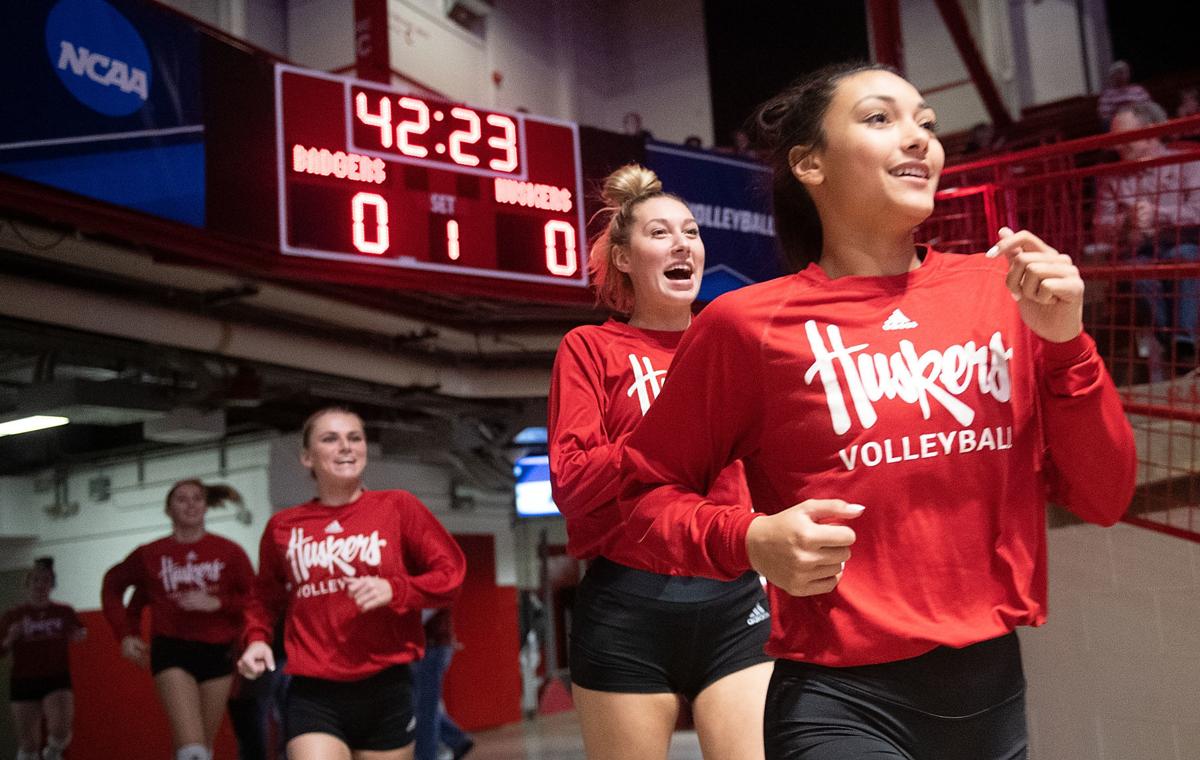 Even after the University of Nebraska-Lincoln went to online learning for its classes in March due to the worldwide health crisis, and athletes at UNL couldn't practice or use the facilities on campus, almost all of the players on the Nebraska volleyball team stayed in Lincoln.
Many of the players went home for spring break, but 11 of the 12 returning players came back to Lincoln. Backup setter Nicole Drewnick stayed home in Texas, where she has access to training facilities because her parents run a club volleyball program.
Being in Lincoln allowed the players to have access to meals provided by the Athletic Department. And maybe it allowed them to hold each other more accountable in school and with still getting in a workout some days.
But now the spring semester has ended, and May is usually an off month for the volleyball players, giving them the opportunity to return home for a few weeks. After that, the months of June and July are often spent with the team, meeting for strength and conditioning workouts, sometimes on the field and stadium stairs at Memorial Stadium. The players also take summer school classes and help coach at Nebraska volleyball camps.
This summer will be different. The players and coaches don't know when they'll be allowed back on campus, even just to use the weight room. As of now, organized team activities are on hold until at least June 1 for all Big Ten Conference schools.
So Nebraska volleyball coach John Cook has encouraged the players to take the rest of May off, just like normal, and then be ready to return to Lincoln when they're allowed to resume team activities.
"We've already told them go home for the month of May, and hopefully we can get back in June," Cook said. "That's all we can do right now."
Cook expects some of the players will still be in Lincoln for at least part of the month. Nebraska has volleyball players from California, Arizona and Tennessee who sometimes fly home when they have breaks from school and volleyball.
"Some of them don't want to go home," Cook said. "They feel safer here, and they're worried if they go home they'll have to quarantine if they come back, because they've all been tested here so they know they're all good. I don't know what they're all going to do, but we're going to encourage them to go home, and hopefully we can come and at least have access to our facilities in June. But who knows. We still don't know."
When the team can resume workouts, it will be joined by five new players — four freshmen and transfer middle blocker Kayla Caffey.
Nebraska usually begins official practice around Aug. 10 and plays its first match in late August. But for now, the team doesn't know when summer conditioning, or the season, will begin.
"It's a complicated decision that involves the Big Ten, the governor, the administrators, (UNL Chancellor Ronnie Green), and then the Athletic Department," Cook said. "There is just so many variables that go into that. Right now everything is shut down, at least until June 1, and we've been told they may extend it after that. (Getting to train in June) is the hope. I'm just being hopeful."
The Nebraska volleyball program has delayed the announcement of its season schedule, which usually comes out in late April or early May. It's already expected that some of the previously scheduled nonconference matches won't be played because Nebraska, and other programs, will try to save money by not taking expensive flights during the nonconference season.