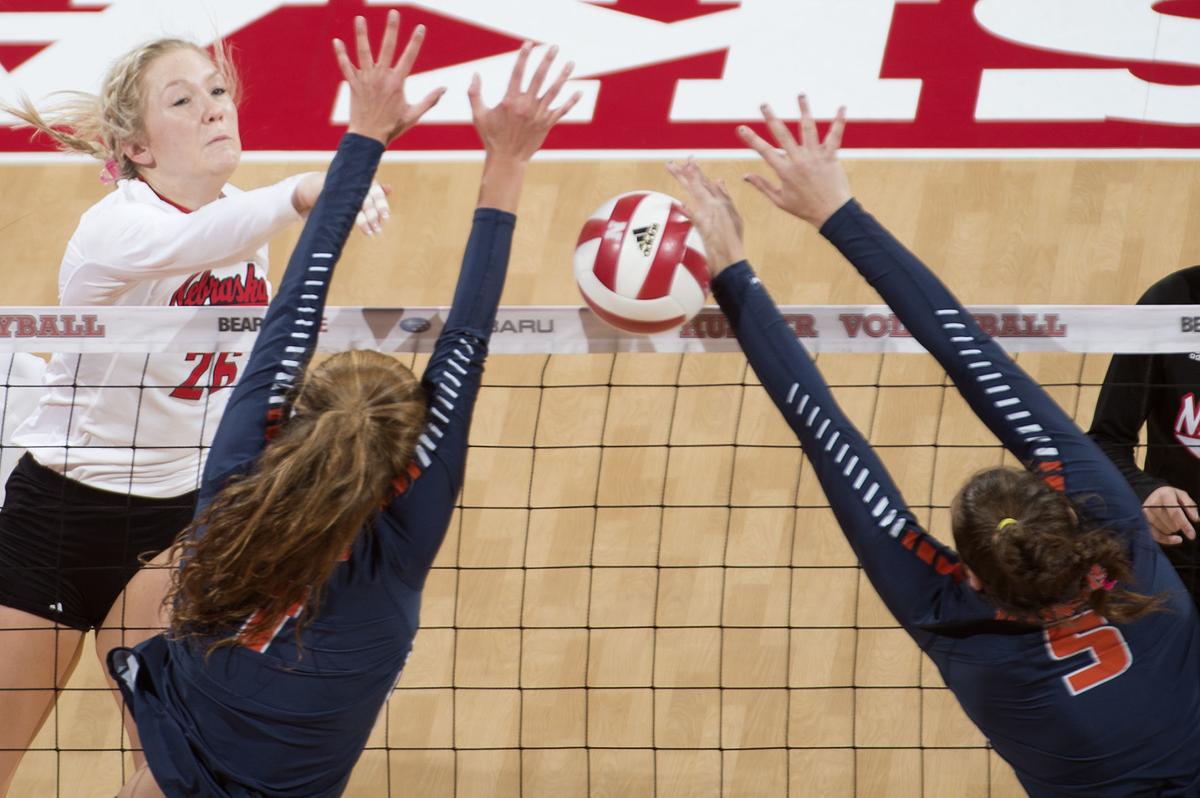 Now the fun really begins for the Nebraska volleyball team, depending on your definition of fun.
Friday marks the start of the Big Ten Conference season for the Huskers, with the third-ranked Huskers playing No. 20 Illinois in Champaign, Illinois.
It's the start of a 10-week stretch where Nebraska will play 20 conference matches. "Fun" will be weeks when Nebraska may have to play two top-10 opponents in one week, weeks with back-to-back matches and a few late-night flights home from the East Coast.
But at the end of the road one team will win a championship, and that's what the Nebraska volleyball program is always chasing.
Head volleyball coach John Cook talks about the start of Big Ten conference play on Sept. 23, 2019.
"We're trying to pursue starting this week for the next 10 weeks what I think is one of the hardest championships in college sports to win," said Nebraska coach John Cook. "It's 10 weeks of sometimes playing back-to-back on the road, and we got a lot of good teams in our conference for volleyball. So we'll see if our players are up to the challenge."
You only have to look to last season to see how challenging the Big Ten season is. Nebraska finished in third place with a 15-5 record, but then reached the national championship match. Illinois finished second at 17-3, and also made the NCAA Final Four.
Minnesota was the league champion at 19-1, showing how you can't afford to lose too many matches if you want to be the champion.
"There is no room for off nights in the Big Ten," Cook said. "If you have one off night, that might be the championship. I'm assuming that's why we're working and we're playing in this conference, is to try and win it."
Junior middle blocker Lauren Stivrins has been through the Big Ten wars a few times. How does she hope her teammates approach the conference season?
"I hope we go after it," Stivrins said. "This team is so young and a lot of them don't know what it's like to play Big Ten volleyball, so that's going to be nice to get out there with them and see what they're made of. Because it's a grind. It's a long season, and you're going back-to-back playing some of the best teams in the nation."
There'll be many challenges in the conference season, like the start when Nebraska plays three road matches in six days, with Nebraska also playing at Northwestern and Rutgers.
You can expect some long, tough matches during the conference season. Nebraska played three five-set matches last year in league play, winning one.
And you have to be able to put in a game plan quick, sometimes playing less than 24 hours after the last match.
"This is a mental and physical grind," Cook said.
What does Cook find fun about the conference season?
"It's a great challenge," he said.
Cook also likes the routine of the conference season. So the schedule will usually be matches on Wednesday and Saturday, or Friday and Saturday.
Earlier this season, Nebraska played three matches in about 26 hours. Now NU will have more time to prepare for each opponent.
"We have our routine throughout the week. I like that," Cook said. "So for me it's great because I know how we prepare and what days we do what."
Last week Nebraska (8-1) lost its first match of the season against Stanford, and Stivrins said that was a good reality check for the team before league play.
"We're such a young team, and we have great plays every now and then, but it's being consistent and not taking plays off," she said.
Nebraska beat Illinois in the national semifinals last season. The Illini (5-4) has struggled at the start of this season, including losing three straight matches to unranked teams. Illinois outside hitter Jacqueline Quade leads the Big Ten in kills per set (4.67).
Be the first to know
Get local news delivered to your inbox!