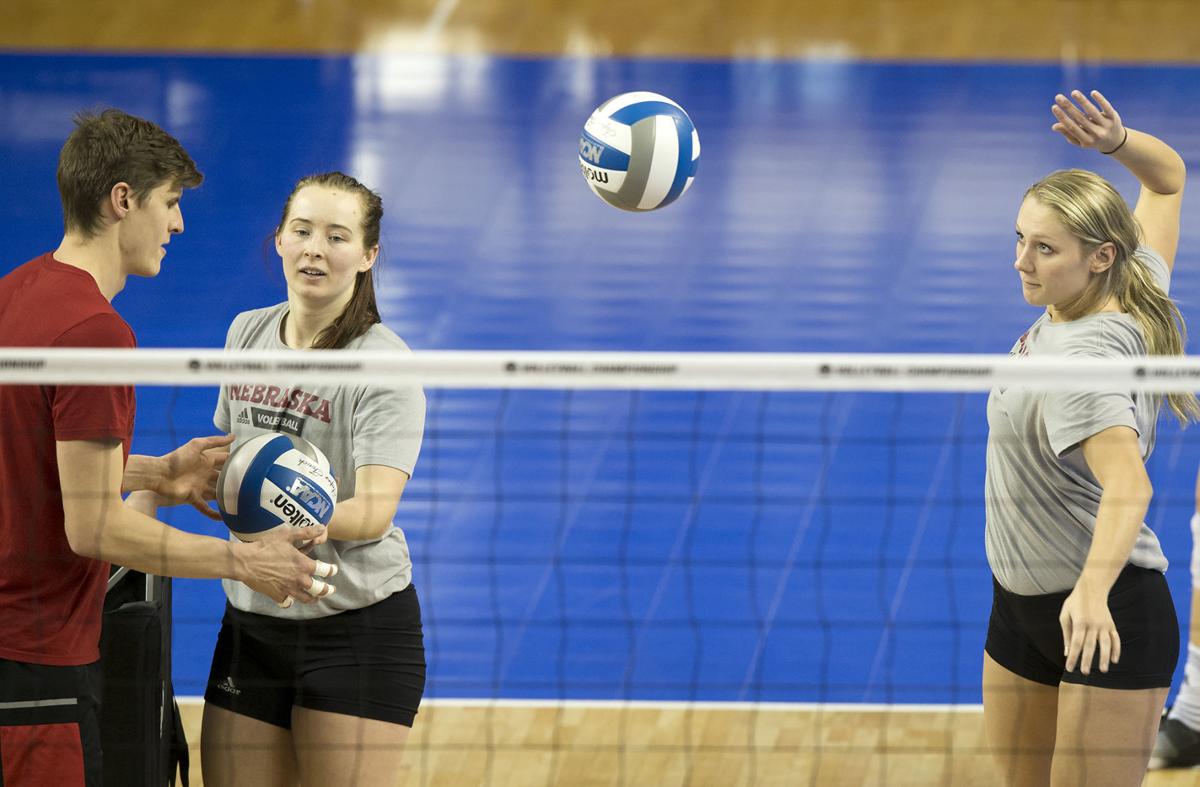 During the job interview before he was hired as a college volleyball assistant coach at Virginia, Joe Klein was asked about the two seasons he spent as a graduate manager with the Nebraska volleyball program.
"The associate athletic director, she asked what I learned from Nebraska, and how are you going to implement that stuff here?" Klein said. "They are very curious on what the Huskers did in recruiting and scouting."
Just as interesting as the number of assistant coaches for John Cook who are now college head coaches is what is happening for several graduate assistants who have worked for the program. The graduate assistants are now turning one or two years in a small role into jobs as full-time assistant coaches at other NCAA Division I schools.
Each year there are about five people working with the program as graduate managers or volunteer assistants. They set up for practice, help run drills and give advice to players not taking part in a drill.
But they also get to observe Cook and the two full-time assistant coaches closely, and also gain experience coaching teams at NU camps during the summer.
The graduate program has really taken off in the past five years. All three of the graduate managers from the 2016 team are now full-time assistants at Division I schools, with Klein at Virginia, Cole Aiazzi at Montana State and Natalie Morgan at Loyola Marymount.
Bre Macke was a graduate manager the past two years and in the offseason was hired as an assistant coach and recruiting coordinator at Santa Clara in her home state of California.
Kelly O'Connor went from being a graduate manager at Nebraska in charge of video scouting to a full-time assistant at Omaha. Mike Owen, who came to Nebraska after earning a degree in mathematics from Harvard, is now an assistant coach at Miami (Ohio). Nate Ngo works with the U.S. men's national team. Ben Boldt is the head coach at Concordia.
You have free articles remaining.
Now schools are calling Cook to ask not only about the assistant coaches but the graduate managers, as well.
"They're calling and then they go interview and they do great and they get hired," Cook said.
Klein came to Nebraska after playing in college at Graceland University in Iowa and for eight years professionally. His connection to Nebraska was former assistant coach Chris Tamas -- they played in adult tournaments together.
When Klein was still working for Nebraska, he was approached at the Final Four about being an assistant at Division II Minnesota State. After one season there he got hired at Virginia.
"I knew that going to Nebraska was the best choice for me, because I knew it would skyrocket me and get me a couple of steps ahead," Klein said. "I think a lot of the people who are going to be graduate assistants at Nebraska have that mentality. They know that if they go there and are able to handle the pressure and the stress and everything that goes with being part of Nebraska volleyball, that looks really good on a résumé, because obviously the whole coaching world knows how good that program is, and how demanding it can be on the staff. If a GA is willing to do that, I think that really shows their love for the game, and it's not something they want to do just because it looks fun and interesting."
One of Nebraska's full-time assistant coaches is responsible for recruiting and training the graduate managers. In return, the graduate assistants get free tuition to earn their master's degrees.
About 10 years ago, Cook even hired one of the former graduate managers, Dan Meske, as a full-time assistant. Meske left Nebraska to be the head coach at Augustana (South Dakota) and is now the associate head coach at Louisville.
"It really has taken off now as a great training ground to become a coach," Cook said. "Because where else do you really get trained? Start at an NAIA school maybe, or a high school or club. But now you can come to a program like this and get that preparation and training, and people I think are recognizing that and they're getting jobs. So it's pretty cool. I'm really proud about that."