John Cook filled the opening on the Nebraska volleyball coaching staff, and he's done so with a coach Cook respects so much that he's hired him twice.
The Husker head coach announced on Monday that's he's hired Tyler Hildebrand, and is giving him the title of associate head coach.
Hildebrand, 35, was previously an assistant coach at Nebraska for one season in 2017, and had a key part in helping Nebraska win a surprise national championship that season even though the Huskers had graduated three All-Americans from the previous year.
Two months after that season ended, Hildebrand left to work with the USA Volleyball beach national team as its director of coaching. That's the job Hildebrand still holds, and he'll remain in that job through the Olympics in August. The plan is for Hildebrand to travel directly from the Olympics to Lincoln and arrive just before the Huskers begin preseason practice.
From now until August, former Nebraska setter Kelly Hunter will serve as an interim assistant coach for Nebraska. Hunter will join assistant coach Jaylen Reyes in coaching the beach volleyball season and taking a lead role in recruiting and the Huskers' summer camps. Once Hildebrand arrives, Hunter will stay on the staff as the volunteer assistant coach.
Cook has hired several assistant coaches in recent years as coaches have gone on to get head coaching jobs. The interesting part about this hire is that for the first time in his 21 seasons at Nebraska, Cook will have an associate head coach.
In an interview on Monday, the 63-year-old Cook said that even though Hildebrand has the title of associate head coach that doesn't mean for sure that he'll be Cook's successor as Husker head coach when Cook retires.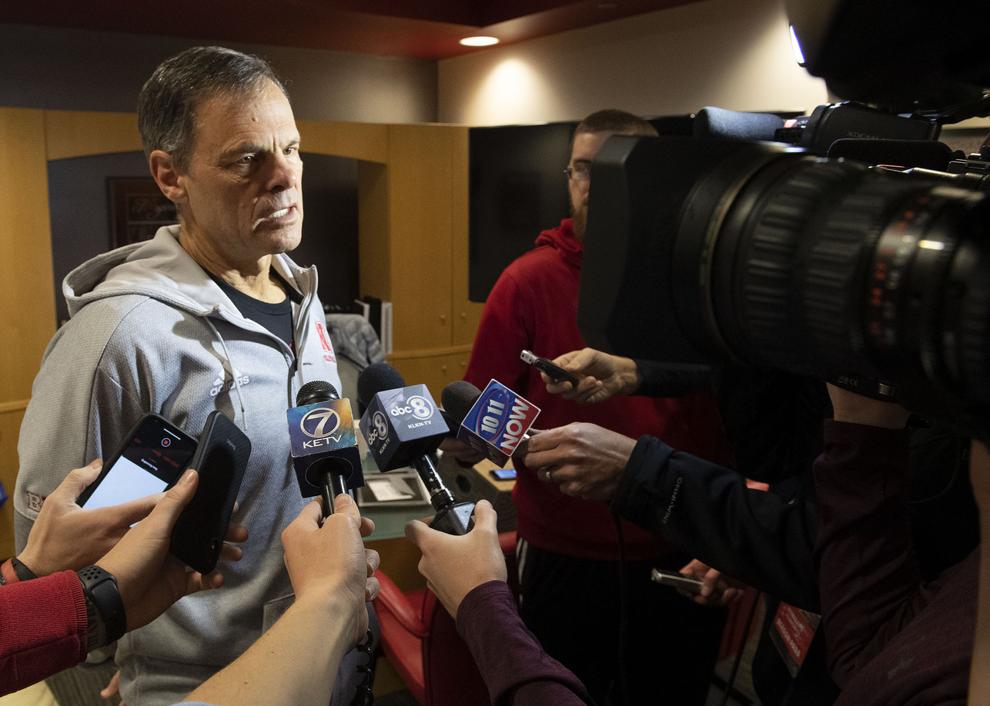 "I don't know when I'm retiring," Cook said. "But I don't make that decision (on the next head coach). I don't think it's in my job description, unless it changed, so that will be the athletic director's decision what happens there."
Before Cook became the Nebraska head coach in 2000, he had been the Huskers' associate head coach for one season in 1999, with a plan in place for Cook to take over for Terry Pettit in 2000. But Cook left a good job as Wisconsin head coach to be the associate head coach.
Hildebrand has a lot of experience coaching college men's volleyball and with the U.S. men's national team, but he's only coached college women for one season.
How long does Cook plan to coach?
"I take it day by day," Cook said. "I love coaching right now and I'm fired up. My wife is ready to kill me because she had to spend three weeks with me (during the Christmas break). All I'm doing is thinking about how we're going to beat Wisconsin and get to Omaha (for the Final Four in 2020). She's probably glad I'm back at work today."
While the plan can always change, Cook has previously told recruits that ask about his future that he plans to still be coaching when they begin their college careers.
Cook felt like giving Hildebrand the title of associate head coach would help Cook convince him to return to Nebraska, and that Hildebrand's experience makes him worthy of the title.
"I think Tyler has certainly earned an opportunity to be more than just an assistant coach," Cook said. "That was one of the things we proposed, and with that it is a new title and there are other benefits that go with that. He's obviously leading the USA beach program right now and is doing a fantastic job with that. So that was one of the things that I could entice him with (for) leaving the USA program and coming back here.
"And there is going to be responsibility that comes with that for him, and more expectations. But he needs to feel that, and he needs to have that responsibility and pressure and expectation. I'm pretty fired up about that, and it makes me feel like I can really challenge him in maybe other ways."
Although Hildebrand has been living in California directing the U.S. beach volleyball program for the past two years, he has served as a consultant for Cook in his spare time, following the program, watching video and offering his thoughts.
Hildebrand attended a few matches each year, including sitting in the front row when Nebraska played in the national championship match in 2018.
"The 2017 season was one of my most enjoyable seasons as a head coach with Tyler and Kayla," Cook said "Obviously we had great results, but Tyler made me a better coach that year. I think he has a gift for coaching in how he sees the game. He has a very positive way of challenging people, including me.
"That's why I reached out to him. Part of my job as head coach is to provide the best staff possible for our team. I really feel like hiring Tyler and having him join our staff gives us the best chance to be successful."
Hildebrand's wife, former U.S. national team captain Kristin Hildebrand, was a volunteer coach for the Huskers in 2017, but will not be this time around as she runs her own interior design business.
"I'm so happy to get to have more time to learn from Coach Cook," said Tyler Hildebrand in a news release. "One year wasn't nearly enough. He pushes me to be a better coach, and I can't say that about many people. I truly miss the challenge of coaching at Nebraska, and I look forward to learning even more from him and I am incredibly grateful to him for this opportunity. I'm always trying to live up to coach's expectations, always trying to prove to him what I can do. The best I have coached in my career, I believe, was in 2017, and I owe a lot of that to Coach Cook."
Reyes has been Nebraska's defensive coordinator the past two seasons. Cook hasn't decided if Hildebrand or Reyes will be the defensive coordinator in 2020.
"The thing about Tyler is he's done everything," Cook said. "He's been an offensive coordinator, a defensive coordinator, he's great with setters, he's great with outside hitters, he's great with middles. So we're going to have to figure that out, how that will work."
Reyes played libero in college and could shift to coaching the defensive specialists, the role Banwarth had. Reyes has already taken over Banwarth's responsibilities as recruiting coordinator.
Photos: Cook introduces Hildebrand as associate head coach, says the former Husker assistant 'has a gift'
Huskers fill coaching staff with Hildebrand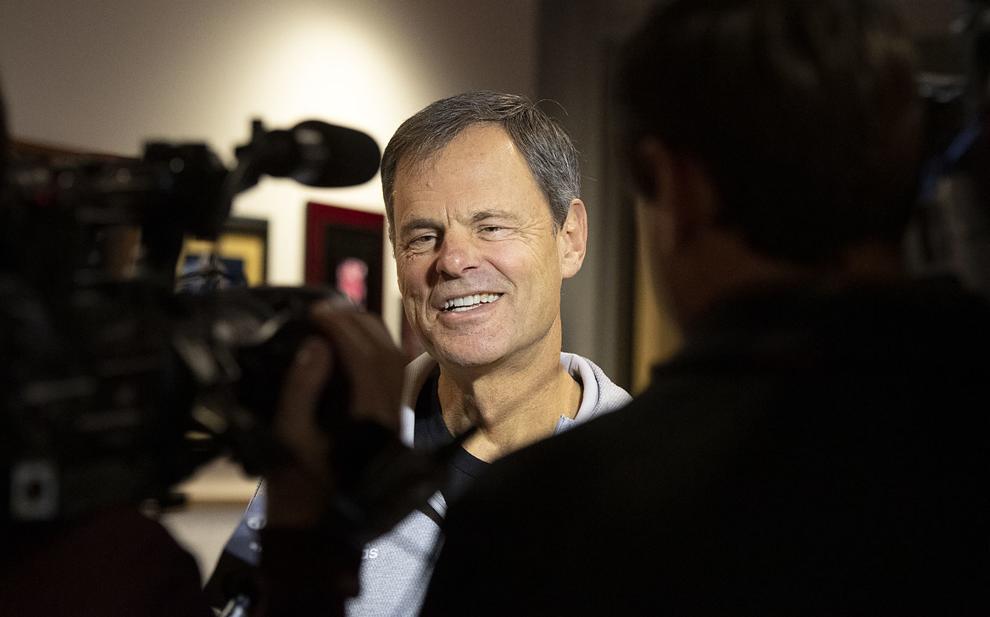 Huskers fill coaching staff with Hildebrand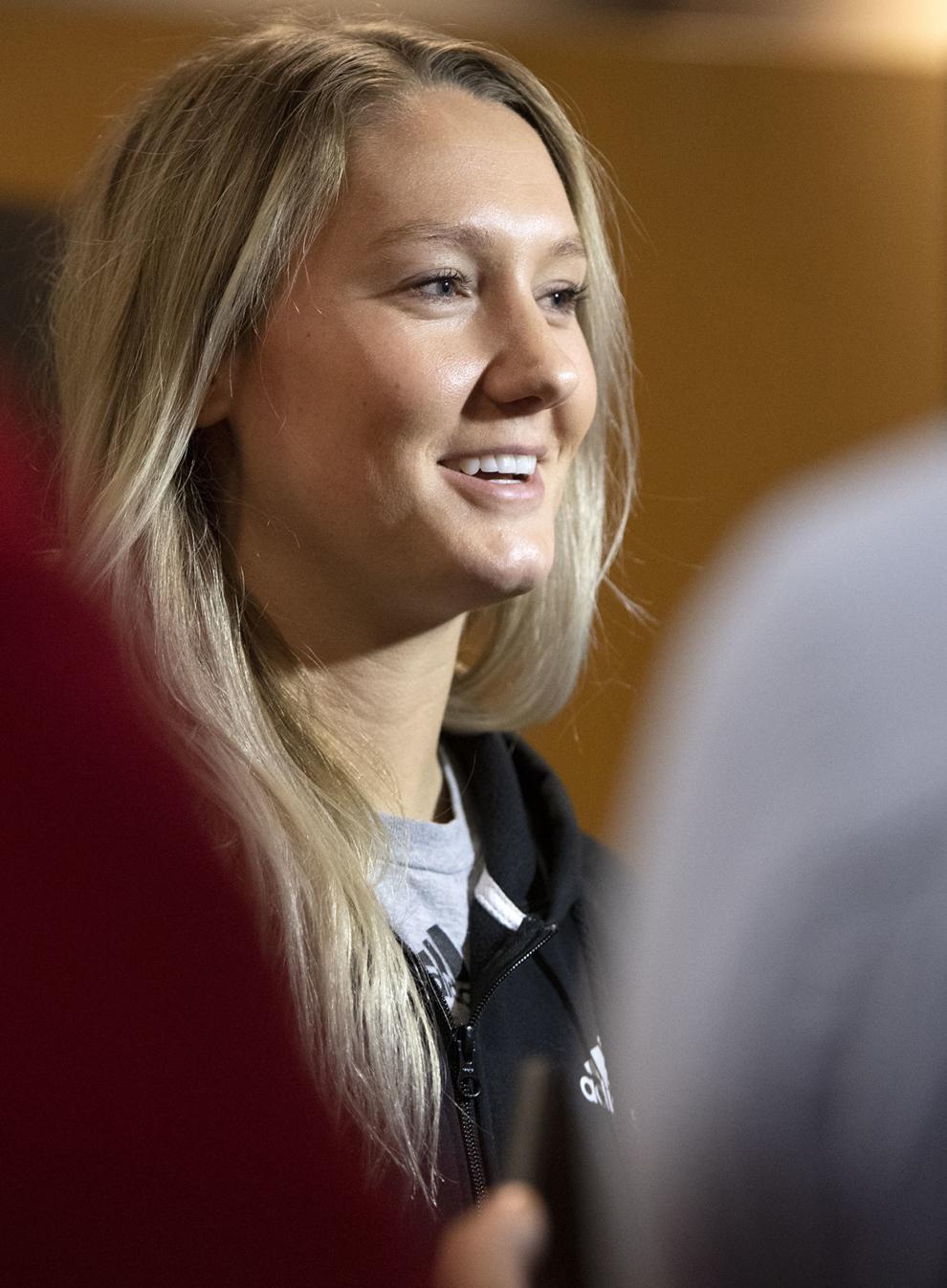 Huskers fill coaching staff with Hildebrand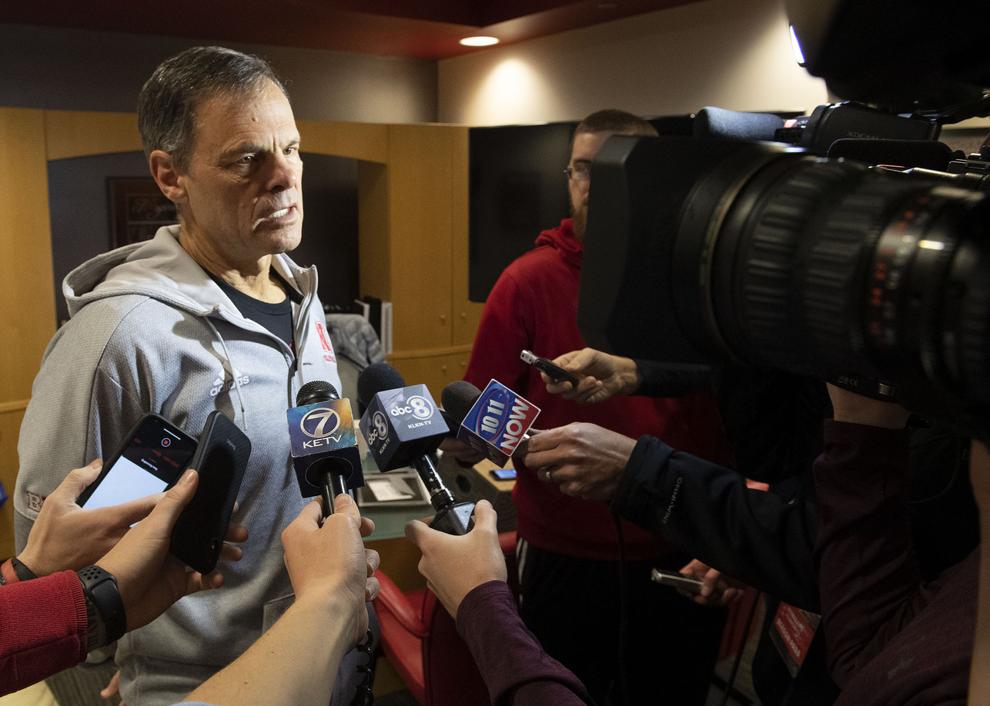 Huskers fill coaching staff with Hildebrand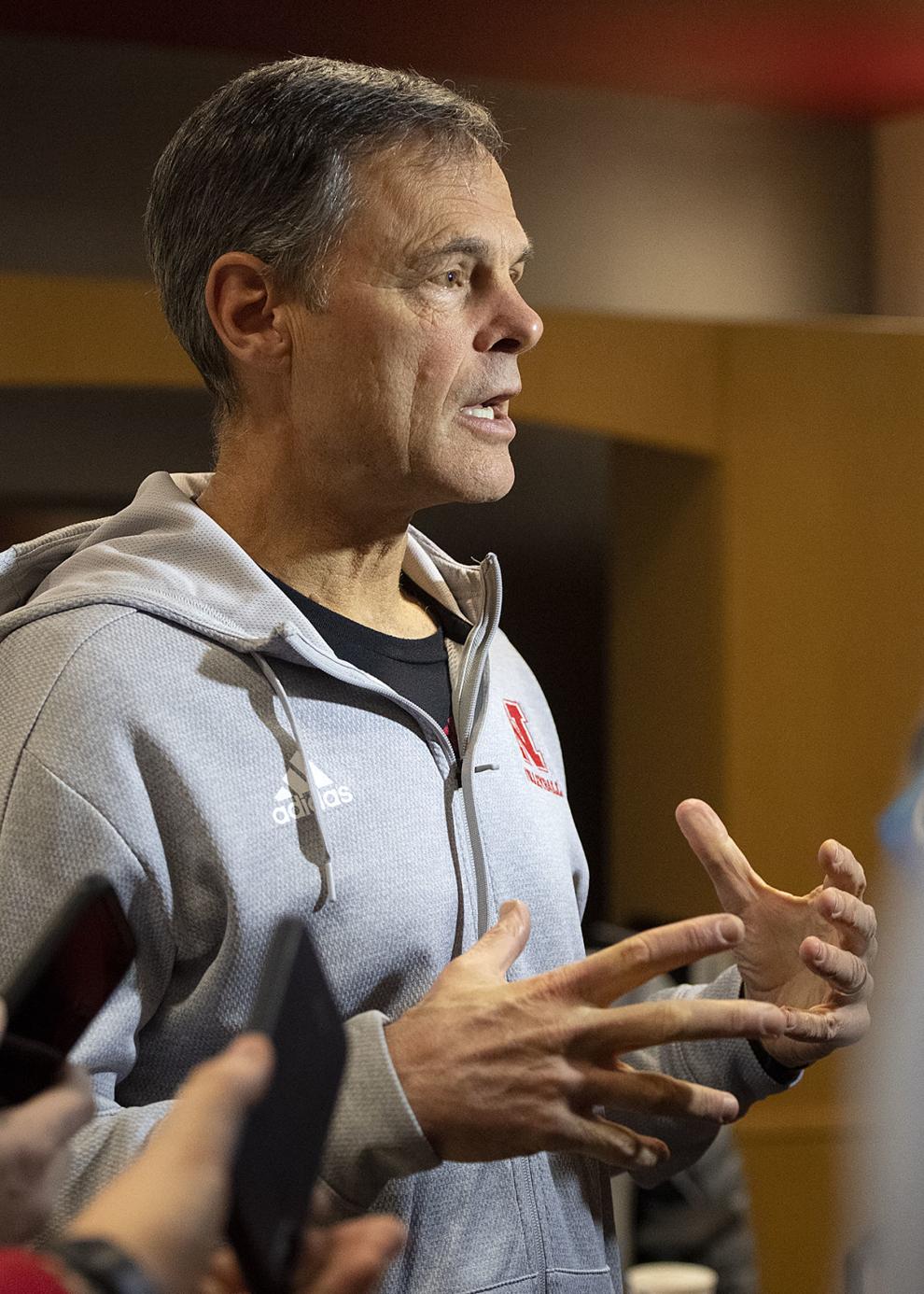 Huskers fill coaching staff with Hildebrand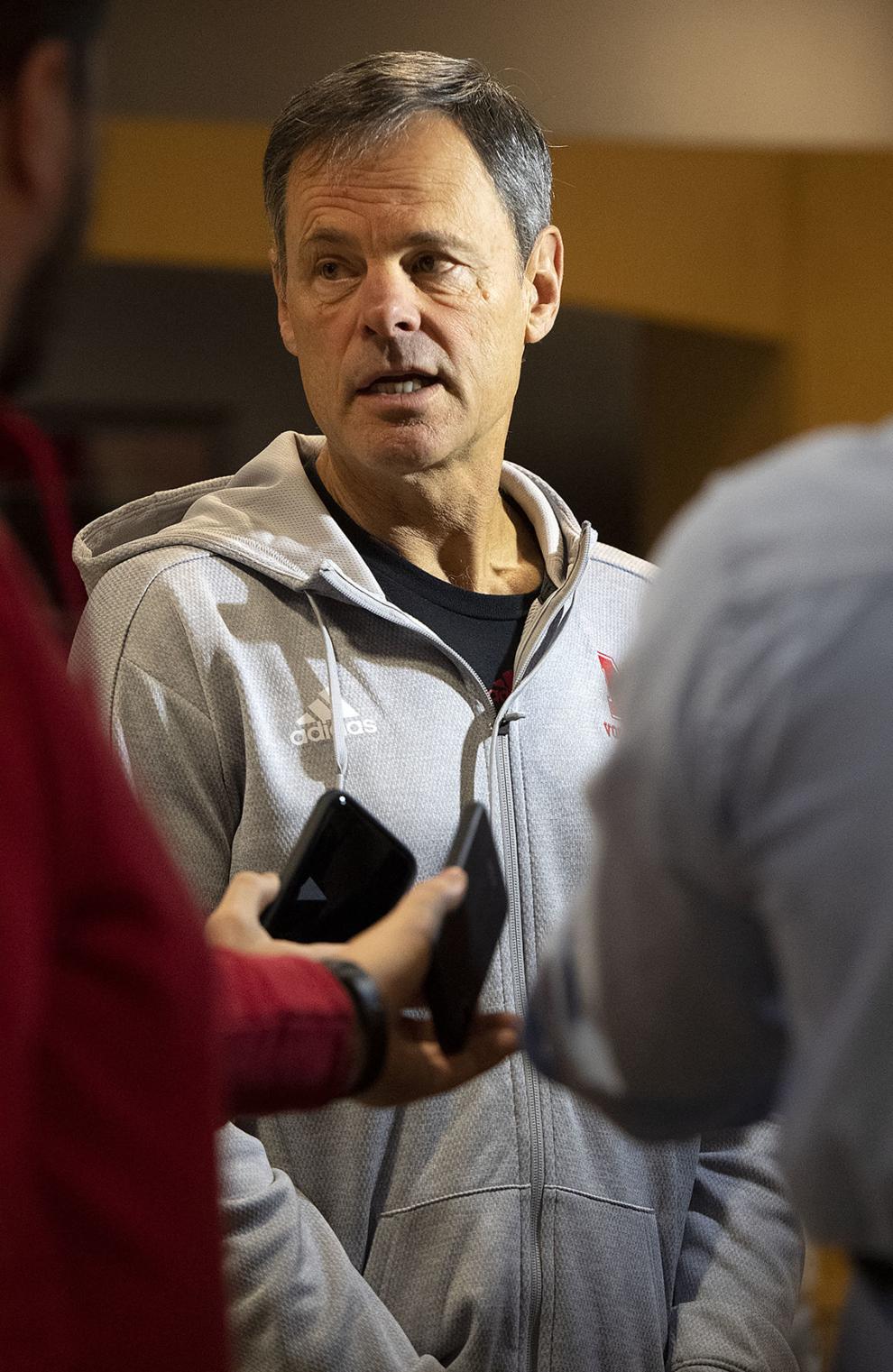 Huskers fill coaching staff with Hildebrand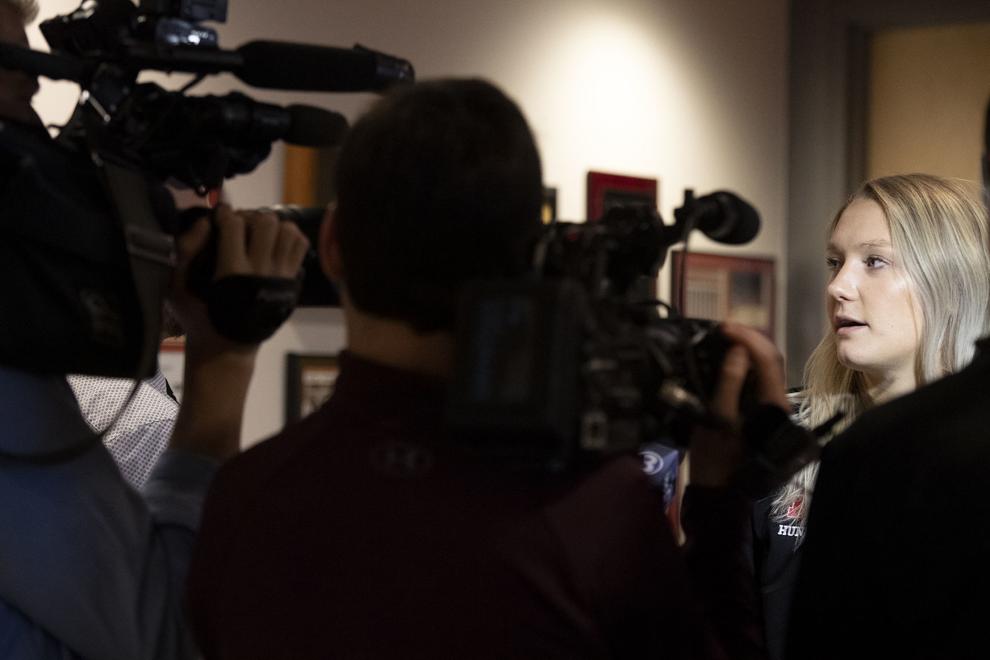 Huskers fill coaching staff with Hildebrand