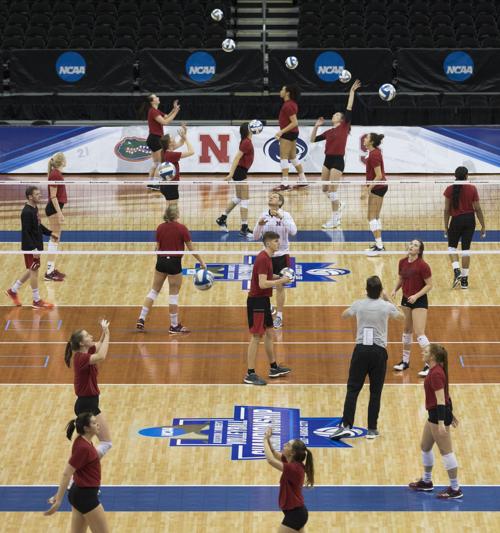 KANSAS CITY, Mo. — The Nebraska volleyball team officially began Final Four week here on Wednesday with a late-morning practice at the Sprint Center.
The Huskers spent a lot of time working on serving and passing during the 90-minute workout.
The fifth-ranked Huskers will play No. 1 Penn State at 6 p.m. Thursday in the national semifinals.
"First of all, we're really excited to be here," said Nebraska coach John Cook "The fact it's Kansas City, it's close to Nebraska, it's sold out, it's a great testament to the Husker Nation and how well volleyball is supported in the Midwest. It's just awesome for our sport."
Cook said he was proud of the senior class of Kelly Hunter, Briana Holman, Annika Albrecht, Sydney Townsend and Allie Havers for helping the Huskers reach the Final Four for the third consecutive season, a program first.
"So we have a lot to be happy about, and we're excited to play tomorrow," Cook said.
Cook said the Huskers are excited to play Penn State again. The Huskers beat Penn State 3-0 on Sept. 22.
"Our matchup with Penn State, if you've followed the history of us, Nebraska-Penn State, we've had a lot of epic matches," Cook said. "I've been having a lot of flashbacks to several years — 2008, 2011, last year and of course our match with them this year at Penn State. So it's one of the, I think, most exciting rivalries, if you want to call it that, in college volleyball. They're a lot of fun to play, and I think both teams bring out the best in each other."
Photos: Husker volleyball readies for the Final Four
The No. 5-ranked Nebraska volleyball took to the Sprint Center court Wednesday in Kansas City to prepare for Thursday's national semifinal. Photos by Ted Kirk, Journal Star.