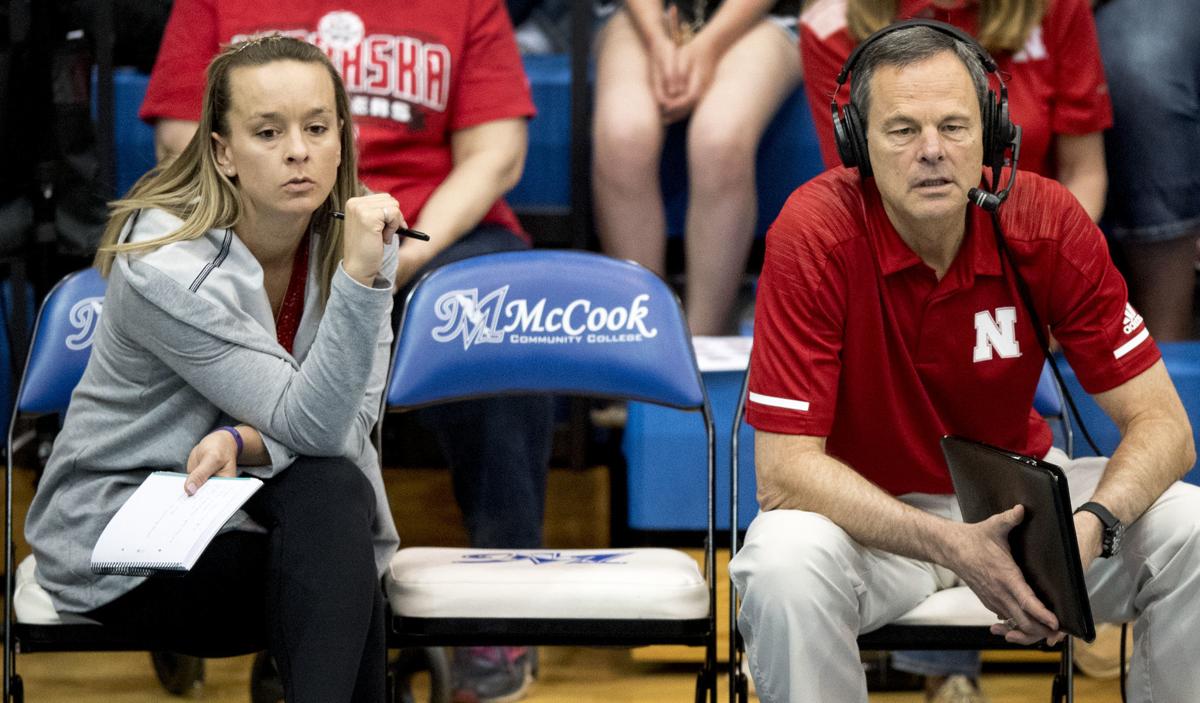 The coaching tree for Nebraska volleyball coach John Cook is growing again after Husker assistant coach Kayla Banwarth was announced as the head coach at Mississippi on Saturday.
Banwarth is the third Nebraska assistant in the past four years to move on to an NCAA Division I head coaching job. She joins Dani Busboom Kelly (Louisville) and Chris Tamas (Illinois) as the most recent Cook assistants who have taken over Division I programs.
Banwarth, 30, just finished her third season as a Nebraska assistant. She led Nebraska's recruiting efforts and coached the defensive specialists.
She will take over an Ole Miss program that went 14-15 in 2019. Banwarth replaces Steve McRoberts, who was led Ole Miss from 2014-19, and left the program after the season ended.
Ole Miss athletic director Keith Carter is pleased to get a coach with Banwarth's experience.
"Throughout our search process, it became clear that Coach Banwarth is one of the top up-and-coming leaders in volleyball," Carter said in a news release. "Immediately we recognized her rare mix of youthful energy and top-level experience. She brings a championship mentality, recruiting prowess and brilliant knowledge of the game.
"From walking on at Nebraska to starring for Team USA, Kayla's drive and determination is remarkable, and we look forward to seeing that passion in our program for years to come. I want to thank deputy AD Lynnette Johnson, as well as Chad Chatlos with Ventura Partners, for helping us identify Kayla and bring her home to Ole Miss."
Nebraska will work quickly to hire a new coach, Cook said. Nebraska first-year video coordinator Beau Lawler will likely join Banwarth's staff as an assistant coach at Mississippi.
Nebraska was Banwarth's first full-time coaching job after the former Husker ended a playing career with the U.S. national team that included winning the bronze medal at the 2016 Olympics.
"I am pumped for Kayla and this opportunity for her to lead the Ole Miss program," Cook said in a news release. "In her three years as a coach here, Kayla helped us win a Big Ten championship and an NCAA championship, and she played a huge role in coaching our liberos and helping our six-rotation hitters become great passers.
"She also did a tremendous job on the recruiting trail. Her story of going from a walk-on to a U.S. Olympic team libero is an incredible one, and she will get to build on that legacy at Ole Miss. They are fortunate to land a talented up-and-coming coach like Kayla."
In 2018, Nebraska's defense was one of the best in the nation, in large part thanks to the Huskers' back-row defensive players. Nebraska finished the season with a .144 opponent hitting percentage, which ranked third in the nation and was the Huskers' best mark since 2005. Nebraska libero Kenzie Maloney was an AVCA third-team All-American.
The Huskers were one of the top defensive units in the nation once in again this season, holding opponents to a .153 hitting percentage, which ranked eighth in the nation and tops in the Big Ten. Nebraska reached the NCAA Tournament Elite Eight for the eighth straight year.
Banwarth began gaining experience for a career in coaching when she was still playing for the national team. While living and training in California, she spent two years as a volunteer assistant coach for the Pepperdine men's team.