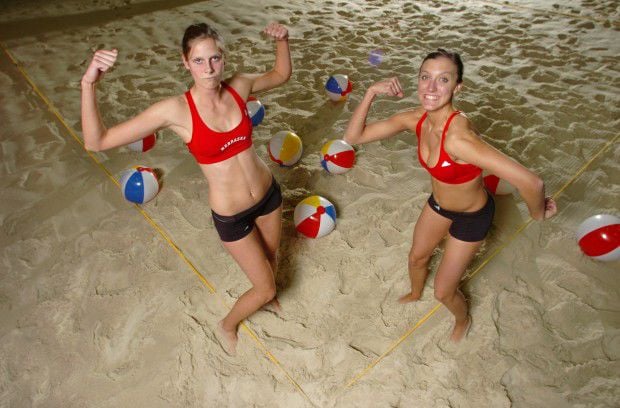 Nebraska wants to be a leader in college volleyball, from winning championships to how it recruits and develops players.
With that in mind, despite there being snow on the ground in Lincoln on Wednesday, the NU athletic department announced it will add sand volleyball as a women's varsity sport beginning immediately.
In part, Nebraska is just keeping up with the Joneses, with several top programs already playing the sport. The opening practice of the nine-week season will be Thursday, and the first competition will probably come during a trip to California over spring break in March, when most of the Huskers' 2013 matches will be played.
Adding sand volleyball gives Nebraska 24 sports (14 women, 10 men) and is the first new sport since women's rifle was added in 1998. Nebraska athletic director Shawn Eichorst said he doesn't foresee adding more sports in the future.
Sand volleyball was approved as an NCAA emerging sport for women in 2009. Fifteen schools sponsored varsity teams in 2012, the first season of competition for Division I schools. The inaugural AVCA Collegiate Sand Volleyball Championships were held last April in Gulf Shores, Ala.
More than 20 schools currently sponsor sand volleyball, with that number expected to grow. When 40 schools in Division I and II have sponsored varsity programs for one year, the NCAA will sponsor an NCAA championship in the sport, and that could come as early as 2016.
Because few — if any — matches will be played locally, the biggest impact the sand volleyball team will have initially will be in recruiting players for the indoor team and having more practice time. It's similar to cross country and track, where the same athletes compete in both sports.
"We can start being ahead of the game," Nebraska coach John Cook said. "As more schools go to this, I would rather be on the forefront, especially with recruiting, because we're recruiting so far out now. I don't want to wait three years to decide we're going to do it, and then you have another three years until those recruits even get here."
Nebraska will move into sand volleyball with caution. The school does not intend to offer scholarships, but all members of the indoor volleyball team may participate in the sand season. Sand volleyball teams can have a maximum of two coaches, and Cook and assistant coach Dan Meske will fill those positions. At this point, Cook said he would not open the sand team up to current UNL students.
Adding the program should not cost the athletic department a lot more money, Cook said. The program already budgets for a training trip over spring break, and now that will be used for the sand season. Because sand volleyball is an emerging NCAA sport, the program will receive $30,000 from the NCAA.
Nebraska will continue to play an indoor spring exhibition season. The Huskers will host three matches this spring -- against South Dakota, Iowa State and Creighton.
"I think we came up with a really good plan that gives us an opportunity if this grows we can grow with it, and if it doesn't, we haven't invested anything or laid anything out," Cook said.
There has been discussion of adding a sand program for a few years. Initially, sand programs needed to have separate coaches and scholarships, but that has changed.
The Nebraska players got the official word Monday that a sand program would be added. NU is the first team in the Big Ten Conference known to be adding a sand team, and the only one in the Midwest.
Nebraska was able to add the sport because there already is a world-class indoor sand court located in the Hawks Championship Center, where the team already does some training.
There are no plans to have a sand competition in Lincoln this season, but Cook hopes that could happen next year. Nebraska would play its home matches at the Hawks Center, where a dual could be completed on the single regulation-size court in about four hours. If the weather was nice, multiple matches could be played outdoors at the same time, possibly on campus. 
Last month, libero Lara Dykstra left NU to return to California, and she'll play sand volleyball at Pepperdine. Cook says adding sand volleyball would probably not have kept Dykstra at Nebraska, because she only wanted to play sand volleyball. Once a player is on scholarship for sand volleyball, she cannot play indoors.
Outside hitter Kelsey Robinson, a transfer from Tennessee who just enrolled at Nebraska, was also considering programs that have sand volleyball, such as UCLA and Hawaii. Cook said he could not promise Robinson a chance to play sand, but said Nebraska was working on it.
"Every recruit in the last couple years has asked us, 'Are you going to get sand volleyball?'" Cook said. "Will they be pro sand players? Probably not, but it's the idea that you have something else to offer. Right now, with the Olympics, with how big it was with Misty May and Kerri Walsh, it got primetime coverage. A lot of kids have that in their mind of playing sand volleyball."
Freshman right-side hitter/setter Alexa Strange from San Clemente, Calif., and Robinson both have extensive sand backgrounds, and will probably be the Huskers' No. 1 team in the doubles format.
The Huskers' three All-Americans from last season — Lauren Cook, Hannah Werth and Gina Mancuso — have already started pro volleyball careers, and will not play sand volleyball.
Senior Alison McNeal will not play during the sand season. Defensive specialist Paige Hubl will play, and has changed her mind and decided to return for a fifth indoor season next year. The walk-on from Lincoln Southeast did not appear in a match as a sophomore and has one year of eligibility remaining. She'll compete for the libero job now that Dykstra is gone.
Freshmen Kadie and Amber Rolfzen have already enrolled, and are eligible to play during the sand season.