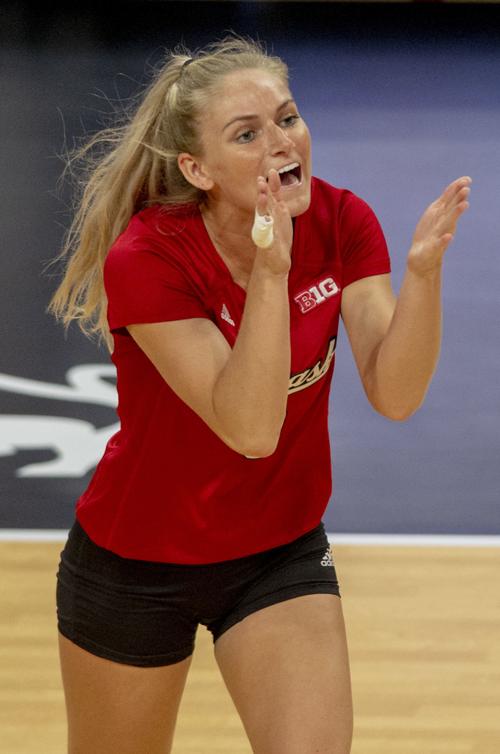 Nebraska volleyball coach John Cook often talks about the fine line between success and failure when you're serving in a college match.
If you just float over an easy serve, a team with great hitters, like Minnesota, is going to crush the ball back over the net. And if you're not focused, the serve will sail long, wide or into the net.
But if you're confident, and aggressive, a great serve can result in an ace, or at least a bad pass, and slow down the opponents' attack.
Ten consecutive times on Friday during Nebraska's match against Minnesota, Nebraska defensive specialist Megan Miller went to the serving line and lived on the edge of success and failure, but she never went over the edge.
Miller served an 11-0 run to end the match for an improbable finish to No. 6 Nebraska's five-set win against the No. 7 Gophers. Nebraska won the fifth set 15-3.
The dominating finish followed two bad sets. Nebraska never had a lead in the third or fourth.
Nebraska had a narrow 5-3 lead in the fifth set when Miller began serving. Miller got the first one in, and she just kept going. She said the biggest challenge was to keep being confident that she wasn't going to serve an error.
"I was just trying to trust it, because Coach (Cook) always harps on that, trusting it," said Miller in a phone interview. "I knew if we were going to go down, we were going to go down aggressive. So I was just going for it."
Twice during the serving run, Miller's good serves resulted in Minnesota having to send over a free ball to keep the rally alive. Miller also mixed in some short serves. Minnesota setter Kylie Miller was rarely in a good position at the net. The Gophers had just one kill on 15 attempts in the fifth set.
You have free articles remaining.
"I just remember going up and being aggressive and getting more confidence every serve that I served, and just knowing that my teammates have my back if the serve wasn't getting (Minnesota) out-of-system," Miller said. "My teammates were going to block it, or someone else would get the dig."
Miller had one ace in the run, with a shot that dropped after hitting the top of the net. She had three of Nebraska's season-best eight ace serves in the match. Miller served 24 times in the match without an error.
Miller subs in for Jazz Sweet and plays in the back row, serving and playing defense. She doesn't get many kills, but has a part in Nebraska scoring, or saving, a lot of points. On match point on Friday, Miller had a diving dig to save a tip from Minnesota from touching the floor.
For the season, the sophomore from Alexandria, Indiana, has 204 digs, 21 set assists and 18 ace serves. Matches like Friday's show the value back-row players like Miller have.
"It just makes me realize that I have a bigger role than what I think, and how much impact I can have on each game," Miller said.
Miller's serving was crucial to the win.
"Ten (serves) in a row. That's hard to do," said Cook in an interview on the Husker Sports Network. "I mean how many times do we get two points and then serve in the net? The way she finished there, that was awesome."
Nebraska freshman Madi Kubik had a match-high 20 kills. She was at her best in the final set, with seven kills on nine attempts.
November success: Friday's win joins an earlier one against Penn State as Nebraska's best victories of the year. And the win against the Gophers was another example of how Nebraska has improved during the season, and been really good late in the season in recent years.
Nebraska hasn't lost a match in the month of November since the 2016 season, winning 25 consecutive matches in the month over four seasons.
Trying for a different result: Nebraska's challenging weekend road trip continues with Sunday's match against No. 5 Wisconsin (20-5, 16-1 Big Ten). With a win Nebraska would tie the Badgers for first place in the Big Ten standings. Wisconsin swept the Huskers last month in three close sets, 25-22, 25-21, 25-22.