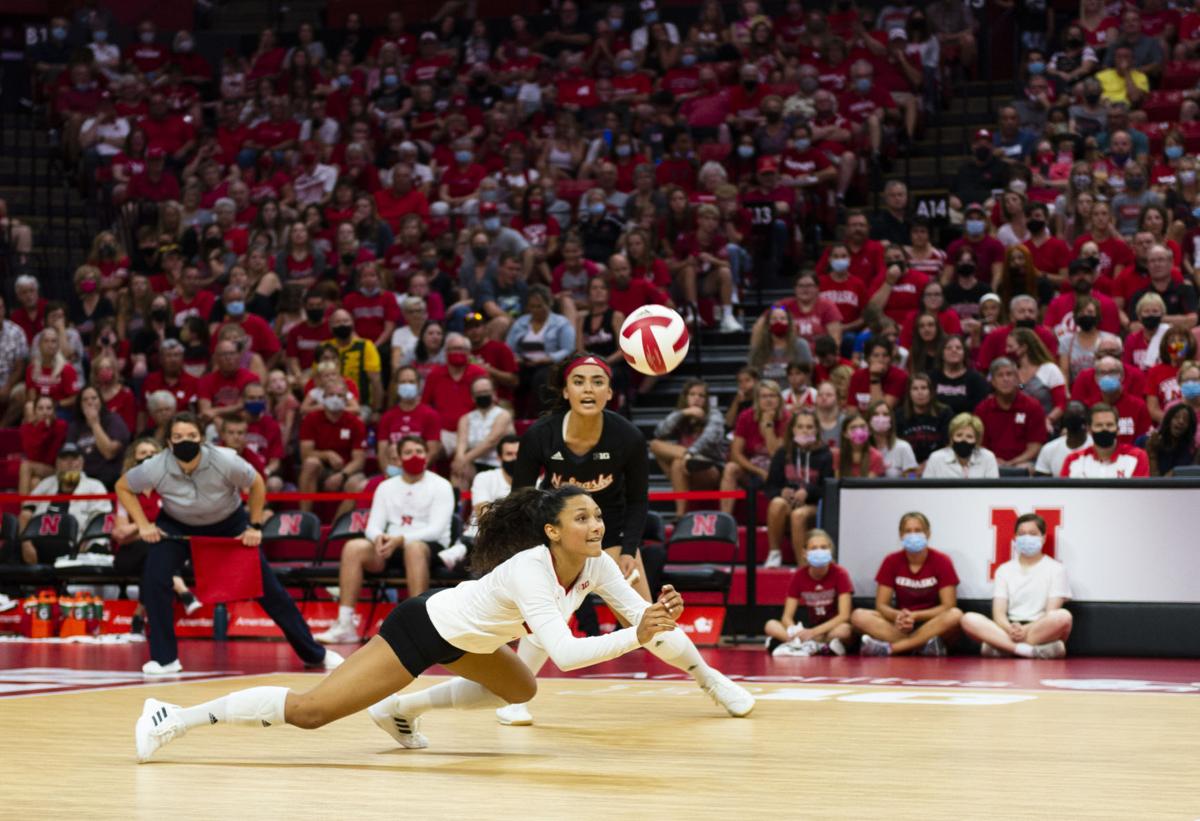 The back-row defensive players for the Nebraska volleyball team — the ones diving to save the ball from touching the floor and digging ferocious shots from opposing hitters — go by a few titles.
"We get called 'bros, littles, liberos. We get called a lot of things," Keonilei Akana said.
Coach John Cook calls the group something else — difference-makers. He says Nebraska's defense-first players can be the reason Nebraska wins, and that's been the case early this season as Nebraska's offense finds its rhythm while using some freshman hitters.
Akana is one of those difference-makers on defense, along with libero Lexi Rodriguez and defensive specialist Kenzie Knuckles. And when you include Nicklin Hames — who also digs when she's not setting — Cook says those are four "elite" defensive players.
At the start of the season, Nebraska had its defensive specialists partially grounded. Instead, Nebraska used its limit of 15 substitutions per set to bring in a right-side hitter or rotate setters.
But in recent matches, Nebraska has used its subs for defense. During Wednesday's three-set win against Creighton, Knuckles came in for outside hitter Lexi Sun, and Akana for right-side hitter Whitney Lauenstein.
It's a platoon system similar to what Wisconsin has used while winning back-to-back Big Ten titles, with the Badgers going even further and subbing out all three pin hitters. Nebraska has been keeping in one pin hitter, either Madi Kubik or Ally Batenhorst.
Last year, Nebraska usually only subbed out its right-side hitter, while keeping both outsides hitters in the match. Now Nebraska is using one more defensive sub.
Taking out an outside hitter means Nebraska is less of a threat to get kills out of the back row, although Knuckles has been able to surprise the defense by swinging for kills a few times.
But right now being solid in serve receive and defense is the winning formula.
"Right now our best server is Keonilei, so it makes sense that we play her," said Nebraska assistant coach Jaylen Reyes, who coaches the defensive specialists. "And Kenzie Knuckles is digging so many balls out of middle back, so statistically it's better that we do that. And then statistically our two best passers right now are (Akana and Knuckles), along with (Rodriguez).
"John loves building his teams based on serving and passing. So numbers-wise they're two out of our three best servers and our three best statistically passers right now. And then on top of that they play amazing defense."
That group, along with the front-row blockers, has Nebraska sitting as a top 15 defense nationally (the Huskers rank 98th in offense). Nebraska's opponent hitting percentage average is a stingy .104.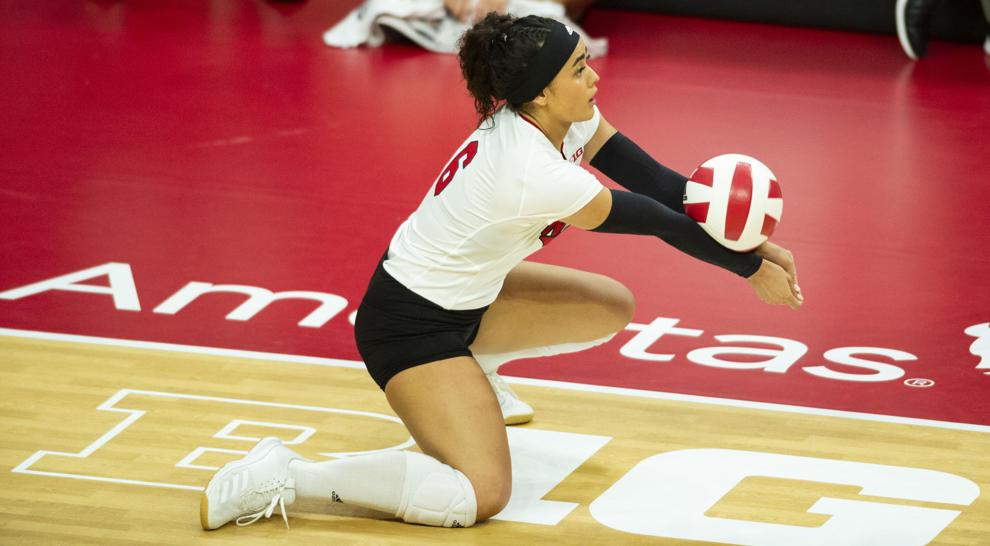 In the past two matches, Nebraska has averaged 17 and 23 digs per set. Against Creighton, Rodriguez had 17 digs, Akana 13, Hames 12 and Knuckles eight.
"The three littles, we always talk about how we're going to keep every ball off the ground," Akana said.
Akana's favorite shot to stop is a hard one down the line.
Nebraska's hitters would probably prefer to stay in the match instead of heading to the bench, but they seem to be accepting their roles.
"I think they all realize that there are a bunch of gifted volleyball players on their team," Reyes said. "It's really nice to be able to have options if someone is not playing as well."
Nebraska's last great group of defenders was in 2017 — Kenzie Maloney, Annika Albrecht, Sydney Townsend — when Nebraska won its most recent national championship.
Cook thinks this group of defenders may be as good as any group he's had at Nebraska.
"Now we got four of them on the court, sometimes all together," Cook said. "That's why we've gone to getting them in the game because (Knuckles) and Akana are difference-makers from the back row."
That group will have to be great again on Saturday when Nebraska hosts No. 20 Utah in a matchup of undefeated teams. They'll have to try and slow down Utah outside hitter Dani Drews, who Cook says is "worth the price of admission" and a candidate for national player of the year.
Drews led the nation last year by averaging a remarkable 5.21 kills per set and was the Pac-12 player of the year. What makes her unique is she's a left-handed hitter who hits on the left side of the court. And she'll stay in the match and attack from the back row.