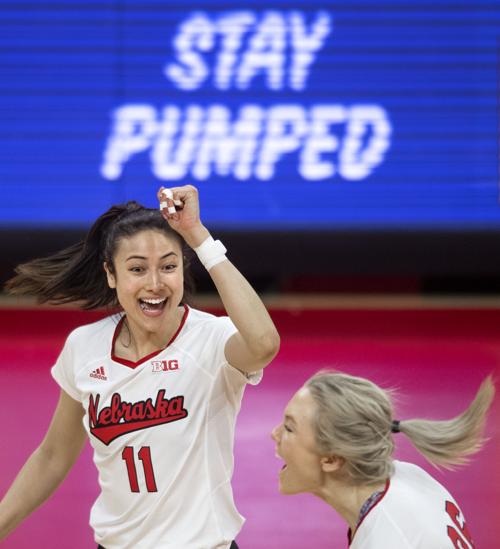 Nebraska volleyball player Lexi Sun has signed an endorsement deal with Borsheims, marking what is believed to be the first major deal between a Nebraska female athlete and a local company in the six weeks since college athletes could endorse products.
Borsheims, based in Omaha, is one of the nation's largest independent jewelry stores and part of Berkshire Hathaway.
In a news release, the company said its partnership with Sun is its first with a college athlete. The partnership will include curating "The Lexi Sun Edit," social media initiatives and content creation.
Sun has more than 90,000 followers on social media. She built a following when she was the No. 1-ranked high school recruit in the nation for her class, and added to that while playing at two of the top college volleyball programs at Texas and Nebraska.
The senior outside hitter led the Huskers in kills each of the past two seasons. Sun is two-time All-American, and earned Academic All-American honors last season.
As part of the partnership, Borsheims launched "The Lexi Sun Edit," a hand-picked, curated collection of Sun's favorite pieces from Borsheims' jewelry selection. The edit includes rings, personalized necklaces, everyday bracelets, earrings, watches and statement crosses. Some of the items are less than $200, while others are more than $1,000.
"For more than 150 years, Borsheims has been helping customers celebrate their special moments," said Andy Brabec, director of marketing for Borsheims, in a news release. "This is Lexi's final season as a Husker volleyball player — and we are celebrating her accomplishments to herself, the state of Nebraska and for inspiring young women across the country. She's a role model and is just getting started with a fruitful future."
Stivrins and Hames recently started a podcast that is free but also has an option to subscribe through membership platform Patreon where you can support their project and may have access to exclusive content.
Watch now: All of the sights and sounds from NU volleyball media day, from replays to analysis
Watch now: Behind the scenes at Nebraska volleyball's media day
Brent C. Wagner's takeaways from NU volleyball media day
Watch now: Check out John Cook's full news conference from NU volleyball media day
Watch now: Kayla Caffey, Lexi Sun, Nicklin Hames preview upcoming Husker volleyball season
Watch now: Keonilei Akana on the match that 'really brought our team together' last season
Watch now: Lexi Sun talks Olympics and shares her favorite freshman memory
Watch now: Kenzie Knuckles shares her welcome to college volleyball moment: 'I was like whoa'
Watch now: Would Lauren Stivrins rather play beach or indoor volleyball at the Olympics?