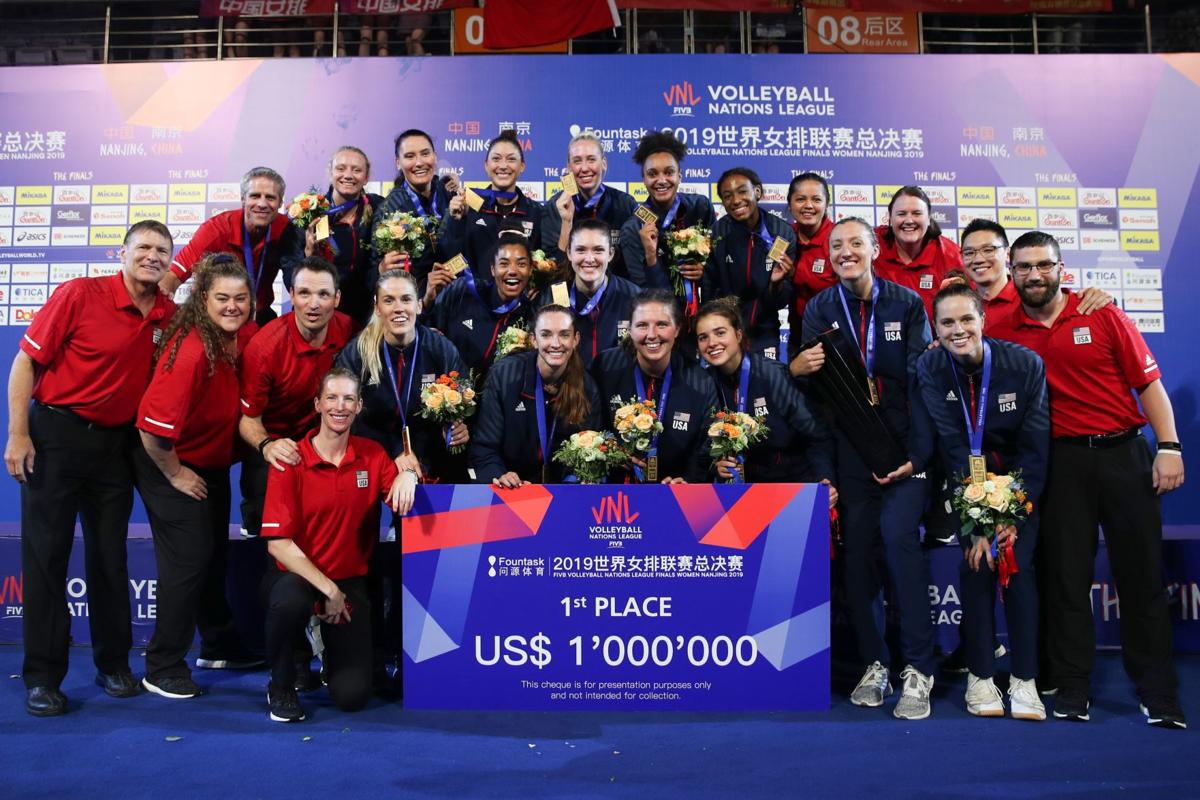 Thanks to a comeback for the ages, the U.S. Women's National Team is on top of the volleyball world again.
Team USA, ranked third in the world, rallied from down two sets to stun No. 4 Brazil 20-25, 22-25, 25-15, 25-21, 15-13 in Sunday's gold-medal match of the FIVB Volleyball Nations League tournament in Nanjing, China. The winning team receives $1 million.
The thrilling comeback, fittingly, included a dramatic finish. Brazil initially tied the fifth set at 14-14. However, USA coach Karch Kiraly called for a video challenge for a net touch during the middle of match point. Video clearly showed Brazil touching the net antenna and Team USA clinched the win.
Annie Drews, who was named VNL most valuable player, had 32 kills on 59 swings to go with four blocks.
The match turned in the third set when former Husker Jordan Larson entered off the bench to solidify Team USA's passing game. She passed with a positive mark of 56% on 25 chances, and she added 17 kills in the process.
"What a great team win, fall down 2-0 against one of the great teams in the world, Brazil," Kiraly said. "Jordan Larson came in and gave us a great lift."
Two other ex-Huskers celebrated gold. Kelsey Robinson played a key role Sunday, finishing with 13 kills, 10 digs and two aces. She scored five points in the fifth set.
Mikaela Foecke, who wrapped up her Husker career last December, did not play in the final.
"I am really proud of our team," Larson said. "I think we came out strong, but Brazil had a couple great first two sets. But I think we came out stronger in the end."
Brazil, up 2-0, closed to within 10-9 in the third set, but the Americans took five of the next six rallies, a run that included two kills from Larson and another from Robinson. Team USA pushed its lead to 22-14 before eventually taking the third set.
Team USA used a 6-0 run in the fourth set to take a 19-15 lead, which included an ace serve from Robinson. The U.S. won the set on a Brazil hitting error.
"I think at the beginning we were a little too focused on assignments, maybe where to be or what they would do," said Drews, a Purdue graduate. "But as the match went on, I thought we did a great job of adjusting, reading and just getting scrappier, staying engaged in the long rallies, and it paid off."
The United States, which won its final nine matches of the tournament, repeated as Volleyball Nations League champion. The Americans played Brazil three times in the tournament, losing the first meeting during preliminary play in Lincoln before beating Brazil in pool play in Nanjing.