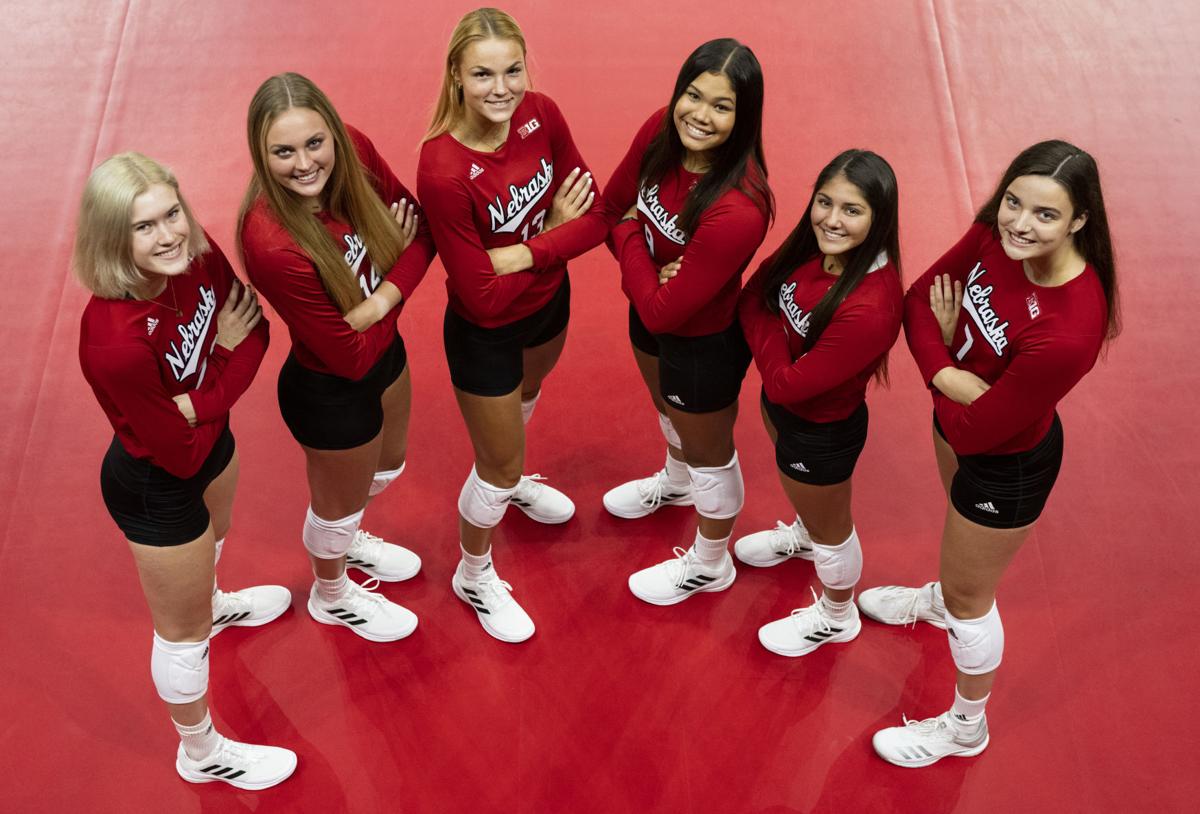 Having some good moments in the practice gym as a freshman on the Nebraska volleyball team doesn't guarantee success in the biggest matches of the year, like the NCAA Tournament.
But the six freshmen for the Huskers this season have done what coach John Cook expected them to do through 1½ weeks of practice in raising the level of the entire group. Even if they haven't unseated the returning starters, they've at least made those players have to work a little harder for that job than they did last season.
"I think there is a major sense of urgency for how hard you have to train right now if you want to play," Cook said.
Nebraska's freshmen are outside hitters Lindsay Krause, Ally Batenhorst and Whitney Lauenstein; setter Kennedi Orr; defensive specialist Lexi Rodriguez and middle blocker Rylee Gray.
To date, the group has pushed the older players, like Cook wanted them to.
"These guys, there's three (2019 youth) world champions in here," said Cook of Krause, Orr and Rodriguez. "As freshmen, they come in and they're competing. They don't flinch, they don't back off. They've come in and competed. So it's just raised the level of our gym."
Senior setter Nicklin Hames has been impressed with Krause, the four-time state champion from Omaha Skutt.
"She gets on the ball so fast," Hames said. "She hits it so hard. Sometimes she hits it and I'm like, 'Wow.'
"They all have brought a lot to the gym. And they fit right in, which is really hard, especially when you're a freshman coming into such a great program."
What position group has benefited most from the competition? Pretty much all of them, Cook said.
"All of the outside hitter positions, and the middle without having (injured senior Lauren Stivrins), it's wide open," he said. "And then we have basically three liberos that are all competing. Nicklin pushes herself. Kennedi isn't quite there yet."
Orr is coming back from knee surgery. She should be able to play during the team's public Red-White Scrimmage on Saturday but has had her practice reps limited some.
Rodriguez, Kenzie Knuckles and Keonilei Akana are vying for the libero and defensive specialist spots.
Rodriguez is the No. 1 libero recruit in her class, and quickly impressed the coaches while working on the scout-team side of the net last spring for the Huskers after graduating from high school early.
"She's an exceptional first-contact player, passing or defense," Cook said. "She reminds me a lot of (U.S. Olympic team libero Justine Wong-Orantes) They just have a sixth sense. They are where the ball is hit, and they just have a great touch on the ball. Justine was that way, too. They're not the best athletes, but they just have a sixth sense of what's going on."
Practices have been intense, Hames said, especially when they shift to six-on-six drills.
"Everyone is just going after it, and there is a lot of depth," Hames said. "These freshmen are definitely bringing the level up. Every day we leave and it's just like, 'Wow, that was an intense day of practice.'"
More than 7,000 tickets have been sold for the Red-White scrimmage. Cook hasn't decided if they'll put the top players on the same team for the scrimmage or evenly split the roster.