When an evening like Friday comes, when Nebraska will honor Jordan Larson, one of the all-time great players for the volleyball program in a jersey retirement ceremony, it comes with some reflection.
Photos get looked at. The memory of Larson's jump serve dropping to the floor comes back. Stories get told. Coach John Cook told a great one the other day that symbolizes what Larson has done for many years now: She went for it.
Larson went for it when she was in middle school, when she wasn't shy about telling people that she was going to play volleyball at Nebraska, and after that in the Olympics. And she did so while growing up in the small Nebraska town of Hooper.
Photos: Jordan Larson through the years
A look back in photos at Jordan Larson rise from Logan View High School standout to Nebraska All-American to Olympic medalist.
She went for it after college, living for long stretches of time in countries like Russia and Turkey where it can be tough to chase her volleyball dreams. She went for it to make her first Olympic team in 2012, and she's still going for it. Larson is 30 years old, and says if her body lets her, she's going to try to make the team again in 2020.
Back to Cook's story, which he says is probably the best one he has about Larson. It came from one of the most iconic matches in school history, against Washington in Seattle in 2008, Larson's final college season. The winner had a spot in the NCAA Final Four to be played in Omaha.
Washington won the first two sets, and then again had the advantage, leading 9-3 in the fifth. The Huskers fought back, and Larson was headed back to the serving line on match point. That followed a long rally. The players were exhausted. Cook was yelling for Larson to do a simple float serve, worried that if her signature jump serve went off her arm short, wide or long, that the Huskers would have lost all the momentum.
"And she just never even looked at me," Cook said. "She just walked back and grabbed the ball. Because she knew that was what I was going to tell her. She didn't even look at me, and, of course, served an ace."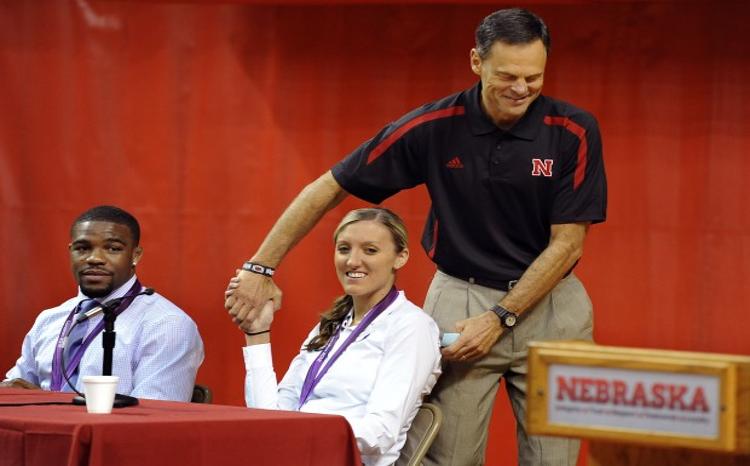 Cook tells that story correctly, Larson said earlier this week. She may have looked to Cook to see what zone to serve to, but she wasn't about to take any other advice.
For four years Cook had told Larson to trust her training, and that's what she did then.
"I knew I was going to get it in," she said.
The serve hit the floor for an ace. The Huskers won the set 15-13. Larson dropped to the floor in complete exhaustion. They'd done it.
"Everything that I had, I'd given to that game, and it was so worth it," Larson said.
While other Huskers had more kills during their careers, Larson was arguably the program's best-all-around player. The outside hitter could do it all: Dig shots you never thought she would, get kills on both roll shots and explosive blasts, and unleash a jump serve that produced a school-record 186 aces. She found different ways to take over a match.
In 2006, Larson had the match-clinching kill when the Huskers won the national championship in Omaha.
And her post-college playing career is unmatched by the program's alums. Once — and probably still — the face of Nebraska volleyball, Larson later became that for the United States team. She's been on the Olympic medal stand twice, and helped the U.S. win the 2014 FIVB World Championship, the first-ever major tournament gold medal for the women's national team. The teams she's on always seem to win a lot.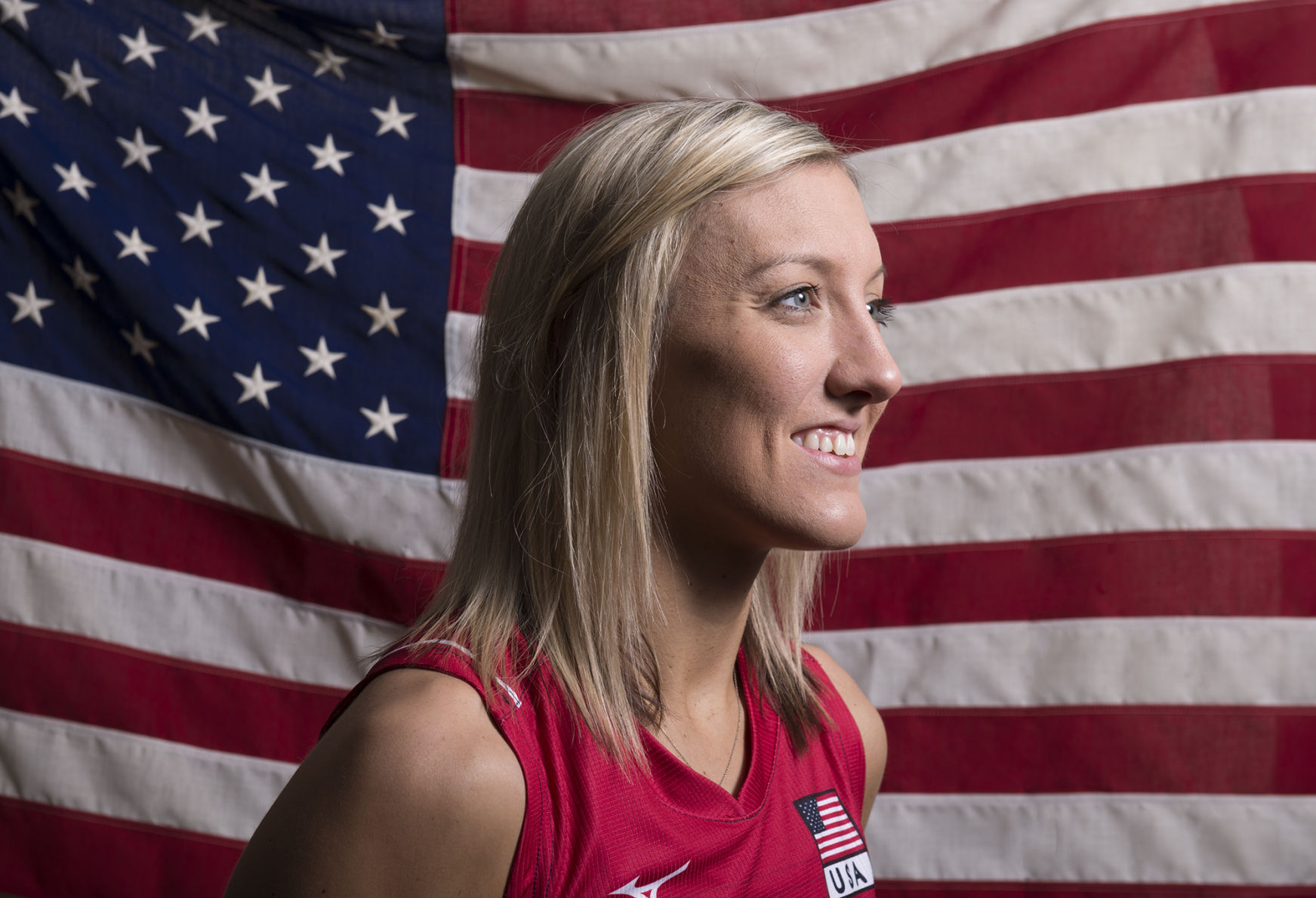 Friday she'll be in Lincoln to see her jersey retired, but by Sunday she'll be on a plane to Istanbul ready to start her 10th season of professional volleyball.
The time that Larson can spend in Nebraska is sometimes limited, but when she does return she usually still finds a way to give back, helping with a volleyball clinic or attending some event.
It's been several years since Larson was regularly on TV in Nebraska, but she's still a volleyball superstar here. And this spring when a fourth-grader in Omaha had to do a poster on a famous Nebraskan, she chose Larson.