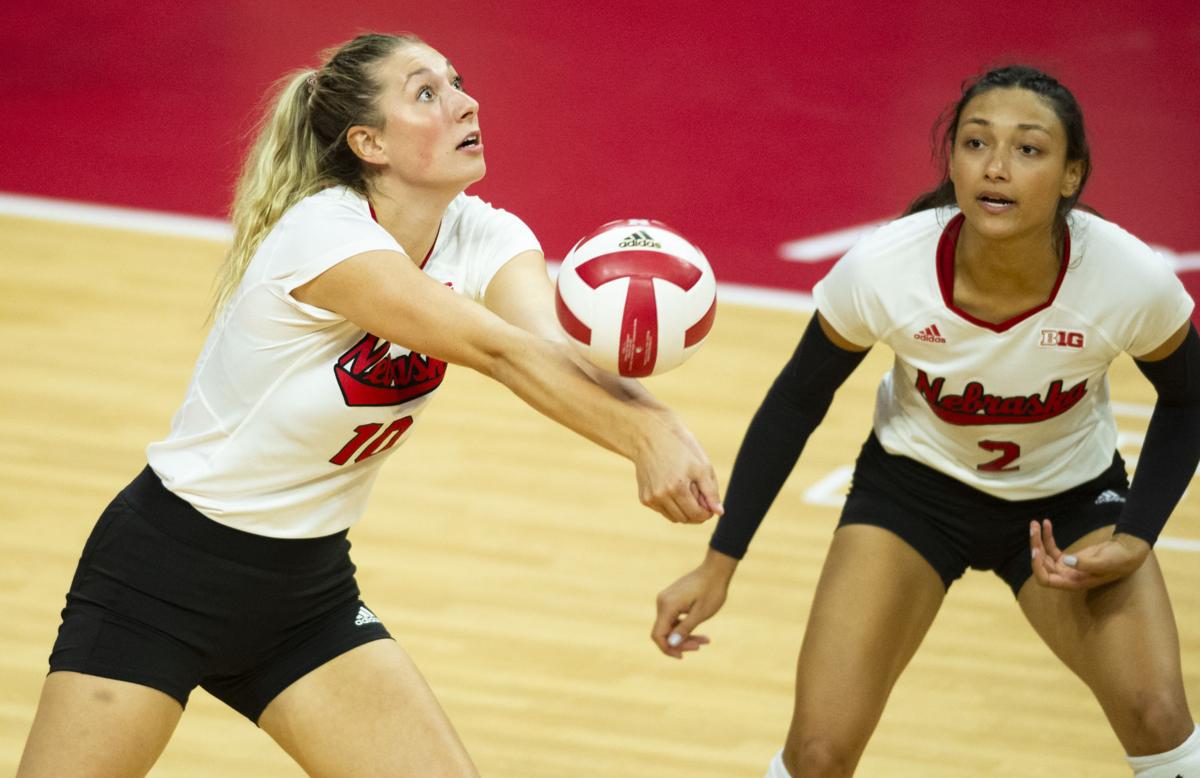 The Nebraska volleyball team hasn't played a ranked team during the first two weeks of the season, but the schedule ramps up beginning this week.
The Huskers' match on Wednesday against No. 19 Creighton at CHI Health Center Omaha begins a stretch where the Huskers will likely play four straight matches against ranked opponents. The match will be televised by FS1 at 6:30 p.m.
Following the Creighton match, No. 3 Nebraska faces No. 20 Utah, No. 14 Stanford and No. 10 Louisville.
"I like our schedule," said Nebraska coach John Cook on Monday. "Now we're getting into ranked teams and playing on the road, so the ante goes up. We got to use that to take our level up and bring out the best in us."
Nebraska (5-0) moved up one spot in the rankings this week to No. 3.
Creighton (6-0) wasn't ranked last week but made a big jump after beating then-No. 3 Kentucky. Kentucky won the national championship last season. But three All-American players from that squad have moved on, including national player of the year Madison Lilley, a setter who drastically made the Wildcats better.
Creighton beat Kentucky 25-19, 25-22, 27-25.
"The Kentucky match wasn't even close, and that was at Kentucky," Cook said. "It's going to be a great challenge for us."
Kentucky dropped to No. 8.
As for the Huskers, Cook says they've played well in short bursts this season, but haven't done so consistently.
"I feel like we've just started to get in a little rhythm with how we want to play," he said. "We're still trying to figure out who goes where. (Setter Nicklin Hames) is basically 10 days behind (due to an injury). We have a really high upside when we figure it out. I know that."
Bring on the defensive specialists: At times this season Cook has used a lineup where he brings in more defensive specialists, such as Kenzie Knuckles and Keonilei Akana, instead of having the starting outside hitters play in the back row.
Knuckles and Akana, along with libero Lexi Rodriguez and Hames, play relentless back-row defense, Cook said.
"Those are four elite defensive players. Elite," Cook said.
Rodriguez loves it when she's patrolling the back row with Knuckles and Akana.
"When we're all back there we're just all bought into not letting a single ball touch the floor," Rodriguez said.
Big Ten in the top 10: Four of the top six ranked teams are from the Big Ten — Wisconsin (second), Nebraska (third), Ohio State (fourth) and Purdue (sixth).
It marks Ohio State's highest ranking in 25 years. Purdue has its highest all-time ranking.
Overall, six Big Ten teams are ranked.
Player of the week: Nebraska's Kayla Caffey earned Big Ten defensive player of the week honors.
The senior middle blocker from Chicago averaged a team-high 1.56 blocks per set in helping Nebraska to wins against Omaha, Georgia and Arizona State.
Caffey's .463 hitting percentage is by far the best for the Huskers.