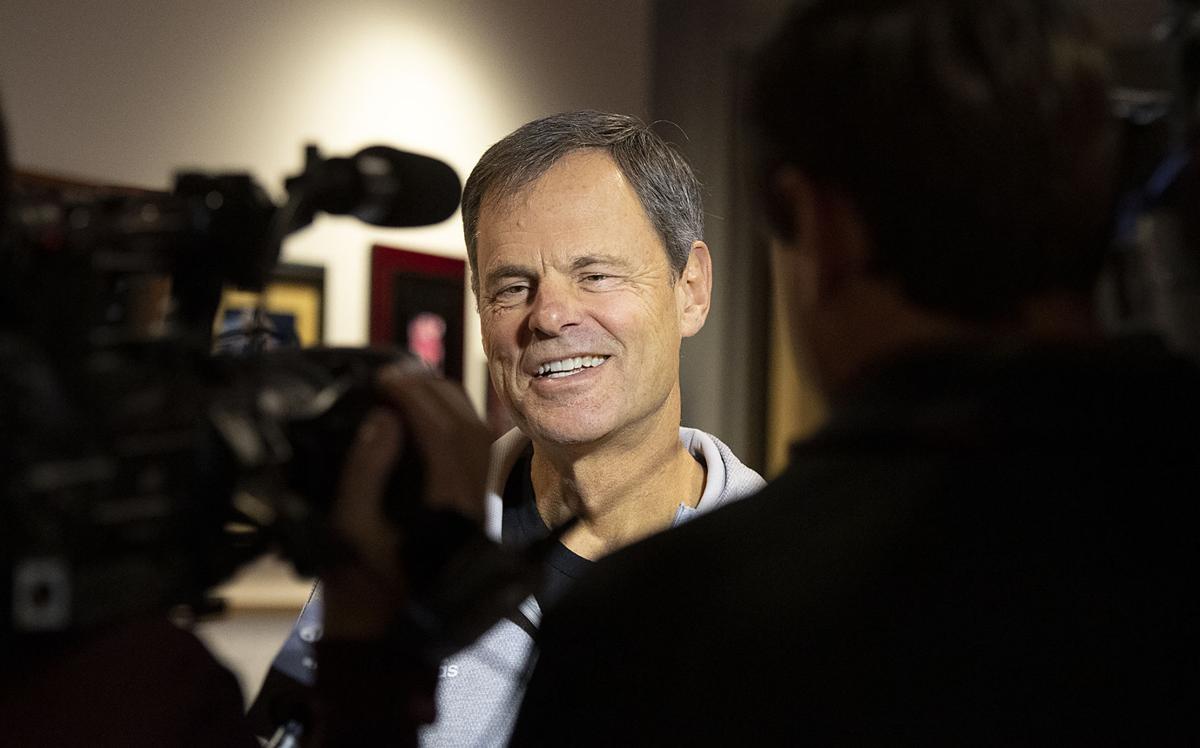 The connection Nebraska volleyball coach John Cook has formed with the state of Nebraska will take another step this week after he was selected to be the commencement speaker for the University of Nebraska-Lincoln graduation ceremony, which will be held virtually Saturday.
Most of the first part of Cook's life unfolded in San Diego, but about 25 years of his professional life have now been spent in Lincoln. Cook first came to the state as an assistant volleyball coach at Nebraska under Terry Pettit in 1988. A few years later, Cook left to be the head coach at Wisconsin, then came back in 1999 as the associate head coach after being chosen by Pettit to replace him.
Cook has been the head coach for the past 20 years. Pettit wanted a coach who would elevate the program and fight for it, and he got that with Cook. Cook has led the Huskers to four national championships, including a stretch of two titles in three years in 2015 and '17.
He has a long list of awards and accomplishments, including an induction into the American Volleyball Coaches Association Hall of Fame in 2017 and winning a bronze medal at the 1992 Olympics as an assistant coach with the U.S men's volleyball team.
Cook said that being asked to be a UNL commencement speaker is also a career highlight, noting it's rare that any coach — and especially a volleyball coach — would be asked to do so.
"I told (UNL Chancellor Ronnie Green) that it was one of the greatest honors of my life to be asked that," Cook said. "I have a lot of respect for graduating from college. My parents never even mentioned college, and many of my friends never thought about going to college. It was really beneficial for me to be able to go to college."
Cook has been a mentor for first-generation college students at UNL.
The virtual graduation ceremony will be televised on NET at 9 a.m. Saturday, meaning Cook's speech may have a wider audience than other graduation ceremonies. UNL will confer a record number of degrees (about 3,500).
According to UNL, a coach has not served as commencement speaker in at least 25 years, and officials are unaware of any coach who has at UNL. Football coach Tom Osborne received an award at commencement in 2014 but did not address the graduates.
After graduating from the University of San Diego in 1979 with a degree in history, Cook was a high school teacher and coach in the city. He also earned a master's degree in teaching and coaching effectiveness from San Diego State.
Cook's children, Lauren and Taylor, both graduated from UNL.
And in 2006, on the day Nebraska won the national championship in Omaha, Cook made a special trip back to Lincoln on Saturday morning to attend the graduation ceremony of former Husker great Jennifer Saleaumua. It fulfilled a promise he made to Saleaumua when the one-time Hawaii recruit agreed to enroll at Nebraska. She was one of the first members of her family to earn a college degree.
Cook was asked to be the graduation speaker during a previously scheduled meeting with Green and a leader in the UNL education college in March. Cook wanted to talk with Green about adding more classes that prepare future coaches for all the complex issues now involved with being high school and college coaches.
That's when Green asked Cook to be the commencement speaker.
"At first I'm like, 'OK, why are you asking a volleyball coach to do the graduation speech?'" Cook said. "It's usually different kind of people than coaches. He was just pretty passionate about it. He loves our program, and thinks I would relate really well, and thought I could do a good job."
Because of the pandemic, graduation will be presented in unique fashion. Cook went to a TV studio on campus and taped his speech a few weeks ago.
Cook was given the option to read his speech from a teleprompter, but he didn't like how that felt. So he just used an outline for what he wanted to say in a speech that is about 10 minutes.
"I just talked from my heart," Cook said.
Cook regularly speaks to business and community groups all across the state, doing so an average of 30 times each year, but this speech was a challenge because he was speaking to a TV camera, and not a group.
Though being a coach at Nebraska, Cook says it's a special the relationship he's been able to have with the state.
"I think Nebraska volleyball has done some amazing things with the sellout streak, (generating a profit), having Olympians, and being a state treasure," Cook said. "I think a lot of people in Nebraska relate to the program."
Through the years with John Cook
Be the first to know
Get local news delivered to your inbox!